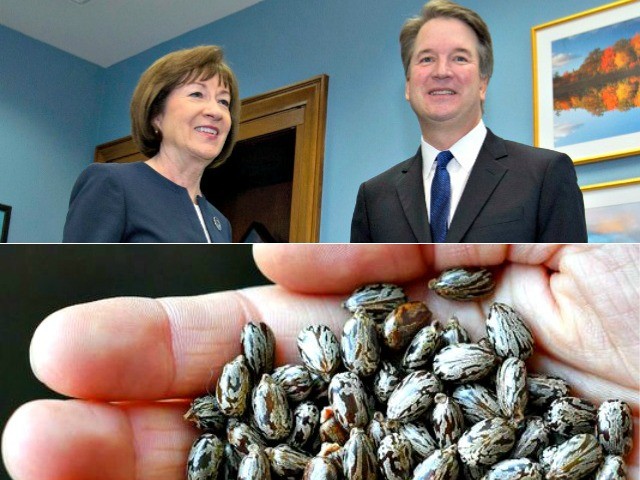 The husband of Maine Sen. Susan Collins said the suspicious letter sent to their home that claimed to contain deadly ricin also made specific mention of the senator's vote to confirm Supreme Court Justice Brett Kavanaugh.
Thomas Daffron, Collins's husband, was at the couples' home in Bangor, Maine, Monday when he opened the letter that the writer said was tainted with toxic ricin. The letter, Daffron said, also referenced his wife's vote to confirm Kavanaugh, reported the Associated Press.
Collins's husband also said the letter was addressed to him, but contained scornful words directed at his wife. Daffron said after he saw the word "ricin," he placed the letter in a plastic envelope and called 911.
Collins then left Washington, DC, and returned home to be with her husband.
Statement from Senator Collins and her husband, Tom Daffron, on threatening letter received at their Bangor residence: pic.twitter.com/xBLErGSRwX

— Sen. Susan Collins (@SenatorCollins) October 16, 2018
The Bangor Police Department and Fire Department, Maine's Criminal Investigation Division, and the FBI have been among the groups conducting an investigation of the letter.
Daffron and the couple's dog were both quarantined for a time but were permitted to remain in the home after a preliminary probe showed no evidence of a public threat.
Ricin is produced in the seeds of the castor oil plant, states the Centers for Disease Control and Prevention (CDC).
"It would take a deliberate act to make ricin and use it to poison people," CDC notes.
Collins and her staff have been subjected to numerous threats over her decision to vote to confirm Kavanaugh.
"I will not live in fear," the senator said. "I will not be intimidated. I'm going to continue to do what I think is right for the people of the state whom I work very hard for, and for our nation."
Collins gave what many considered to be a historic speech on the floor of the Senate as she explained her decision to vote to confirm Kavanaugh, who was accused of uncorroborated allegations of sexual misconduct while in high school after President Donald Trump nominated him to the Supreme Court.
The senator told CNN's State of the Union that Kavanaugh's forceful denial of the accusations and the lack of corroborating evidence ultimately brought her back to fundamental issues of due process, a presumption of innocence, and fairness.
Many on the left – including those she has regularly supported, such as Planned Parenthood and NARAL – have vowed to make Collins pay a political price for her vote.
Collins criticized those making the threats by saying the nation is in a bad place "when people think they can buy the vote of a United States senator."
http://feedproxy.google.com/~r/breitbart/~3/iTJ-XXuFZIU/