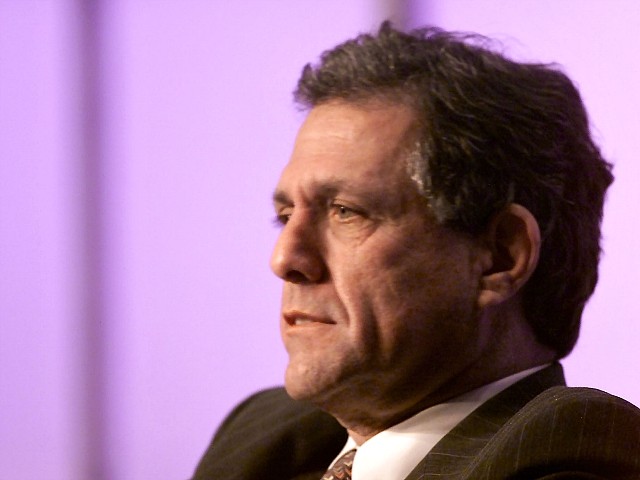 Former CBS chairman and CEO Les Moonves allegedly sexually assaulted actress Bobbie Phillip and help hatched a plan to cover-up the 20-plus-year-old incident, according to a report released Wednesday.
The New York Times reports Phillip's manager Marv Dauer set up a meeting between the actress and Moonves, who was president of Warner Bros. at the time, in March 1995. Mooves is said to have promised Philips that he would connect her with casting director John Levey to mull over potential roles for the actress.
During the meeting, Phillips alleges Moonves had unbuttoned his pants and exposed his genitals to the horrified actress. "Look how hard you make me," the Warner Bros. executive allegedly told Philips. "Be my girlfriend and I'll put you on any show."
Philips alleges Moonves then attempted to force her to get down on her knees and perform oral sex. The alleged incident was cut short by Levey, who telephoned back Moonves to discuss potential roles for Philips.
Philips told The Times that she the blood "rushing" through her body" as the alleged encounter unfolded and could still feel her body "vibrating" today due to the alleged incident.
When Dauer asked Philips about the meeting, the actress told her managing that it had not gone "very well," nor did she want to discuss it. The Times reports that despite Moonves' best efforts to set Philips up with several Hollywood producers, the actress told Dauer she wasn't interested and demanded Moonves be kept away from her. "I didn't want to push her, but she told me he violated her," Dauer said in an interview with The Times. "He must have done something awful."
In Fall 2017, word began to spread through the entertainment world that Moonves would soon be the subject of sexual assault allegations. A Times reporter is said to have called Dauer in late November to inquire about the alleged encounter between Philips and Moonves. Nearly a week later, Dauer emailed Moonves, urging him that the two men speak. "Leslie — it's very important you call me," Dauer wrote. A panicked Moonves reportedly telephoned the manager moments later. In the ensuing months, Dauer reportedly would text Moonves periodically to alter him when reporters came around to inquire about the alleged incident involving Philips. However, a sworn declaration signed by Dauer reads that Moonves also proposed the idea of finding Philips acting work in exchange for her silence.
The Times reports:
In Mr. Dauer's telling, he was simply trying to alert Mr. Moonves about the media calls. In an interview and a sworn declaration, he said it was Mr. Moonves who broached the idea of doing something — finding her acting work — to "make amends" to Ms. Phillips. (Mr. Giglio denied Mr. Moonves ever said that.) Mr. Moonves told Mr. Dauer that he was bracing for an article about his sexual conduct.

"I think I'll be O.K.," Mr. Moonves said, according to Mr. Dauer's sworn statement. "But if Bobbie talks, I'm done." Mr. Moonves asked him to convince Ms. Phillips not to speak publicly. As the call ended, Mr. Moonves told Mr. Dauer never to contact him by email because his secretary might read the messages. He gave Mr. Dauer two cellphone numbers to use to text him.

…

After his initial phone call with Mr. Moonves, Mr. Dauer phoned Ms. Phillips. According to her, Mr. Dauer said he had "run into" Mr. Moonves, who had brought up the long-ago incident. Mr. Dauer told her that Mr. Moonves "feels horrible about what happened, and he has a young son, so please don't ruin his life." He added that Mr. Moonves "wants to make amends," including by offering her work.

…

"It was shocking to learn that someone was reaching out to me who had so hurt me and so altered the course of my life and who I had tried so hard and successfully to put in my past," Ms. Phillips said.

She was angry at Mr. Dauer for engaging with Mr. Moonves, but she assured him that she had no intention of speaking to journalists, and that she might even be willing to forgive Mr. Moonves. In 2012, her son had committed suicide, and she had spent years trying to heal. "A central teaching in my life is forgiveness," she told The Times. "I told Marv to tell him I didn't want anything," she added. "I had already moved forward in my life, and did not wish to go backwards."
Moonves told The Times that he "strongly believe[s] that the sexual encounter with Ms. Phillips more than 20 years ago was consensual."
Moonves resigned September 10th, just hours after six women accused the veteran television executive of sexual misconduct. The resignation is effective immediately, CBS said in a statement posted on its website.
The New Yorker magazine reported the allegations, which included Moonves forcing women to perform oral sex and retaliating when advances were turned away. Moonves acknowledged relations with three of the women but said they were consensual, adding he had never used his position to hurt the careers of women. At the times, the network didn't address the allegations directly, but said Moonves will donate $20 million to one or more organizations that support the #MeToo movement and equality for women in the workplace.
"The donation, which will be made immediately, has been deducted from any severance benefits that may be due Moonves," the statement said.
Moonves again denied the allegations in a statement issued following his resignation. "Untrue allegations from decades ago are now being made against me that are not consistent with who I am," the befallen executive said. "I am deeply saddened to be leaving the company," Moonves added, calling it "an incredible privilege" to have worked for CBS. "The best part of this journey has been working alongside the dedicated and talented people in this company," he added.
Hours before his resignation The New Yorker magazine reported sexual misconduct allegations from six additional women against Moonves, who was already under investigation for similar allegations made by six others.
As that investigation progressed it was widely reported that Moonves would leave the network shortly and was negotiating a severance package. Moonves stands to lose the $120 million severance package his lawyers negotiated with the network if he is unfound to have been untruthful about the alleged encounter.
"Moonves will not receive any severance benefits at this time (other than certain fully accrued and vested compensation and benefits); any payments to be made in the future will depend upon the results of the independent investigation and subsequent board evaluation," the network's said following Moonves' resignation.
Moonves joined CBS as head of entertainment in 1995, and has been CEO of CBS Corp. since 2006, leading the CBS network, Showtime and other entities. CBS has spent much of his tenure as the nation's most popular broadcast network, with hits such as "The Big Bang Theory" and "NCIS," and its success has made Moonves one of the highest-paid and most powerful executives in the business.
One of Moonves' accusers, Phyllis Golden-Gottlieb, also reported her accusations to Los Angeles police last year, but they weren't pursued because the statute of limitations had expired. She said Moonves, while an executive at the Lorimar production studio in the late 1980s, pushed her head into his lap and forced her to perform oral sex.
At another time, she said an angry Moonves pushed her hard against a wall. When she resisted later advances, she began to be frozen out at the company, she said.
"He absolutely ruined my career," she told The New Yorker.
Another woman, Jessica Pallingston, said Moonves forced her to perform oral sex on her first day working as his assistant at Warner Bros. productions. Other women told the magazine of unwanted touching or advances.
In a statement to the magazine, Moonves said at the time that the "appalling accusations" are untrue, yet he acknowledged consensual relations with three of the women before he started working at CBS.
"I have never used my position to hinder the advancement or careers of women," he said. "In my 40 years of work, I have never before heard of such disturbing accusations. I can only surmise they are surfacing now for the first time, decades later, as part of a concerted effort by others to destroy my name, my reputation and my career. Anyone who knows me knows that the person described in this article is not me."
The organization Time's Up, which fights accusations of sexual misconduct, said the women had made "bone-chilling" accusations against Moonves. "We believe them," Times' Up said in a statement early Sunday. The group said the CBS board has a responsibility to rid the company of a toxic culture toward women.
The Associated Press contributed tot his report.
http://feedproxy.google.com/~r/breitbart/~3/7il7yZmeizc/