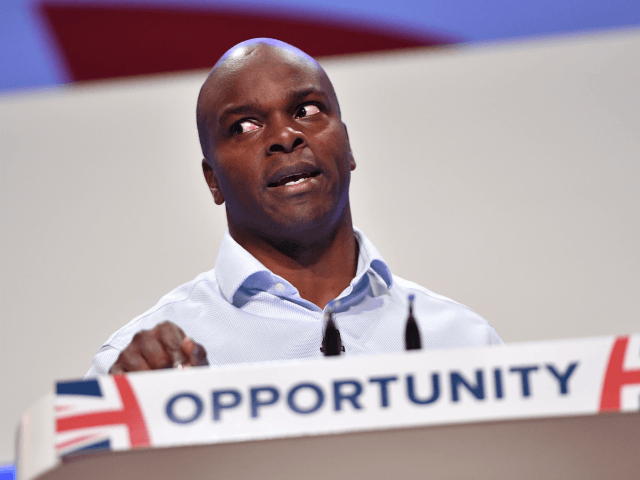 Socialists and Labour Party members and supporters have bombarded the Tory candidate for London Mayor with racist abuse, berating him for being a right-wing black man.
Shaun Bailey, the man who will attempt to unseat Labour Mayor Sadiq Khan in the 2020 election, has been labelled a "lying coconut", a "vile disgusting Uncle Tom" and a "token ethnic" by left-wingers on social media.
Condemning the attacks on him, he told the Evening Standard: "We cannot have a contest that is plagued by racial abuse, mud-slinging and identity politics.
"These attacks are poisoning the well of public debate and have no place in a modern, progressive tolerant Britain."
One Momentum-supporting Labour member tweeted: "Shaun Bailey is the biggest Uncle Tom to walk the planet" and a "vile disgusting Uncle Tom".
Another Labour member from London messaged: "Shaun Bailey is the new token ethnic."
A "socialist" from the capital added: "London IS a diverse city which must have a mayor who respects ALL religions and we do NOT deserve to be represented by a bigoted coconut."
Following the anti-Semitism scandal, Labour promised to take a zero tolerance approach to racism. They responded to Mr Bailey's claims by attacking the Tories.
A Labour Party spokesman said: "Labour does not tolerate racism of any kind. We won't take any lessons from the Tories who deliberately targeted Diane Abbott in their negative general election material."
.@ShaunBaileyUK targetted with racial abuse from Labour supporters. Labour strangely silent on this pic.twitter.com/sgWvu5Hbbb

— CCHQ Press London (@CCHQLondon) October 9, 2018
London Assembly Member Keith Prince commented: "Appalling abuse from Labour members to [Mr Bailey]. Anyone involved should be kicked out of the Labour Party.
"Will [Labour leader Jeremy Corbyn] and [Mr Khan] condemn the abusers?"
Former Army officer and black Tory MP James Cleverly added: "Labour's position: all racism is wrong, unless it's aimed at a Tory.
"The list of vile, racist abuse that [Mr Bailey] has received from Labour supporters is shocking."
Home Secretary Sajid Javid said he received similar racist abuse from Labour supporters and left-wingers when he got the job earlier this year, replacing Amber Rudd.
And last year, posh Labour MP Emma Dent Coad branded Mr Bailey a "token ghetto boy", "scumbag", and "low-life" for his right-wing views.
Black Tory Candidate for London Mayor: Multiculturalism Turning Britain into 'Crime-Riddled Cesspool' https://t.co/33aZBOZTD4

— Breitbart London (@BreitbartLondon) October 4, 2018
http://feedproxy.google.com/~r/breitbart/~3/2Em2H8ZToiA/