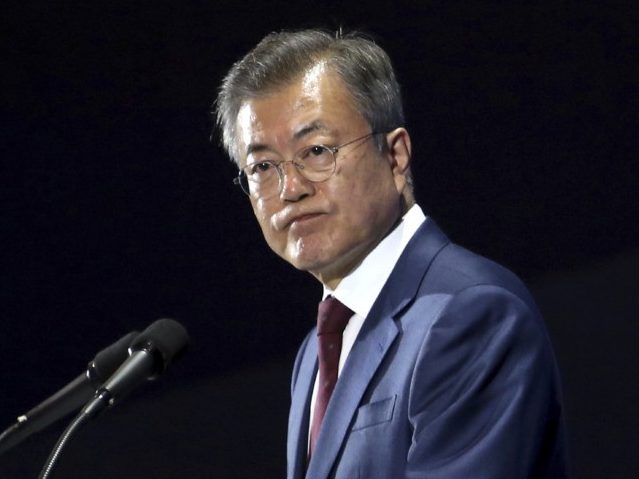 The government of leftist South Korean President Moon Jae-in launched a renewed legal campaign against "fake news" on Tuesday, enabling prosecutors to pursue individuals who share statements the government deems "false" on criminal charges.
Moon's government began a campaign against "fake news" this month after social media users derided Prime Minister Lee Nak-yon for being a "commie" after visiting the stilt house of Ho Chi Minh in Vietnam and calling Ho, believed to be responsible for millions of deaths, a "great" leader. Since then, South Korea has demanded that Google take down videos on YouTube that Seoul deems "fake news," all unfavorable commentary on the Moon government.
Conservatives in South Korea have repeatedly expressed concerns that Moon's new policy violates the freedom of speech of Korean people. That concern appeared even more acute this week after Seoul banned a journalist of North Korean origin from covering a meeting between North and South Korean officials in the border town of Panmunjom, claiming that his presence there would cause "safety" issues despite his status as a South Korean citizen.
South Korea's JoongAng Ilbo reported on Tuesday that Justice Minister Park Sang-ki issued a press release ordering "prosecutors to crack down on fake news and track whoever was responsible for its production and distribution." The new rules allow prosecutors to seek criminal complaints against individuals they believe responsible for "fake news" without any individual levying a complaint against them.
The order did not provide a clear definition of what the South Korean government considers fake news. The Justice Ministry did promise to compile and distribute examples in the future, however, to local authorities throughout the country to help clarify who they should target. The main initiative against "fake news" is scheduled to occur on the internet, where social media has enabled average civilians to speak openly about politics in a way that has caused Seoul consternation.
"Fake news," the Justice Ministry insisted in its release, "threatens the sphere of democratic public debate."
The press release included one example of "fake news" crime: the arrest of a 78-year-old man for sharing an online video claiming that former conservative president Park Geun-hye had sex with late North Korean dictator Kim Jong-il. The man was sentenced to a year and a half in prison for sharing the clip on social media.
The new provisions appear to be the next step in implementing a government-wide policy against "fake news" in the country. The South Korean newspaper Dong-A Ilbo noted this week that Prime Minister Lee, whose praise of Ho Chi Minh apparently deeply influenced the government to crack down on criticism online, ordered prosecutors in February to "establish a joint response system to investigate fake news quickly and punish illegal activities strictly."
By October, when the Ho Chi Minh scandal erupted, Lee called "fake news" "a destroyer of democracy" and "a public enemy hiding behind the cover of free speech."
The newspaper noted that, even within the Justice Department, some unnamed officials are concerned about how exactly Moon's government is going to implement this policy.
"Fake news is so diverse, the concept itself is ambiguous," one official reportedly told Dong-A. That official nonetheless emphasized that prosecutors were not interested in silencing "opinions expressed" and that the policy "does not conflict with freedom of expression."
Following Lee's comments this month, Moon's government turned to Google, pressuring the corporation to delete videos the government disapproved of from its YouTube platform. The government compiled a list of over 100 YouTube videos it wished to see deleted, calling the matter a one of "social responsibility."
The result of this campaign has been alarm on the part of members of the conservative Liberty Korea Party, who insist that free speech concerns should override disgust with public opinions.
"They can already punish distribution of false information under the existing laws," Park Dae-chul, a Liberty Korea Party member, told the New York Times this month. "I cannot help suspecting that this is an attempt to crack down on right-wing podcasts. They want to shut down the voices the government doesn't want to hear."
The initiative proposed Tuesday closely followed what many journalists considered an unprecedented violation of their freedom of the press this week, when Seoul banned Kim Myeong-sung, a journalist born in North Korea, from covering North-South talks in Panmunjom. Kim is a reporter for the right-leaning Chosun Ilbo and a South Korean citizen, but his status as a North Korean defector made him a "safety" risk, the Unification Ministry claimed.
The dozens of journalists who make up the Unification Ministry's press corps issued a joint statement condemning the move and defending their colleague. Chosun Ilbo's editorial leadership called the move "shocking."
Follow Frances Martel on Facebook and Twitter.
http://feedproxy.google.com/~r/breitbart/~3/bybqiuUqpLs/