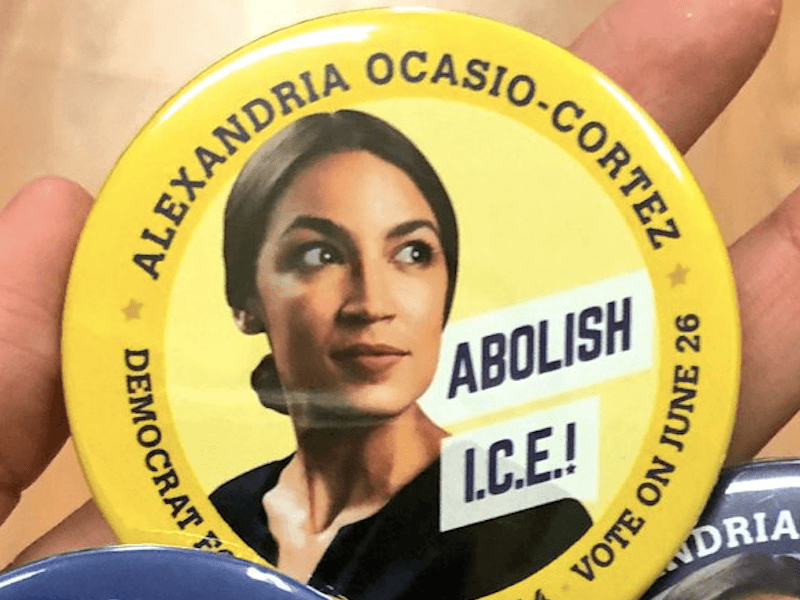 Left-wing Democrats who introduced legislation or campaigned to "abolish" Immigration and Customs Enforcement (ICE) reportedly have no interest in immediately pushing "abolish ICE" bills at the start of the next Congress.
According to a Monday evening CBS News report, Rep. Mark Pocan (D-WI), a Progressive Caucus co-chair, said that while left-wing Democrats "are absolutely still going to be pressing" to abolish ICE, they do not want to make that a focal point of the Democrats' agenda when the next Congress starts.
"However, I think our main goal of getting out of the gate is going to be the issues that we ran on across all districts—around healthcare, around good-paying jobs, around dealing with the culture of corruption," Pocan reportedly said.
Newly-elected Democrats like Alexandria Ocasio-Cortez, who insisted on the "abolition" of ICE during her successful insurgent campaign against Rep. Joe Crowley (D-NY), met with Democrats in the Progressive Caucus when they got to Congress this week. Many left-wing Democrats who were elected to Congress like Ocasio-Cortez, Massachusetts' Ayanna Pressley, and Minnesota's Ilhan Omar explicitly called for ICE to be abolished as part of their insurgent campaigns. But even the most ardent "abolish ICE" activists were muted on the issue when asked this week how soon Democrats wanted to take up the issue.
And though some left-wing Democrats in the Progressive Caucus even tried to distance themselves from the "abolish ICE" label, Pocan, who introduced the bill to abolish ICE, wrote that he was specifically "proposing legislation to abolish the agency."
"With the President grossly misusing ICE and the agency broken beyond repair, I'm proposing legislation to abolish the agency," Pocan declared. "Specifically, my bill would dissolve ICE within six months and create a commission to provide recommendations to Congress on how the US government can implement a humane immigration enforcement system that upholds the dignity of all individuals. The commission would then transfer necessary functions that do not violate basic human rights to other agencies."
Democrats eyeing 2020 presidential runs like Sens. Kirsten Gillibrand (D-NY) and Elizabeth Warren (D-MA) quickly embraced the "abolish ICE" movement after Ocasio-Cortez's upset primary win. But a majority of Americans, including Democrats, in numerous polls have opposed abolishing ICE. After those polls, even the most left-wing Democrats are realizing that Democrats could face electoral disaster if "abolish ICE" is the first impression that they give to voters after officially taking back the House.
Even House Minority Leader Nancy Pelosi (D-CA) conceded that illegal immigration issues are losers for Democrats when she revealed that she told Democrats running for Congress to not pick fights with President Donald Trump on immigration and instead "stick with" issues like "lower healthcare costs, bigger paychecks, integrity in government" to give them better odds of actually winning their respective races.
http://feedproxy.google.com/~r/breitbart/~3/uiC4DhKPmEI/