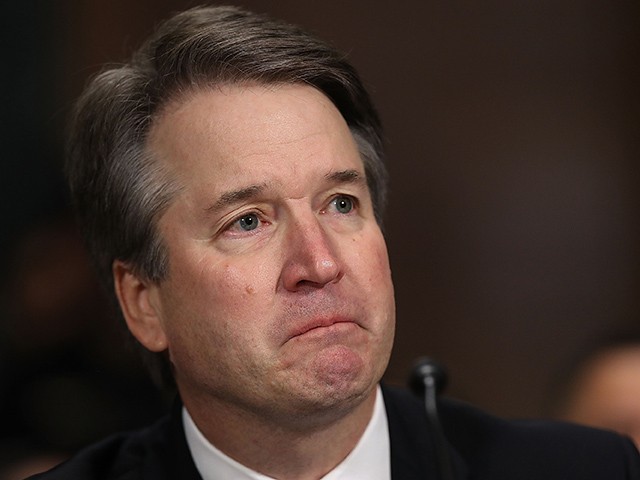 A wide range of liberal journalists, actors, and left-wing activists mocked Supreme Court nominee Brett Kavanaugh's tearful defense before the Senate Judiciary Committee Thursday against an allegation of sexual assault brought forth by California psychology professor Christine Blasey Ford.
Kavanaugh's emotional opening statement condemned Democratic lawmakers for a "search and destroy" campaign against his nomination, choking up and weeping while talking about the effect of the salacious allegations on his family.
Various Twitter-endorsed Verified accounts said the delivery of his statement shows that Kavanaugh does not have the strength or "temperament" to serve on the high court.
Kavanaugh goes full Trump in his opening: angry, partisan, confrontational, conspiratorial, self-pitying. Worked for the president. But is this appropriate for a judge?

— Max Boot (@MaxBoot) September 27, 2018
Kavanaugh now crying pity-tears for himself.

— Erica C. Barnett (@ericacbarnett) September 27, 2018
Kavanaugh crying is peak whiteness.

— PrestonMitchum (@PrestonMitchum) September 27, 2018
Every American woman knows a guy like screaming red faced #Kavanaugh and we know damn well his lies. ALL THE MEN SHOULD BE CRYING BECAUSE YOUR TIME IS UP

— Erin Kotecki Vest (@QueenofSpain) September 27, 2018
Boss baby Trump isnt going to like you showing that weakness by crying, Kavanaugh. That soft ass, Liberal emotion may actually finally get your nomination withdrawn. #kavanaughhearings

— Jayar Jackson (@JayarJackson) September 27, 2018
This red-faced, petulant, belligerent rant against "left wing opposition" isn't exactly helping Kavanaugh's case. Sounds like a spoiled brat crying over not being treated specially enough. Isn't he supposed to be wise, stately, and venerable?? #KavanaughHearings

— Joan K. Smith (@wassilyk) September 27, 2018
Kavanaugh is crying because of how unfair this has been to him.

Don't talk to me about how women are so emotional.

Christine Blasey Ford held it together while talking about the worst night of her life. He couldn't make it five minutes.

— RPBP 🏳️‍🌈 (@rpbp) September 27, 2018
now the big dick is crying #Kavanaugh

— (@GrrlScientist) September 27, 2018
Listening in my car and wondering: is Kavanaugh fake crying or sniffing the same substance as @realDonaldTrump? #cancelkavanaughnow #KavanaughHearings #IbelieveChristineBlaseyFord

— Lesley Abravanel (@lesleyabravanel) September 27, 2018
brett kavanaugh just went from screaming at the top of his lungs to crying to back to yelling and i'm supposed to believe this rapist is going to be a calm and collected judge???

— Robyn Kanner (@robynkanner) September 27, 2018
Holy shit, Kavanaugh is melting like The Wicked Witch Of The West!! #KanavaughHearings

— Carlos Alazraqui (@carlosalazraqui) September 27, 2018
I wonder if @realDonaldTrump will make fun of #Kavanaugh for crying publicly like he did @SenSchumer – #KanavaughHearings #MeToo

— Anthony Nicodemo🏳️‍🌈🇺🇸 (@coachNicodemo) September 27, 2018
Brett Kavanaugh broke down crying when he talked about having to lie to his young daughter about trying to rape a girl barely older than she is now.

— 🎩Martin Cizmar (@martincizmar) September 27, 2018
I believe Dr. Ford, and I believe Kavanaugh's crying because his past finally caught up with him and deep down, he knows it.

— JackiSchechner (@JackiSchechner) September 27, 2018
I understand this is tough, but this angry to crying to at points rambling statement is really not helping Kavanaugh's case. But he's performing for Trump. This is abundantly clear. But it's also making him look unhinged.

— Ed Oswald (@edoswald) September 27, 2018
You can almost see Kavanaugh realize he's gotten too angry so he should probably start fake-crying about his dad.

— Rebecca Pahle (@RebeccaPahle) September 27, 2018
Kavanaugh Wept

— Scott Collura (@ScottCollura) September 27, 2018
Cry me a river Kavanaugh.

— Scott Dworkin (@funder) September 27, 2018
Brett Kavanaugh:
🗣🗣🗣🗣🗣😢🗣🗣🗣🗣😢😢🗣🗣🗣🗣🗣🗣😢😢🗣🗣🗣😢🗣😢🗣😢🗣😢😢🗣🗣🗣…

Overall:

— Kashish Das Shrestha (@kashishds) September 27, 2018
I hear via text that Kavanaugh is out-Beckying Crying Becky #hearing

— Chanda Prescod-Weinstein 🙅🏽‍♀️ 🌈 (@IBJIYONGI) September 27, 2018
That Ford held it together better than Kavanaugh is a staggering marvel.

— Allison Glock (@AllisonGlock) September 27, 2018
A death rattle of angry, entitled masculinity. Nothing but indignant and sentimental self-regard. Is he going to explain, at any point, what her motive is meant to be? #KavanaughHearings

— Sam Parker (@samparkercouk) September 27, 2018
I wonder how it would be received if a woman raged and cried before lawmakers the way Kavanaugh is doing right now.

— Amel Ahmed (@amelscript) September 27, 2018
Kavanaugh seems too emotional to sit on the highest court in the land

— The Real Jolly Bengali (@TheSamhita) September 27, 2018
Brett Kavanaugh is far too emotional to be a Supreme Court justice. https://t.co/sVlboOyqka

— Ed Bott (@edbott) September 27, 2018
It #kavanaugh is confirmed after this temper tantrum, I hope the women on the court use his partisan vitriol to force him to recuse himself as much as possible. All kinds of bias and conflict of interest have been revealed.

— Mari Brighe (@MariBrighe) September 27, 2018
Brett Kavanaugh sounds quite enraged. Tears are a bit dramatic. Is this job worth hanging on too so badly?

— Waihiga Mwaura (@WaihigaMwaura) September 27, 2018
kavanaugh testimony is a good reminder to stay hydrated you guys!

— Sebastian Murdock (@SebastianMurdoc) September 27, 2018
Like with the Fox interview, Kavanaugh's just playing to the base here, maybe betting that it will then put pressure on GOP senators to confirm him. Which says something about his temperamental fitness for the Court.

— Gary Legum (@GaryLegum) September 27, 2018
I wonder if Kavanaugh realizes some selectively-remembered details about his summer in no way disprove Dr. Ford's testimony pic.twitter.com/w3INjA1ZA6

— Fiddler (@cFidd) September 27, 2018
Which rich white privileged white man put on a better show for the cameras in the last week: Mark Cuban or Brett Kavanaugh?

— Carron J. Phillips (@carronJphillips) September 27, 2018
Kavanaugh is crying at weird times during this opening remarks… also, he just said "I like beer, I still like beer." #KavanaughHearings

— Justin Sablich 🇺🇸 (@JustinSablich) September 27, 2018
Blasey Ford – terrified but calm, factual and honest when couldn't remember. Kavanaugh – angry, blaming liberals, throwing allegations, raging rhetoric. Such a contrast.

— Bella (@bellamackie) September 27, 2018
#Kavanaugh is really an unpleasant pathologically ambitious piece of work.

— Harry Leslie Smith (@Harryslaststand) September 27, 2018
http://feedproxy.google.com/~r/breitbart/~3/hbVse3UyBOM/