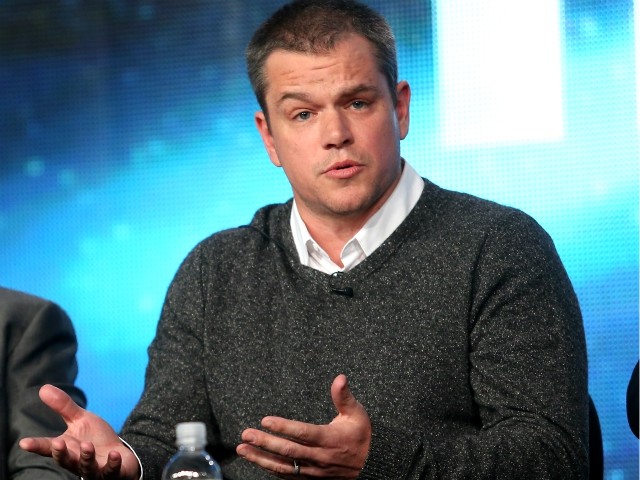 Actor Matt Damon vowed to take a "back seat" in the "#metoo" movement earlier this year, after being accused of helping to pressure the New York Times to kill an investigative story in 2004 into movie mogul Harvey Weinstein's sexual misconduct.
Now, he seems to have found redemption after mocking Judge Brett Kavanaugh in the "cold open" sketch on Saturday Night Live — a one-sided portrayal of last Thursday's hearing in which Damon portrayed an out-of-control, and self-incriminating, Kavanaugh.
The left, and the media, loved it:
This was really well done. https://t.co/GBFRMd26uW

— Kevin M. Kruse (@KevinMKruse) September 30, 2018
#SNL: Could Matt Damon's coked out impression hurt Brett Kavanaugh? https://t.co/r7YdNJL4tl pic.twitter.com/EXptAaSpek

— VANITY FAIR (@VanityFair) September 30, 2018
#SNL: Matt Damon absolutely nails Brett Kavanaugh in season premiere https://t.co/sysemO6hZa

— The Daily Beast (@thedailybeast) September 30, 2018
Matt Damon And The "SNL" Cast Spoofed Brett Kavanaugh's Senate Hearing And It Was Everything https://t.co/9k9JKFrXCQ

— BuzzFeed (@BuzzFeed) September 30, 2018
Matt Damon perfectly captured the rage, self-aggrandizement, and self-pity of Brett Kavanaugh on the season premiere of @nbcsnl

— Paul Begala (@PaulBegala) September 30, 2018
Matt Damon Kills It as Beer-Bro Brett Kavanaugh in SNL's Cold Open https://t.co/Jvz2p0gcWe pic.twitter.com/netvzF6VIs

— Mediaite (@Mediaite) September 30, 2018
Matt Damon played the perfect snorting, whining, overprivileged, spoiled, beer obsessed, screaming, unhinged, delusional, Trump inspired, lying phony of a water guzzling Kavanaugh last night. And he completely crushed it. Time to #WithdrawKavanaugh. pic.twitter.com/jHPYFof1sz

— Scott Dworkin (@funder) September 30, 2018
Matt Damon is killing it as Kavanaugh. #snl

— Jonathan Capehart (@CapehartJ) September 30, 2018
Take 10 minutes and watch this https://t.co/ohIy08CMCf

— GQ Magazine (@GQMagazine) September 30, 2018
Damon, who enjoyed a long association with Weinstein, admitted in October 2017 that he knew that Weinstein had allegedly harassed actress Gwyneth Paltrow, and that he was an "a**hole" who was a "womanizer" — though he denied knowing about Weinstein's criminal conduct.
He also denied helping to kill a Times story about Weinstein, saying that while he had called the paper at Weinstein's behest to defend a producer who was said to have set up Weinstein's encounters with women, he did not know Weinstein's purpose.
He also stirred controversy by appearing to defend Sen. Al Franken (D-MN) after a photograph showing then-comedian Franken jokingly reaching for journalist Leann Tweeden's breasts. Damon also provoked outrage by suggesting that he would still work with comedian Louis C.K., who was accused of masturbating in front of several women.
Following those controversies, Damon told the Today show, "A lot of those women are my dear friends and I love them and respect them and support what they're doing and want to be a part of that change and want to go along for the ride, but I should get in the back seat and close my mouth for a while."
But Damon has apparently earned a pass by mocking Kavanaugh, as critics of the judge celebrated his portrayal of the Supreme Court nominee, whom the left presumes guilty despite every witness contradicting Ford's testimony.
Long time Harvey Weinstein friend and Me Too critic Matt Damon paid penance on last night's Saturday Night Live. pic.twitter.com/ts8Pg4lbg0

— Andrew Chalkley (@chalkers) September 30, 2018
The sketch also portrayed Sen. Chuck Grassely (R-IA) as having made up his mind before the testimony of Christine Blasey Ford —  "I already voted yes for Kavanaugh before she said a word" — though most of the committee's Democrats had in fact decided to vote against Kavanaugh long before Ford's allegations arose, and several Republicans pointedly kept an open mind. The sketch also described prosecutor Rachel Mitchell as a female "human shield."
Joel B. Pollak is Senior Editor-at-Large at Breitbart News. He is a winner of the 2018 Robert Novak Journalism Alumni Fellowship. He is also the co-author of How Trump Won: The Inside Story of a Revolution, which is available from Regnery. Follow him on Twitter at @joelpollak.
http://feedproxy.google.com/~r/breitbart/~3/W0UNnLbY5ug/