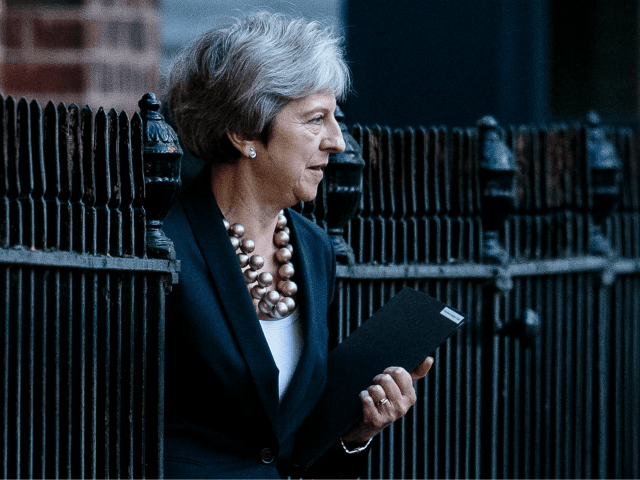 Leaked documents have revealed Prime Minister Theresa May could be plotting to keep the UK tied to the European Union (EU) for years after the Brexit "transition period", despite claiming the latest proposed divorce delay will only be a few months.
Last week, Theresa May proposed keeping the entire UK locked in the bloc's Customs Union after the Brexit "transition" to avert customs checks on the Irish border or in the Irish sea, as EU leaders continue to refuse to let the UK keep the border open with technology.
Cabinet ministers in her government have now been warned there may be no guarantee the UK will be able to get out of these arrangements, and leaks seen by The Times claim Britain could be left in a "long-running" multi-year transition period.
The documents reveal Mrs May's plan "could, in theory, lead to a long-running IP (implementation period)" that could last for many years on a "rolling" basis with an "annual decision point" where continuing the UK's attachment to the bloc would be reviewed.
The leaks raise questions about whether or not the Prime Minister has misled the government and the general public.
Just last week, she said the arrangement could be extended "for a few months" and on Monday told MPs the implementation plan would end "well before the end of this Parliament" in 2022.
'It's Just Chaos' – Pro-Brexit and Pro-EU Tories All Turning on Theresa May over Negotiations https://t.co/UyPuhslHwB

— Breitbart London (@BreitbartLondon) October 19, 2018
Later on Wednesday, Mrs May is set to face some of her harshest Brexiteer critics in the powerful Tory backbench 1922 Committee in a crunch meeting.
Key ministers, including Jeremy Hunt, the foreign secretary, Liz Truss, the chief secretary to the Treasury, and Michael Gove, the agriculture secretary, have already stressed their concern over her latest customs "backstop" plan and extended transition.
And over the weekend, Some MPs ramped up their rhetoric, telling the Prime Minister to "bring her own noose" to the crunch meeting Wednesday, hinting at a rebellion, as former Brexit Secretary David Davis set a leadership bid in a challenge to her power.
Also this Wednesday, it was reported that officials have admitted that the UK's border force will not have the staff, infrastructure, or systems in place to protect and police the UK's land and sea borders with the EU in the event of a "no deal" Brexit.
The revelation increases pressure on the Government to agree to a deal with the bloc, however bad, to avoid chaos after the divorce.
Tory Brexiteer John Redwood has described Theresa May's Brexit plan as "a surrender document". How would you describe it?@JuliaHB1 | https://t.co/sv3MZUm41c pic.twitter.com/EohRps55oX

— talkRADIO (@talkRADIO) October 23, 2018
http://feedproxy.google.com/~r/breitbart/~3/BTp4r1OZ1Sk/