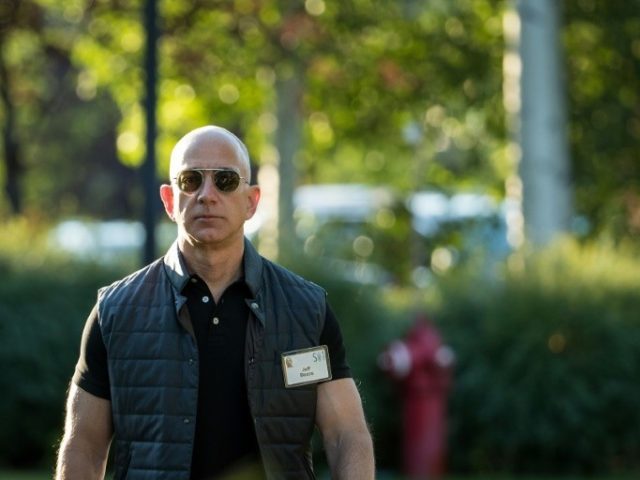 A 45-minute long internal video created by Amazon instructs "team leaders" on how to spot and intimidate those with sympathy for unionization.
In the video, which was leaked to Gizmodo, Amazon declared, "We are not anti-union, but we are not neutral either," and, "We do not believe unions are in the best interest of our customers, our shareholders, or most importantly, our associates. Our business model is built upon speed, innovation, and customer obsession — things that are generally not associated with unions. When we lose sight of those critical focus areas we jeopardize everyone's job security: yours, mine, and the associates'."
Using the term "living wage," according to the video, "can indicate associate disengagement, vulnerability to organizing, or early organizing activity," along with the distribution of fliers, "raising concerns on behalf of their coworkers," employees "showing an unusual interest in policies," "negativity in the workplace," and those "who normally aren't connected to each other suddenly hanging out together."
The Amazon video also advised on how best to intimidate employees.
"You would never threaten to close your building just because associates joined a union," the video declared. "But you might need to talk about how having a union could hurt innovation which could hurt customer obsession which could ultimately threaten the building's continued existence."
Though Gizmodo refused to public the video in full due to concerns over the anonymity over its leaker, Amazon confirmed its authenticity in a response statement.
"We're perplexed as to why Gizmodo takes issue with a company wanting to better engage its employees, train hundreds of managers to maintain an open and direct dialogue with associates, and create channels to drive innovation on behalf of the customer in a caring and inclusive environment," Amazon proclaimed. "The reporter clearly cherry-picked soundbites from the video to meet his editorial objective and do not align with our view on how to create career opportunities for employees."
"In the U.S., the average hourly wage for a full-time associate in our fulfillment centers, including cash, stock, and incentive bonuses, is over $15/hour before overtime. That's in addition to our full benefits package that includes health, vision and dental insurance, retirement, generous parental leave, and skills training for in-demand jobs through our Career Choice program, which has over 16,000 participants," the company continued. "We encourage anyone to come see for themselves by taking a tour at one of our fulfillment centers."
In 2017, it was reported that Amazon warehouse employees were being worked to exhaustion.
Examples revealed following an undercover investigation included employees falling asleep on the job, urinating into bottles and trashcans for fear of being sanctioned for bathroom breaks, and living in the warehouse parking lot.
In response, Amazon paid employees in August to say positive things about the company on Twitter.
http://feedproxy.google.com/~r/breitbart/~3/VjgLxfam90k/