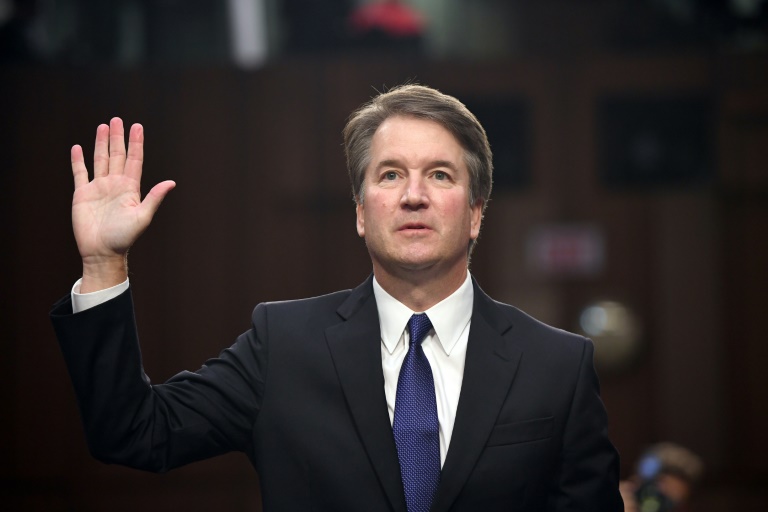 The attorney for the Palo Alto, California, psychology professor who accused Supreme Court nominee Brett Kavanaugh of sexual assault while they were high school students said on Tuesday evening that her client, Christine Blasey Ford, is "not prepared" to appear before the Senate Judiciary Committee on Monday for a hearing without a full FBI investigation into her allegations.
Lisa Banks, one of Ford's lawyers, told CNN's Anderson Cooper that though Ford is "prepared to cooperate with the committee and any law enforcement investigation… in whatever form that takes," she is "not prepared to talk with them at a hearing on Monday" and "can't focus on having a hearing" after receiving "death threats" and "harassment" in recent days.
Ford's lawyers reportedly sent a letter to Senate Judiciary Committee Chuck Grassley (R-IA) on Tuesday evening indicating that Ford wants to testify after an FBI investigation is conducted. In the letter, Ford's lawyers wrote that "a full investigation by law enforcement officials will ensure that the crucial facts and witnesses in this matter are assessed in a non-partisan manner, and that the Committee is fully informed before conducting any hearing or making any decisions."
"We would welcome the opportunity to talk with you and Ranking Member Feinstein to discuss reasonable steps as to how Dr. Ford can cooperate while also taking care of her own health and security," the letter continued.
On CNN's Anderson Cooper 360, Banks said Ford is dealing with "hate mail," "harassment," and "death threats," and "she can't focus on having a hearing that hasn't been investigated and where nobody has talked to her."
"Asking her to come forward in four or five days and sit before the Judiciary Committee on national tv is not a fair process," Banks continued. "Any talk of a hearing on Monday is premature because she just came forward with these allegations 48 hours ago."
When Cooper pressed Banks on multiple occasions about whether Ford would appear on Monday if the FBI concluded an investigation by then, Banks claimed that "no legitimate investigation is going to happen between now and Monday" and "nothing of substance and nothing legitimate can happen by Monday." Banks also deflected after Cooper asked whether Democrats are just trying to stall and obstruct.
Banks, repeating that Ford was "deflecting death threats and harassment," said "rushing forward into a hearing when she is under this much pressure" is not the right thing to do.
"There is no reason we should have a public hearing on Monday given what has occurred and when it has occurred," Banks continued. "This is being rushed through. And it's too important to be rushed through. This is not a game. This is a serious situation."
http://feedproxy.google.com/~r/breitbart/~3/T9DFMjGxcts/