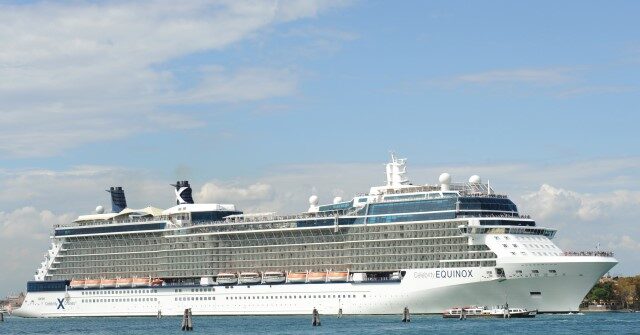 A lawsuit claims the body of a man who died during a Celebrity Cruise in August was not kept in the ship's morgue but in a cooler.
"The body of Robert L. Jones of Bonifay, Florida, was found in the Celebrity Equinox ship's drink cooler, where it laid [sic] in a body bag on a floor palette [sic] for days and was badly decayed, his family's lawsuit filed April 19 in federal court in Miami says," the Miami Herald reported Friday.
The time it takes for a person's body to decompose depends on conditions including temperature and moisture, according to the Australian Museum.
Per the Herald, the drink cooler's temperature was allegedly not cold enough to keep the body from decomposing.
The family had hoped to have an open casket funeral upon the cruise ship's return to Fort Lauderdale after its voyage to the Caribbean.
However, the complaint said the man's body was "so far gone in the decomposition process" that it was not an option for them.
The decomposition process comes in several stages known as livor mortis, rigor mortis, and algor mortis, according to Medical News Today.
Jones died after suffering heart complications while onboard the ship with his wife, Marylin Jones, whom crew members reportedly urged to allow his remains to be kept onboard instead of moving them to San Juan, Puerto Rico.
The crew reportedly also explained the body could be stored in the ship's working morgue, so Jones apparently allowed them to keep her husband's body in the morgue for nearly a week.
But before the ship's docking in Florida, the body was allegedly taken from the morgue to the drink's cooler. It remained unclear why that decision was made.
The complaint also alleges Jones's body was later found lying inside a body bag in the cooler, which was not kept at an "appropriate" temperature.
Refrigerating a person's body is not recommended when the goal is to keep it preserved for a long period of time, according to Beyond the Dash. But if kept in a proper morgue, a body can be preserved for several months, the complaint noted, adding Celebrity Cruises is required to keep a working morgue.
The Jones family is seeking $1 million in damages after they and other loved ones were unable to receive the closure of an open casket funeral.
https://www.breitbart.com/health/2023/04/22/lawsuit-mans-body-decays-being-stored-cruise-ships-drink-cooler/