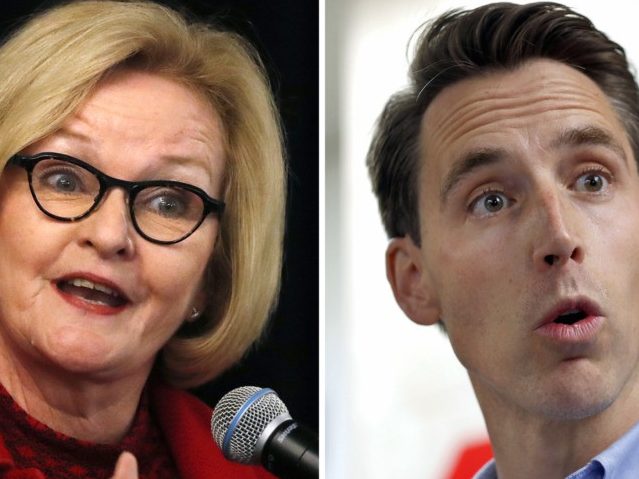 A Missouri Scout poll released over the weekend found that Republican Josh Hawley continues to lead his Democrat challenger Claire McCaskill in the closely watched Missouri U.S. Senate race.
47 percent of likely Missouri voters said they would support Hawley in the Nov. 6 election, while only 46 percent said they would support his Democrat challenger McCaskill.
Almost all other polls released throughout the past few months have either shown a tie between Hawley and McCaskill or placed Hawley in the lead.
A poll released October 10 by Reuters/Ipsos/UVA Center for Politics revealed that 45 percent of likely Missouri voters supported State Attorney General Hawley, while only 44 percent supported McCaskill.
On Sunday, the New York Times released a piece on Hawley detailing problems that have occurred under his watch as Missouri's attorney general. The New York Times describes his time in office as "turbulent" and "brief."
The New York Times also says Hawley's tenure as attorney general "has been costly for state taxpayers."
James O'Keefe's Project Veritas released a video last week that exposed McCaskill for favoring extreme gun control measures, which she is hiding from voters.
The latest Missouri Scout survey was conducted October 17 through October 18, 2018. 1,215 likely 2018 General Election voters participated in the survey, which was weighted to match expected turnout demographics for the 2018 General Election, with a Margin of Error of +/- 2.7%. Margins of Error within specific demographics (crosstabs) are significantly higher due to smaller sample size. Totals do not always equal 100% due to rounding. Survey conducted by Remington Research Group on behalf of Missouri Scout.
Follow Kyle on Twitter @RealKyleMorris
http://feedproxy.google.com/~r/breitbart/~3/xuAZi6Pczkg/