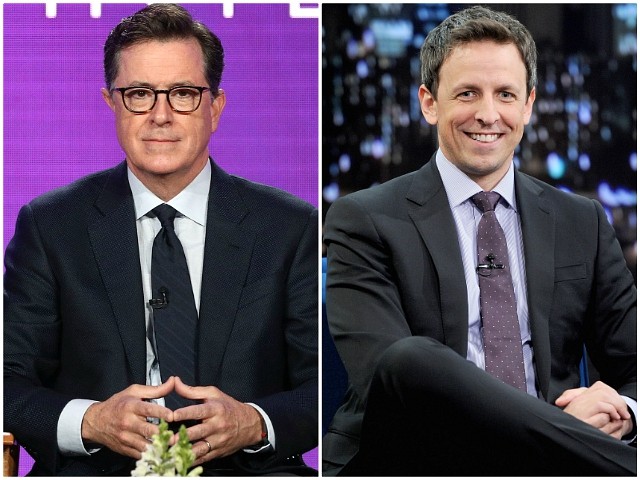 Late-night hosts went after Judge Brett Kavanaugh on Monday evening, amid uncorroborated claims of sexual misconduct against President Donald Trump's Supreme Court nominee.
On Sunday evening, Deborah Ramirez became the second woman to come forward and accuse Kavanaugh of misconduct dating back to their time at Yale University, claiming he waved his penis in her face without consent.
The allegation, published in The New Yorker, came over a week after Dr. Christine Ford told The Washington Post how she was subject to an alledged "rape attempt" by Kavanaugh when he was in high school in the 1980's.
On The Late Show, Stephen Colbert expressed surprise that such an incident took place at Yale University.
"I mean, you expect that kind of thing at Dartmouth, but Yale? At least tell us his penis was wearing a bow tie," Colbert said. "Though Ramirez acknowledges gaps in her memory, she recalls someone yelling, 'Brett Kavanaugh just put his penis in Debbie's face.' And a little further down the hall, a 50-year-old Chuck Grassley said, 'Get that man on the Supreme Court.'"
TONIGHT: More disturbing accusations surface against Brett Kavanaugh, and in disturbing fashion, the GOP continue to defend him. #LSSC pic.twitter.com/0WP6DIG4ba

— The Late Show (@colbertlateshow) September 25, 2018
On Late Night, Seth Meyers mocked Donald Trump's claim at a rally on Friday that Kavanaugh was "born for the position."
"What position? Surprise villain in a Law & Order episode? 'It was the judge this whole time,'" Meyers quipped.
Over on Daily Show, Trevor Noah accused Republicans of trying to "normalize sexual assault" to secure Kavanaugh's confirmation.
"I don't understand why guys are still whipping out dicks," Noah said of Kavanaugh's alleged behavior. "I know this happened a long time ago, but that's my point…no party was made better by a dick being whipped out."
On TBS' Conan, Conan O'Brien referenced sexual assault allegations made against Donald Trump in the run-up to the 2016 presidential election.
"In a new interview with Fox News, Supreme Court nominee Brett Kavanaugh said he was a virgin in high school, and 'for many years thereafter.' So now, President Trump is calling on him to withdraw," O'Brien joked. "A second woman has come forward to accuse Supreme Court nominee Brett Kavanaugh of sexual misconduct. For those of you keeping track, 13 more and Kavanaugh can run for president."
#Conan on how presidential Brett Kavanaugh is and more @ https://t.co/l5Ia6QtJ37 pic.twitter.com/N0PsZmU4Ix

— Team Coco (@TeamCoco) September 25, 2018
On Live, Jimmy Kimmel mocked Brett Kavanaugh's claim that he was a virgin until after he left college and suggested if confirmed he should be castrated.
"Thank you for admitting that," Kimmel said in response a clip of Kavanaugh detailing his virginity. "He was a virgin until many years after. So if he doesn't get to be on the Supreme Court, maybe he'll be The Bachelor."
"Hear me out on this," he continued. "So Kavanaugh gets confirmed to the Supreme Court, OK? Well, in return we get to cut that pesky penis of his off in front of everyone."
In an interview with Fox News on Monday evening, Kavanaugh vehemently defended himself against what he described as "false accusations."
"I'm not going to let false accusations drive out us out of this process," he said. "We're looking for a fair process where I could be heard and defend my integrity, my lifelong record of promoting dignity and equality for women, starting with the women who knew me when I was 14 years old. I'm not going anywhere."
"I have faith in God and faith in the fairness of American people," he continued. "America is about fairness and hearing from both sides. I didn't do this or anything resembling this. This is wrong."
Follow Ben Kew on Facebook, Twitter at @ben_kew, or email him at bkew@breitbart.com.
http://feedproxy.google.com/~r/breitbart/~3/u0Cm8ha_Sik/