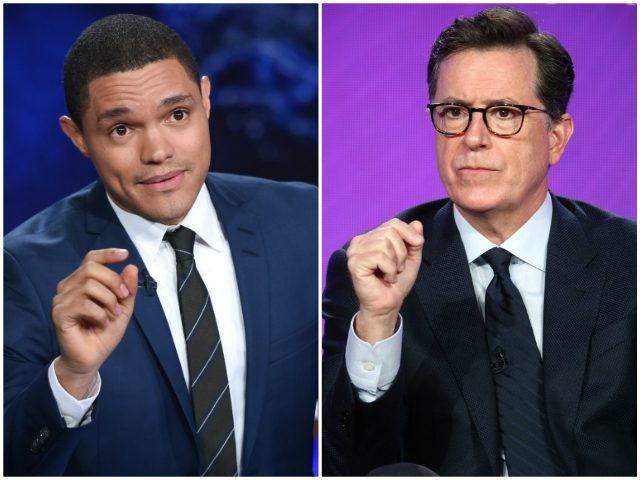 Late-night hosts ripped into President Donald Trump's continued attacks on the "fake news media" on Monday, arguing that such criticism helps incite the sort of violence America has seen over the past week.
Last week, several prominent Democrats and left-wing figures, including former Presidents Barack Obama and Bill Clinton, were subject to bomb threats from suspected mail bomber Cesar Altieri Sayoc. On Saturday, 11 Jewish worshipers were killed in a mass shooting at the Tree of Life Synagogue in Pittsburgh that is understood to be an anti-semitic attack by a man named Robert Bowers.
"America's orange turtle has decided that it has nothing to do with him," said The Daily Show host Trevor Noah of Trump's response to the attacks. "If you know a phrase has been used to encourage people to commit acts of violence why would you not stop using that phrase? You either want to encourage violence or you don't care"
"If the President of the United States called someone the enemy of the people, don't be shocked when the people go after that enemy," Noah continued.
Over on Late Night, Seth Meyers claimed that only Republican were responsible for spreading conspiracy theories, despite much evidence to the contrary.
"It's not both sides. Only one side is putting deranged conspiracy theories accusing Democrats of orchestrating an immigrant invasion, calling the press the enemy of the people and encouraging violence," Meyers explained.
ABC's Jimmy Kimmel made similar comments, asking the audience to imagine what kind of van the man responsible for sending mail bombs would drive, before showing an image of his van ordained with images of Trump and stickers the read "CNN Sucks."
"The President was asked this week that in the wake of the bomb scare, directed specifically at his political opponents and CNN whether he plans to pull back on all the media bashing," Kimmel said, before playing a clip of Trump saying that he would only tone down his rhetoric if the media started treated him fairly.
"If you guys stop saying mean things about me I'll stop inciting angry lunatics to kill you, deal?" he quipped.
Meanwhile, Stephen Colbert took a more somber tone, declaring that "hate is not what America stands for." He also cited the example of a Muslim group who raised money for the victims of the Pittsburgh attack.
"Hate is not what America stands for," Colbert said. "And tonight, all of us are with you. Case in point: Hours after the shooting, a Muslim group started a crowdfunding site for victims with the goal of raising $25,000; so far, they've raised over $140,000. Tarek El-Messedi, the activist who started the page, explained, 'We wish to respond to evil with good.'"

The violence in recent weeks comes amid more than 600 attacks and acts of extreme harassment from rabid leftists, and calls for violence and harassment of Trump supporters from prominent Democrats from Congresswoman Maxine Waters and Eric Holder.
Follow Ben Kew on Facebook, Twitter at @ben_kew, or email him at bkew@breitbart.com.
http://feedproxy.google.com/~r/breitbart/~3/u2pLEjD_vfE/