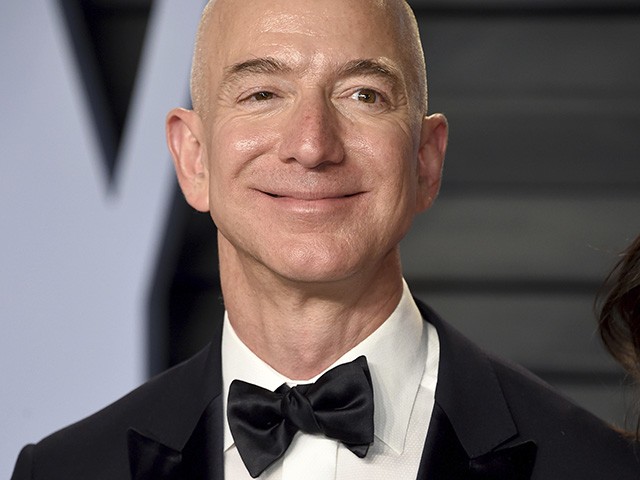 A New York labor union published a report, Wednesday, calling out Amazon's "deadly and dehumanizing" working conditions and accusing it of working towards "world market domination."
In the Retail, Wholesale and Department Store Union report, titled "What's wrong with Amazon?" the union accused Amazon of being "anti-worker," "deadly and dehumanizing," and even "racist."
"This document provides background on Amazon's anti-union, anti-worker, and anti-brick and mortar activities, as well as a documented past practice of serving as a platform for selling racist products," declared the report. "This is not a tech company simply trying to expand. This is a company that opposes the rights of workers to receive a fair wage and to freely select a union without being subjected to propaganda against it as it fiercely pursues its goal of world market domination."
In a section of the report titled "Deadly and Dehumanizing Working Conditions," the union listed examples of negligence and poor working conditions at Amazon warehouses, including employees feeling the need to urinate in bottles and trashcans for fear of taking a bathroom break, and a number of employee deaths in Amazon warehouses.
One female Amazon worker had to live in the warehouse parking lot after suffering an injury at work, while a 2017 investigative report claimed Amazon employees had been worked to "exhaustion," with some falling asleep on the job.
The union report also detailed Amazon's anti-union views, which were revealed in September after a 45-minute internal company video instructing managers how to spot and intimidate employees with union sympathies was leaked.
On Black Friday, European Amazon workers protested working conditions.
This week, it was also reported that Amazon is facing an antitrust investigation in Germany.
"Amazon acts as a kind of 'gatekeeper' to customers," claimed German Federal Cartel Office President Andreas Mundt. "The double role as biggest trader and biggest marketplace means there is a potential to impede other traders on the platform."
In July, it was revealed that Amazon is on track to control 50 percent of the U.S. e-commerce market.
http://feedproxy.google.com/~r/breitbart/~3/U040AT5qZyI/