Investigators at the Department of Labor have exposed another large Indian-owned outsourcing company which underpaid low-wage foreign H-1B workers to win contracts sought by American graduates.
The penalty shines a spotlight on the establishment-backed business of international sweatshops for college graduates, and it also exposed a self-titled "university" that can be used to funnel unpaid Indian graduates into the college-grad job market.
The graduate-sweatshop issue is becoming more visible because Kansas GOP Rep. Kevin Yoder and GOP leaders are pushing legislation that would quickly convert 300,000 Indian H-1B outsourcing-workers into American immigrants. Yoder's so-called "country cap" legislation likely will be pushed through during a lame-duck session after the election.
The Seattle Times first reported the labor department's statement on the Indian-owned company:
People Tech Group Inc. – a Redmond, Washington, information technology staffing company – will pay 12 employees $309,914 after a U.S. Department of Labor Wage and Hour Division (WHD) investigation found the company violated the labor provisions of the H-1B visa program by paying its guest workers far below the required wages, and sometimes not paying them at all.
But the agency imposed a very small financial penalty for the crime, and did not announce any penalties for the company's executives and owner:
The Department also assessed the company $45,564 in civil penalties for the violations.
The civil penalty is likely limited by federal regulations which curb the department's ability to penalize companies for cheating in the labor market where millions of Americans college-graduates hope to make a living. The labor department's press release said:
"The intent of the H-1B foreign labor certification program is to help American companies find the highly skilled talent they need when they can prove that a shortage of U.S. workers exists," said Wage and Hour Division Acting District Director Carrie Aguilar in Seattle. "The resolution of this case demonstrates our commitment to safeguard American jobs, level the playing field for law-abiding employers, and ensure no one is being paid less than they are legally owed."
However, the People Tech company may be forced to shut down if the Department of Homeland Security refuses to provide it with the cheap H-1B workers it needs to win contracts sought by American computer experts.
The agency's Citizenship and Immigration Services unit should investigate the People Tech company, deny more H-1Bs and President Donald Trump should make it a big issue, said John Miano, a former computer programmer who now works as a lawyer for the Immigration Law Reform Institute.
Voters "are getting antsy because they expected more to happen [after Trump's election]," said Miano. But Trump can force changes in the H-1B program, he added, saying:
Trump should be doing something so he can bring back the people at Disney [who lost their jobs to H-1B outsourcing] and say, "See, I fixed the problem now."
The People Tech company has asked for roughly 2,600 H-1B low-wage workers since 2014, and likely got visas for 900 of the workers, mostly from India.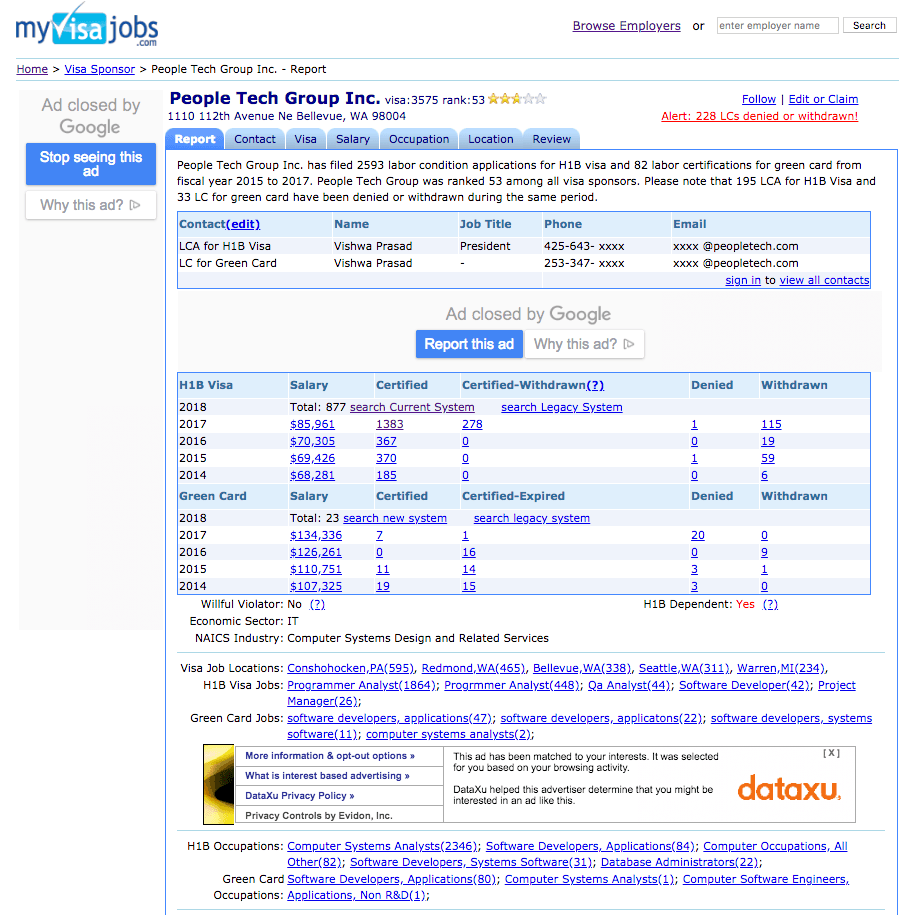 "I cannot comment as this is an ongoing process with USDOL," Mark W. Meyer, executive vice-president at People Tech, told Breitbart News. "Until it is complete we are advised to make no comment," he said.
Via Glassdoor.com, the company's foreign-language employees have posted a series of scathing comments about the company's management. One comment, titled "If you want to experience hell, start working here," said:
The CEO shouts at almost everyone he can find. Employees are treated as slaves. If you are a calm person only three things can happen: 1 you will learn shouting at your coworkers, 2. You will get some mental problems, 3. You will resign.

If you think what I am saying is not true then be a volunteer experience it and write a review be happy to resign and start living your life once again.
Advice to Management

You will drown one day with this attitude. Learn to be friendly and to respect employees. They are human beings not your slaves.
However, resignation is not an option for the foreign H-1B workers, who normally lose their work permit if they leave their company or get fired for complaining.
Another comment urged managers to "please provide the fans in the room."
People Tech is just one of many Indian-run companies that have been penalized for corruption by the federal government, amid a steady flow of reports about fraud and corruption, under-the-table-payments, fake resumes, and anti-American discrimination among the companies which employ roughly 700,000 H-1B workers in the United States.
Since 2000, the labor department has penalized many H-1B companies for cheating 7,000 foreign workers: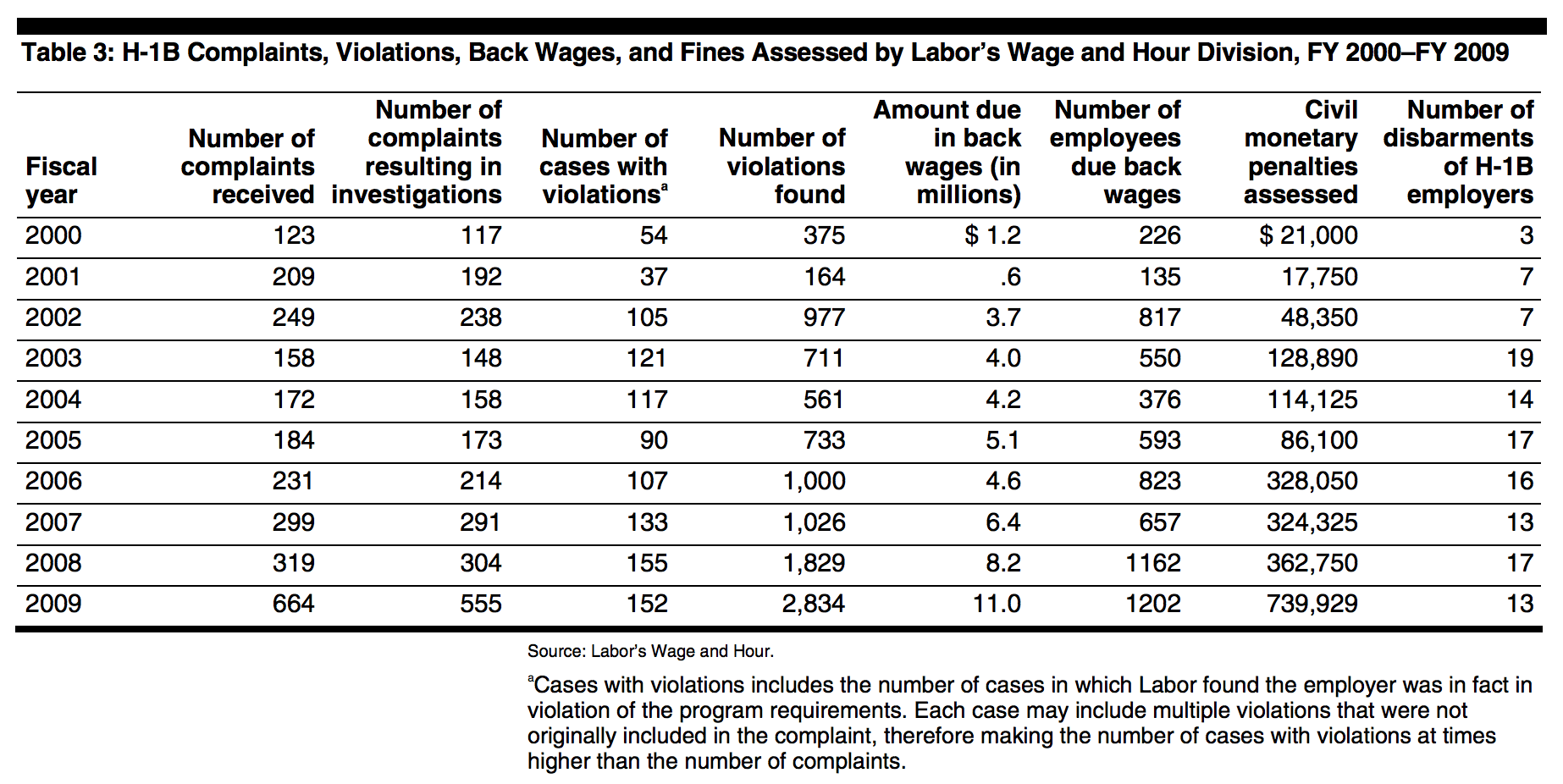 In August, the Department of Justice arrested an Indian CEO when he flew into Sea-Tac airport and charged him with using the H-1B visa-worker program to "compete unlawfully in the market."
"The criminal complaint describes how two companies incorporated by [CEO Pradyumna Kumar Samal]  in 2010 and 2011, engaged in a scheme sometimes referred to as a 'bench-and-switch' scheme, to exploit foreign-national workers, compete unlawfully in the market, and defraud the U.S. government," said the statement from the Department of Justice. The statement added:
Nearly 200 workers may have been brought in under the phony applications.  The employees were forced to pay SAMAL's companies a partially-refundable "security deposit" of as much as $5,000 for the visa filings, regardless of whether they were assigned to any projects that provided them with income.
Since 2014, Samal's two companies have asked for roughly 700 H-1B visas and six green cards, according to MyVisaJobs.com. The 700 requests are likely to have gotten roughly 200 H-1B visas for foreign workers who could be subcontracted at very low rates out to other brand-name firms in the Seattle area.
Bloomberg Law reported the filing of a discrimination lawsuit against one of the largest companies which use cheap H-1B to win U.S. outsourcing contracts:
A class action accusing Tata Consultancy Services Ltd. of bias against U.S.-born workers could make big waves in the information technology staffing industry.

The case is one of seven [lawsuits] asserting that IT staffing companies prefer foreign workers from South Asia over qualified Americans. All of the companies being sued are heavy users of H-1B guestworker visas, which go to skilled professionals in "specialty occupations." ….

Tata Consultancy is the second largest H-1B user, with 14,697 visa petitions approved in fiscal year 2017, according to U.S. Citizenship and Immigration Services data. By contrast, the company recruited about 3,000 U.S. workers last year, and 12,500 over the past five years, a spokesman told Bloomberg Law.

Cognizant Technology Solutions Corp., a defendant in one of the other class actions, led the H-1B pack with 28,908 approved petitions last year.
In the Sept. 14 San Francisco Mercury News, the wife of an Indian H-1B worker acknowledged the problems in the H-1B program, saying:
"A lot of times H-1B is taken advantage of because of the kind of loopholes you can have in it, especially in the technical sector," says [Gayathri] Chakravarthi, who has made H-1B applications on behalf of her company. "A lot of us actually support tightening the H-1B application system."
Chakravarthi is a recruiter and faces intense pressure from other H-1Bs workers to hire only unemployed H-1Bs for jobs in the United States. This peer pressure — and CEO's demand for cheap-labor — ensures widespread discrimination against Americans seeking work in Silicon Valley's tech sector, former programmer Miano told Breitbart News.
Top American firms are tied into the anti-American discrimination because they delegate hiring decisions to the Indian recruiters, said Miano. "We hear these companies saying 'We have open jobs' … but when you go the jobs board you find [Indian] intermediaries [who say] 'If I have 10 [H-1B] people sitting on a bench doing nothing, I prefer to put one them in," Miano said.
American graduates "are having to apply to India for jobs in the United States," Miano said. 
Bloomberg News reported in August that the labor department concluded that Cisco Systems — a huge U.S. company — has been discriminating against American college-graduates:
The DOL's Office of Federal Contract Compliance Programs determined that the technology firm secured visas for foreign workers instead of hiring U.S. citizens for certain jobs and paid the visa holders at a lower rate than their American counterparts, according to the sources. The federal contractor watchdog, which uncovered the alleged discrimination as part of a routine audit, is currently discussing the settlement of a violation notice issued to Cisco earlier this year …

The probe is one of several ongoing investigations into possible discrimination by federal contractors against visa holders. The OFCCP considers that a form of national origin bias, banned by an executive order first issued in 1965 by President Lyndon Johnson …
The People Tech case also exposed a new angle in the outsourcing business — the creation of a company-tied "university" where foreigners can build a U.S. resume by working for free at People Tech and other companies.
The Olympia University of Business & Technology is run by People Tech's senior legal executive, Meyer. The website tells prospective students:
Your summer begins with two enriching courses of your choosing during the Academic Phase, and then continues with six weeks of real-world work experience during your internship placement …

For the final six weeks of the Summer Study Internship Program, Olympia University will arrange for students to work in professional internships with Boston-based firms and organizations. Generally, your internship is unpaid. You'll work in your internship full-time, five days a week, for a minimum of 35 hours per week.

…

Please note: Program participants must complete six weeks of internship …

The Summer Study Internship Program's 2-credit Internship course meets on Friday mornings throughout Summer 1 and two evenings in Summer 2 … Your grade in the Internship Course at the end of Summer 1 must be a C or higher in order for you to continue on to your internship placement. There is no refund given to students who are withdrawn from the program.
The university allocates interns to partner firms, including the penalized People Tech and to Codesmart, another firm run by Meyer: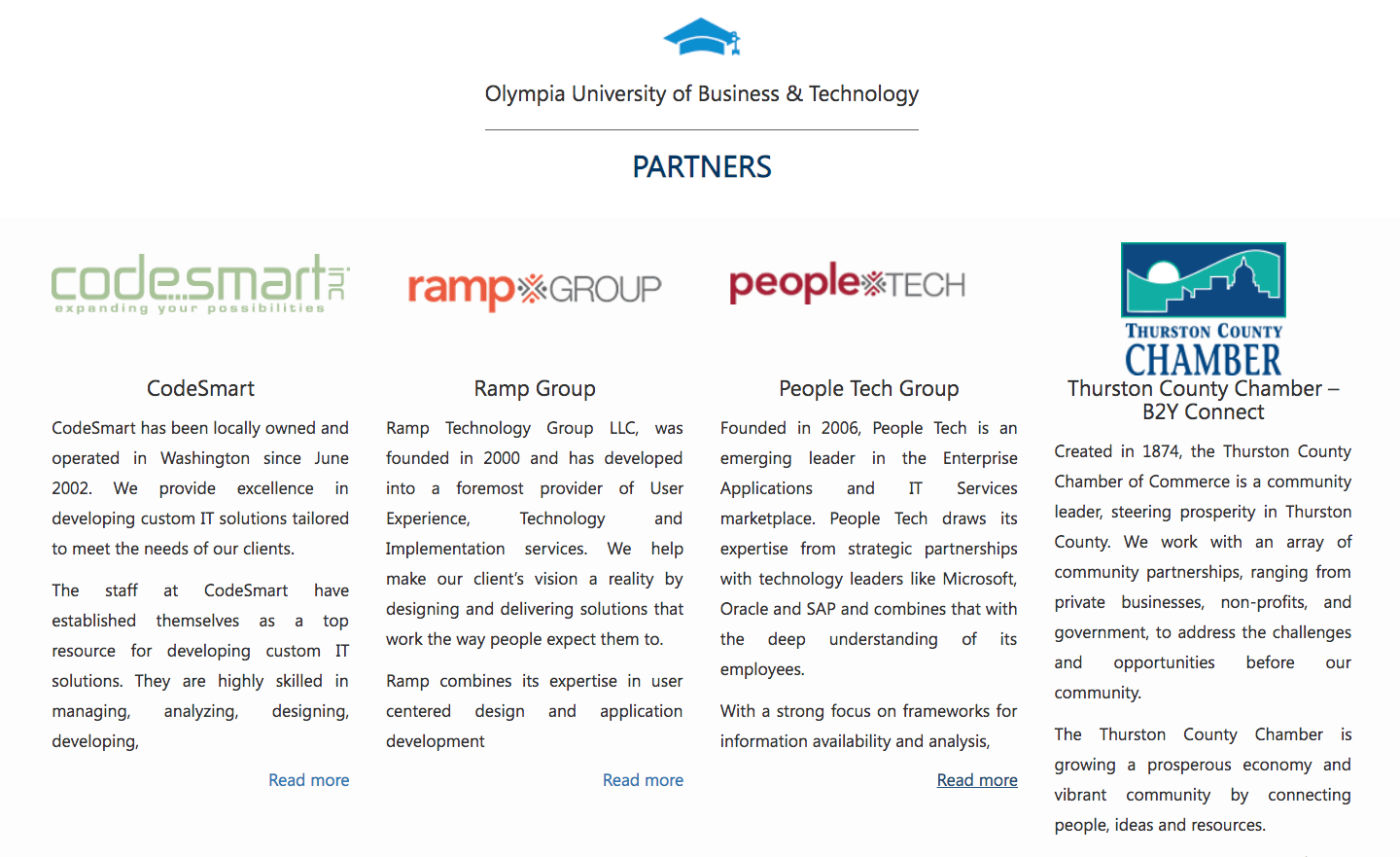 Meyer declined to answer Breitbart's questions about the "university."
The H-1B program is one part of the growing middle-class outsourcing business which is helping to suppress salaries for U.S. college-graduates.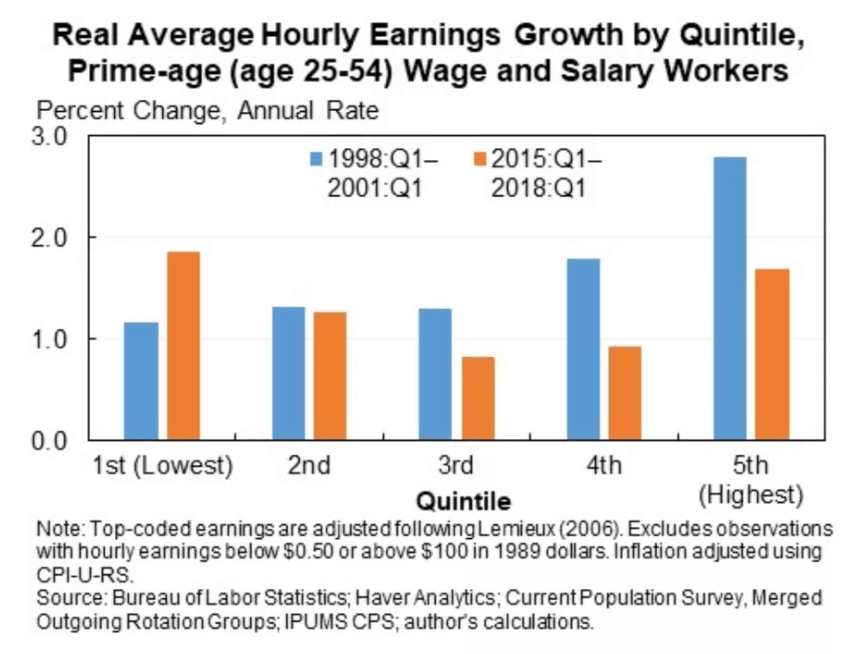 Nationwide, the U.S. government helps companies keep a population of roughly 1.5 million visa-workers in American white-collar jobs. The various visa programs — H-1B, L-1, J-1, H4 EAD, OPT, TN — allow employers to hire cheap foreign doctors, therapists, programmers, engineers, accountants, designers, architects, managers, recruitment specialists, P.R. experts, and many other professionals.  These huge labor programs boost the stock market by lowering salaries for many American college graduates and also push many Americans into lower-tech, lower-wage careers, such as journalism.
Overall, the Washington-imposed economic policy of economic growth via imported labor shifts wealth from young people towards older people by flooding the market with cheap white-collar and blue-collar foreign labor.
Four million young Americans will join the workforce this year, but the federal government will also import 1.1 million legal immigrants, and allow an army of at least 2 million visa-workers to work U.S. jobs, alongside asylum-claiming migrants and illegal aliens.
That flood of outside labor spikes profits and Wall Street values by cutting salaries for manual and skilled labor offered by blue-collar and white-collar employees. The policy also drives up real estate prices, widens wealth-gaps, reduces high-tech investment, increases state and local tax burdens, hurts kids' schools and college education, pushes Americans away from high-tech careers, and sidelines at least 5 million marginalized Americans and their families, including many who are now struggling with opioid addictions. Immigration also pulls investment and wealth away from heartland states because investment flows towards the large immigrant populations living in the coastal states.
Contact the author here: @NeilMunroDC
http://feedproxy.google.com/~r/breitbart/~3/eGbxJVznwXE/