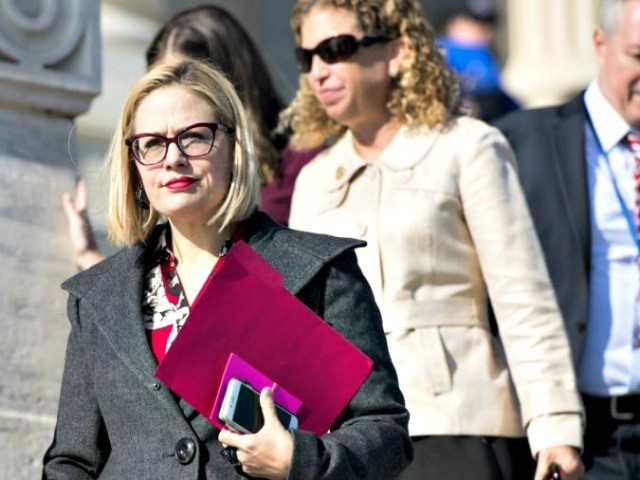 Democrat Kyrsten Sinema is running for Senate in gun-friendly Arizona but staying mum on the fact that she backed a gun control bill just last year.
The bill, known as the Public Safety and Second Amendment Protection Act of 2017, was little more than a reconfigured–and regurgitated–version of the gun control bill Barack Obama unsuccessfully pushed following the December 14, 2012, attack on Sandy Hook Elementary School. (The bill pushed in response to Sandy Hook was also called the Public Safety and Second Amendment Protection Act.)
In both instances, the title was misleading. The act did not protect Second Amendment, rather, it pillaged it.
The 2017 version, co-sponsored by Rep. Sinema, was spearheaded by anti-gun Rep. Mike Thompson (D-CA). He announced that the bill would:
[Close] a number of gun sale loopholes by requiring comprehensive and enforceable background checks on all commercial gun sales, including those at gun shows, over the internet or though classified ads, with reasonable family and friend exceptions. Under our legislation, background checks would be conducted though a federally licensed dealer on potential gun buyers.
In other words, the bill would expand background checks, place new regulations on gun shows, and bar private gun sales. And Kyrsten Sinema co-sponsored it, along with 193 other Democrats.
AWR Hawkins is an award-winning Second Amendment columnist for Breitbart News, the host of the Breitbart podcast Bullets with AWR Hawkins, and the writer/curator of Down Range with AWR Hawkins, a weekly newsletter focused on all things Second Amendment, also for Breitbart News. He is the political analyst for Armed American Radio. Follow him on Twitter: @AWRHawkins. Reach him directly at awrhawkins@breitbart.com. Sign up to get Down Range at breitbart.com/downrange.
http://feedproxy.google.com/~r/breitbart/~3/xSYFgrR_AgU/