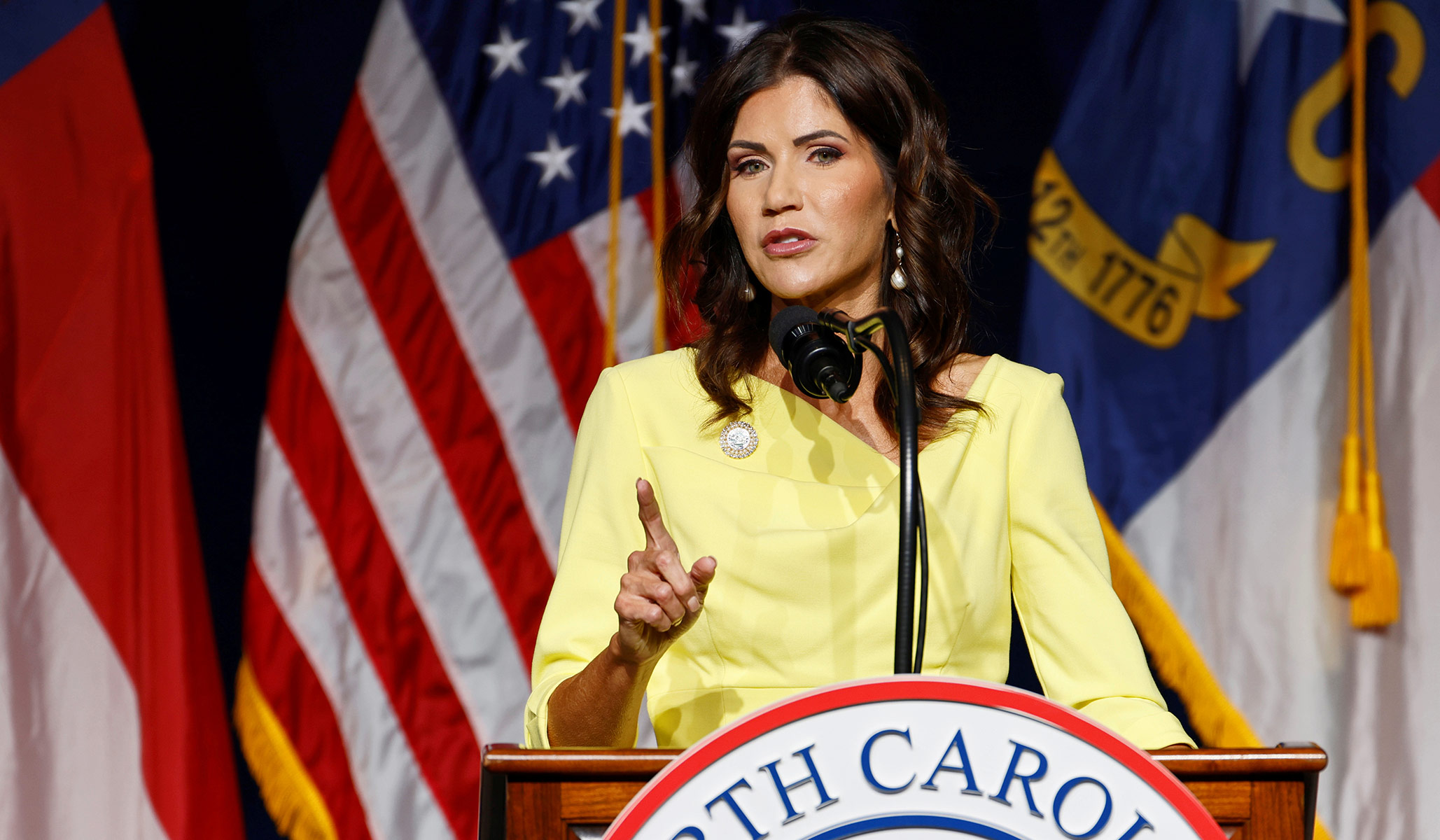 South Dakota governor Kristi Noem is debuting an advertisement on prime-time news programs across the country touting her new legislative push to bar biological males from competing in women's sports. The ad, released on Noem's Twitter account earlier this week, features rolling shots of Noem interspersed with clips of female athletes, with a background narration declaring: "In South Dakota, only girls play girls' sports. Why? Because of Governor Kristi Noem's leadership. Noem has been protecting girls' sports for years, and never backed down. Noem's steady, conservative leadership doesn't win headlines — it wins results. Now, Gov. Noem has a bill that will give South Dakota the strongest law in the nation protecting female sports."
It closes: "Doing the work. Delivering results. Governor Kristi Noem."
"Never backed down"? Well, not quite. Anyone who's been following the state-level fights over women's sports will be familiar with Noem's rapid fall from grace on the issue. The South Dakota governor became a rising Republican star in the early months of the pandemic because of her state's refusal to lock down, but she quickly fell out of favor with conservatives when she vetoed a bill banning biological males in women's sports that was sent to her desk by the South Dakota legislature in March. As a result, Noem was widely panned in conservative media, including here.
Noem's subsequent PR campaign to rehabilitate her image was unpersuasive. She told a self-contradictory public story about her decision to veto the bill, which she maintained was done at the behest of unnamed "legal experts" who advised her that the bill's "overly broad language could have significant unintended consequences." That, plus a disastrous appearance on Tucker Carlson that further exposed the holes in Noem's story, raised questions about the real factors behind the governor's capitulation. I looked into the issue last September, highlighting some serious concerns about her office's relationship to powerful business interests with a vested interest in killing the bill.
And yet, political pressure is a powerful thing. Noem seems to have learned her lesson, albeit at the cost of an enormous amount of political capital with conservatives. Advocates say the new bill that she's introducing is set to have one of the strongest protections for women's sports in the nation. One such advocate is Jon Schweppe, the director of policy and government affairs for the American Principles Project, a social-conservative group that sharply criticized Noem for her initial veto. (Noem had publicly signaled agreement with APP's support of the previous bill before her abrupt about-face, drawing the organization's ire.) Schweppe recently wrote:
The bill would protect the integrity of both K-12 and college athletics, while explicitly tying the definition of "sex" to an athlete's original birth certificate. . . . The bill also gives parents and students the right to sue schools or athletic associations that allow men to compete in women's sports. American Principles Project (APP) has advocated for implementing private rights of action into a number of different bills spanning numerous issues, and there's a reason for it: civil liability is an incredible enforcement mechanism that strongly incentivizes compliance with the law.

If Governor Noem gets this done, South Dakota would become the tenth state to defend women's sports. Noem would be joining a coalition of courageous governors including Brad Little of Idaho, Greg Gianforte of Montana, Jim Justice of West Virginia, and Ron DeSantis of Florida. The early action of these governors helped pave the way for more states to follow suit in protecting women during next year's legislative sessions. We expect to see women's sports bills introduced, and hopefully passed, in at least a dozen states in addition to South Dakota in 2022.
It is a bit odd that Noem is running this ad across the country. She clearly still thinks she has a shot at being a national figure, which will be a challenge after the fierce backlash she received from conservatives in response to her veto. But look: Credit where credit is due. If Noem follows through this time, it will be an unmitigated win for women and girls — not to mention biological truth — in South Dakota.
https://www.nationalreview.com/corner/kristi-noem-finally-gets-it-right-on-womens-sports/