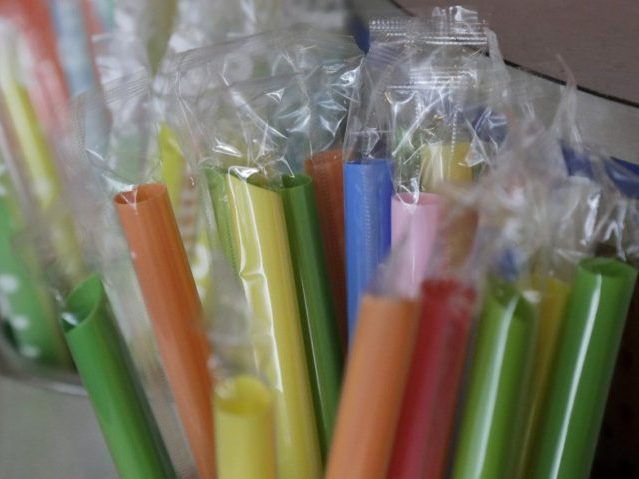 There once was a time when California was a model for the rest of the country. Decades ago, it used to be said, "As California goes, so goes the nation."
Now, nothing could be further from the truth. Thank goodness.
California has become the land of sanctuary state legislation, ridiculous regulations, criminal penalties for using the wrong gender pronoun, and the highest state taxes in the country. On Thursday, the social engineers in Sacramento found a new target for their regulatory fervor. California became the first state to ban plastic straws. California governor Jerry Brown signed Assembly Bill 1884, which "prohibits dine-in restaurants from automatically providing plastic straws" to customers. Plastic straws can be provided if the customer requests one. Violators can be fined $25 per day.
That's right; the lowly plastic straw is now public enemy number one in California. It's the latest step in the environmentalist war against plastic waste.
While it's true that only 9% of the plastic we use is recycled, and many plastic straws end up littering beaches or streets; the new California law will have virtually no impact whatsoever on plastic pollution. That's because the law excludes fast food restaurants, which dwarf dine-in restaurants in the distribution of plastic straws; and it does nothing to limit plastic tableware or cup lids. Indeed, opponents of the law pointed out that it was likely to increase the use of plastic lids that allow for sipping without a straw. Even the official legislative analysis of the bill in the California legislature concluded that it was unlikely to "change consumer behavior."
Meanwhile, San Francisco continues to hand out free plastic syringes to drug users — more than 4.4 million a year. Guess where those end up. On the same beaches and streets.
But in the nanny state, the actual consequences of a law don't matter. What drives public policy is political correctness and virtue signaling. The all-knowing government punishes "bad" behavior and rewards "good" behavior. Allowing market forces to work is not an option. Never mind that the feel-good, symbolic gesture accomplishes virtually nothing.
Compared to Republican-controlled states, California now seems like a different planet. In red states, legislatures and governors are worried about cutting taxes, promoting business growth, expanding freedom, and encouraging personal responsibility.
Not so in California. Rather than addressing the State's crushing tax burden, pervasive crime, rampant illegal immigration, or a multitude of other problems, the Sacramento sages spend their time looking for more ways to feel good about their relationship with Mother Earth.
Kris W. Kobach is the elected Secretary of State of Kansas. He drafted and pushed for Kansas's 2011 law bringing proof of citizenship and photo ID to Kansas elections. An expert in immigration law and policy, he coauthored the Arizona SB-1070 immigration law and represented in federal court the ten ICE agents who sued to stop Obama's 2012 executive amnesty. He is currently the Republican nominee for Governor of Kansas. His website is kriskobach.com.
http://feedproxy.google.com/~r/breitbart/~3/cfZxpbASmgA/