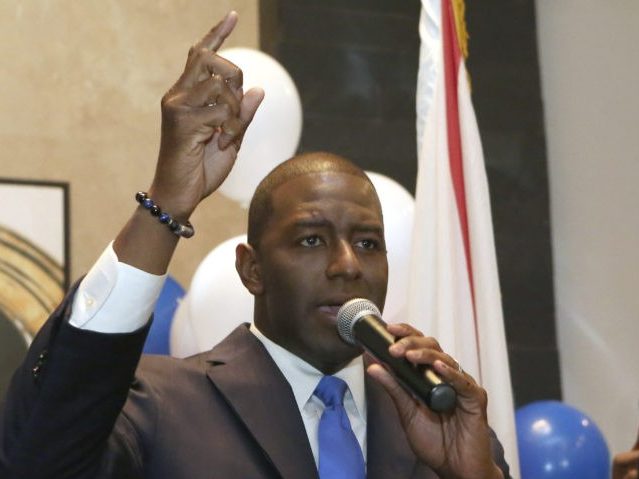 Florida Democratic gubernatorial candidate Andrew Gillum has espoused troubling views on Israel and evidenced close associations with organizations that promote the boycott of the Jewish state and espouse anti-Israel rhetoric.
During the current race for governor, Gillum has attempted to position himself as an ally of the Jewish state. At a debate on Sunday night, Gillum exclaimed that "my relationship with Israel is beyond reproach" after opponent Ron DeSantis accused the Tallahassee mayor of taking positions against Israel.
Below, in no particular order, are six reasons Gillum is dangerous for Israel.
1 – Gillum called Donald Trump's historic decision to move the U.S. embassy to Jerusalem "unnecessary" and a "provocation" that has "incited more violence."
Gillum's Jerusalem remarks came during an interview with far-left podcast host Jamarlin Martin, who repeatedly made anti-Israel statements during the exchanges.
Gillum's comments were recorded in Miami on June 27, according to Martin's podcast on GHOGH (Go Hard or Go Home), which is hosted on Moguldom.com, the domain name for Nubai Ventures, a company founded by Martin that produces editorial and video content. GHOH describes itself as providing "programming content for a Black Economic Revolution."
During the interview, Gillum addressed Trump's Jerusalem embassy move (emphasis added):
The right thing to do is to hold our leaders accountable. To force through thoughtful and very deliberate negotiation the two-state solution. To ensure that Palestinians have the right to self-determination. That they have the right to electing their own leadership. That just as we have in the United States sovereignty and the ability to desire for ourselves that it should also be true for Palestinians. And unfortunately, today it is not. And at the hands of this administration we now have even incited more violence by recognizing Jerusalem to be the capital and also to locate the United States embassy there. Again, just adding more fuel to the fire. I think it was a provocation by the president that was unnecessary. And it has been costly from a human toll.
Gillum's remarks come despite the overwhelming bipartisan majority in both the House and Senate that voted for the passage of the 1995 Jerusalem Embassy Act, which called on Israel to relocate its embassy from Tel Aviv to Jerusalem. The act was reaffirmed in a unanimous Senate vote last year.
Gillum's statements about the Jerusalem embassy move "inciting" violence feed into the anti-Israel narrative claiming that Hamas launched a series of deadly border riots in part because of Trump's decision to move the U.S. embassy. An analysis by this reporter pointed to Hamas's likely major motivations, including attempting to channel Gazans' growing anger at Hamas over poor economic conditions toward Israel, and Hamas vying for a better deal during truce negotiations with Israel and reconciliation talks with Fatah rivals.
2 – Gillum outrageously accused Israel of using Gaza terror rockets to "justify" its "actions" against Palestinians. Gillum further charged that Israel engaged in an "outsized response" against Palestinian threats and claimed alleged Israeli disproportionate "fire power" and "pushback" are the primary causes of regional instability.
Gillum's remarks were made in the same interview with Martin referenced above.
The gubernatorial hopeful, whose political rise has been likened to that of Barack Obama, also did not oppose Martin when the podcast host charged Israel with "apartheid" or when Martin claimed that Israeli forces killed over 60 Palestinians "for protesting" with "the endorsement of (Prime Minister Benjamin) Netanyahu."
During the interview, Martin brought up Israel's efforts to quell the recent deadly Gaza border clashes.
Gillum noted the context of the Gaza violence, saying that during a previous trip to Israel, he was present when "we had Katkusha missiles that was coming across the border into the part of the country where we were visiting, which is Haifa."
"That's dangerous," he added. "Right. Now that is not the Palestinian government but there are militants who are not under the control of the elected government."
Martin interjected, "Your point of view is you do condemn Israeli military killing the protesters, but you also condemn of course Palestinians firing missiles."
Gillum replied in the affirmative, accusing Israel of using Gaza terror rockets to "justify" alleged "actions."
"Yeah," Gillum replied. "That can also take lives, right. And the reason why that is important is because you have a government that is now able to justify its actions because now their citizens are in harm's way."
He continued, accusing Israel of an "outsized" response:
Imagine if in Canada. Now, I don't think this would happen but if in Canada they began to fire missiles over the border into the United States whether they are going into barren lands or less populated lands. Believe that the United States will respond. In this case this is not direct comparable, but I say that to say that each country has the right to self-protection. Nobody wants to put their people in harm's way.

And the reason why we have got to see the level of violence in these two areas in this region of the world reduced is quite frankly because Israel right now has more fire power and their push back is outsized to the threat that they are attempting to squelch. But they are able to continue that mission out of a destination that they believe they should be able to protect their citizens.

And I don't think any of us would disagree that they shouldn't be able to protect their citizens. At the same token, as the United Nations has said, there is something called reciprocal response. And then there is outsized response. And what we have seen is in my opinion an outsized response that has created a humanitarian crisis.
Martin began the Israel section of his interview by asking Gillum to comment on events "in May" when the host claimed that "over 60 Palestinians were killed by Israeli forces with the endorsement of Netanyahu" and "many Democrats did not speak up. The corporate side of the party."
"Sixty Palestinians who were throwing rocks and protesting what I view as apartheid, they don't deserve to be shot," Martin continued, asking Gillum to "speak to the 60 Palestinians that were murdered and the lack of democratic condemnation of that human rights violation."
Martin was referring to Israel's defensive actions during Hamas-organized, deadly border riots that month that saw tens of thousands of Palestinian rioters throng the Israel-Gaza border and attempts to storm into the Jewish state with the stated goal of murdering Jews. Rioters reportedly opened fire on Israeli soldiers and hurled Molotov cocktails and other deadly projectiles. Martin failed to mention that Hamas itself announced that 50 out of the 60 people who reportedly died during the May 14 riots were members of the jihadist group and not civilians.
Gillum replied: "Yeah well I will tell you none of us can look at those images and be okay with it. Right. And I do think that the time is always right, as Dr. King says, to do what is right."
3 – Gillum aided the Dream Defenders group that promotes the boycott of Israel and spews anti-Israel conspiracies.
The organization Dream Defenders previously organized a flash mob in Israel to officially endorse the extremist Boycott, Divestment and Sanctions (BDS) movement targeting the Jewish state.
Breitbart News has extensively reported on Gillum's close personal and professional relationship with Dream Defenders. He has talked about aiding the group's activism and written in strong support of Dream Defenders and its co-founder, Phillip Agnew. In turn, Agnew himself recently described a long and close working and personal relationship with Gillum and said he considers Gillum to be "part of the movement."
Gillum has also been under fire in recent days after it emerged that he signed Dream Defenders' "Freedom Papers," which espouse socialist ideology and exclaim that "police and prisons have no place in 'justice.'"
Gillum and Dream Defenders' Agnew are so familiar with each other that, while he was a city commissioner in Tallahassee, Gillum himself penned a glowing profile at the far-left Alternet publication promoting Agnew and the activist's work founding Dream Defenders titled, "We need more Phillip Agnews."
Gillum was taped at a June debate saying that he is "pleased and proud" to have sneaked food to Dream Defenders activists during a 30-day sleep-in protest at the Florida State Capital, referring to a 2013 month-long anti-gun protest in the wake of the Trayvon Martin shooting. "I hope you keep at it," Gillum said of Dream Defenders activists during the June event.
Dream Defenders Action Fund, the electoral and c4 nonprofit arm of Dream Defenders, was part of a progressive coalition that reportedly committed $3.5 million to help Gillum win the Democratic primary against Gwen Graham.
Besides its support for BDS, Dream Defenders' website calls for an end to "disaster capitalism" and the total abolition of the U.S. Immigration and Customs Enforcement (ICE) agency, while lamenting U.S. military aid to Israel.
4 – Gillum's Dream Defenders allies teach kids to glorify a deadly Palestinian terrorist organization.
Dream Defenders compiled an education tool for U.S. teachers that glorifies the Popular Front for the Liberation of Palestine (PFLP), a deadly terrorist organization.
The project, which claims to be compatible with common core, pushes "rebellion" and educates students on the PFLP's goal, which is posted on Dream Defenders stationary and quite literally calls for "the destruction of the Zionist state."
The PFLP is designated by the U.S. State Department as a foreign terrorist organization. As a secular Palestinian Marxist-Leninist terrorist group, the PFLP is responsible for scores of deadly suicide bombings, shooting attacks and airplane hijackings in which Israelis were murdered in cold blood.
The Dream Defenders education project in question, according to the Gillum-linked group's literature, spotlights "revolutionary organizations" from around the world in an effort to "highlight their elements of rebellion."
The lesson plan, reviewed by Breitbart News, says it "asks students to explore movements and organizations that led social change and display a coherent understanding of organizations and issues."
"How are you creating the change you want to see in the world and the society we live in?" the curriculum asks. "What kind of leader do you want to be?"
The clear goal is to lionize the organizations promoted in the radical curriculum. The project is titled "Blacked Out History: Rebellion." It boasts educational literature, lesson plans and optional artwork replete with PFLP symbols. It is designed for grades 6 through 10 and boasts that the lesson is "common core compatible."
The lesson teaches that the PFLP maintains the following "key points" (below are direct quotes):
A state that includes the destruction of Zionism and the return of the Palestinian refugees to their homeland.
They want to create a communist, working class party, and the best way they see to do that is to liberate Palestine from Israeli rule.
Freedom for this organization is the liberation of indigenous Palestine and to build a functioning working‐class party, free from Israeli colonial rule.
They want to be free from global imperialism. They want liberation. They want equal rights.
The PFLP is fighting against Israel, the Zionist movement, the Palestinian Authority governing body, global imperialism and Arab reaction.
Liberating all of Palestine and establishing a democratic socialist Palestinian state including the destruction of Israel and the return of the Palestinian refugees.
The curriculum allows that PFLP tactics have included "assassinations, car bombings, suicide bombings and paramilitary operations against civilian and military targets."
However, Dream Defenders fails to identify the PFLP as a terrorist organization. Instead, the lesson plan dubs the PFLP "a secular Palestinian ​Marxist‐Leninist​ and revolutionary socialist​ organization" that has been "described as a terrorist organization by the United States,​ Canada ​and the European Union."
A few of the more well-known deadly PFLP suicide bombings include the December 5, 2003 suicide bombing of a bus station in central Israel; the November 1, 2004 suicide bombing of the popular Carmel Market in Tel Aviv; the February 16, 2002 suicide bombing of an Israeli pizzeria; and along with Hamas, the May 19, 2002 bombing of a Netanya market. The PFLP also claimed responsibility for the 2014 Jerusalem synagogue massacre, although Israel later dubbed the murderous assault a lone wolf attack.
In the 1960's and 1970's, the PFLP carried out numerous airplane hijackings and is widely considered a pioneer of that terrorist tactic.
PFLP terrorists also infamously assassinated Israeli Tourism Minister Rehavam Zeevi in 2001. The Dream Defenders curriculum, however, taught students that Zeevi's murder was vengeance for an Israeli anti-terror action against a PFLP leader responsible for dispatching terrorists to murder Israeli civilians.
The lesson plan states: "When the leader of PFLP (Abu Ali Mustafa) was assassinated by the Israeli military forces, three days of national mourning was declared and thousands of Palestinians attended his funeral. His death was avenged by killing the Israeli Minister of Tourism, so it seems that the PFLP receives support from some people in their community."
5 – Gillum encouraged attendees at a CAIR-hosted conference promoting the boycott of Israel.
Gillum delivered an in person welcome and message of encouragement to attendees at an event organized by the controversial Council on American-Islamic Relations (CAIR) that boasted as one of its main two agenda items support for the extremist BDS movement targeting Israel.
Gillum's participation in the CAIR-led event, which took place in 2016, seems at odds with statements from associates of his campaign saying that Gillum opposes the BDS movement.
A CAIR-Florida press release from February 12, 2016, documents that Gillum delivered a "personal welcome" to attendees of that year's annual Florida Muslim Capitol Day event, which was held at the Islamic Center of Tallahassee, the city where Gillum serves as mayor.
Florida Muslim Capitol Day is organized by CAIR. CAIR employees are listed as the contacts for the event on flyers and promotional material, and Florida Muslim Capital Day's website is hosted by CAIR-Florida's main website. The Facebook page for the event says it is hosted by CAIR-Florida.
The CAIR-Florida release relates Gillum's personal welcome was "inspiring" to the group:
Attendees of the event were honored by a personal welcome from Tallahassee Mayor Andrew Gillum on the Wednesday evening before the event at the Islamic Center of Tallahassee. The mayor's words were inspiring as he applauded the Muslim community's participation in this civic engagement event that stressed the importance of political involvement in a political climate that is, unfortunately, filled with xenophobic rhetoric.
The release documents that one of the two main agenda items for that year's event was opposition to legislation that seeks to bar state funds from going to businesses that support the BDS movement against Israel. In other words, the event sought to galvanize opposition to anti-BDS legislation.
The release states:
Two main concerns of the Muslim community were addressed in face-to-face meetings between the participants and their legislators. CAIR-Florida remains troubled about the legislature's willingness to support an anti-democratic bill, SB 86/HB 527, which would punish businesses for their constitutionally-protected free speech rights to boycott human rights concerns in Israel and Palestine.

This bill would set a very dangerous precedent that is not befitting a democracy. The second important issue, Representative Ray's anti-refugee Bill, HB 1095/SB 1712, does not take into account that Syrian refugees are the most scrutinized individuals that enter the United States.
Wilfredo A. Ruiz, a spokesperson for CAIR-Florida, refused to comment to Breitbart Jerusalem when asked for more information on Gillum's welcome speech at the event, including whether CAIR could provide Gillum's specific quotes.
6 – Gillum graduated an Oakland, California-based training school for progressive revolutionaries that has spawned a list of activists who have gone on to become the who's who of the far-left leadership world, with many taking senior positions at organizations financed by billionaire George Soros. The group has trained numerous anti-Israel activist leaders and has been a training center for activists with the pro-Palestinian, Soros-funded New Israel Fund, which finances scores of anti-Israel organizations.
In many cases, graduates of the Rockwood Leadership Institute founded or directed notorious Soros-financed activist groups, such as Black Lives Matter, which promotes the anti-Israel BDS campaign.
Leaders of Media Matters for America, MoveOn.org and the Tides Foundation, one of the nation's largest funders of progressive groups, also trained there.
Soros's own Open Society Foundations sent top staff to Rockwood for training. Notorious anti-Israel radicals Linda Sarsour and Jodie Evans, co-founder and executive director of Code Pink, are among the many famous names listed as alums.
Gillum is listed as a 2012 Rockwood alum. The Florida politician's involvement with the radical school was not cursory or symbolic. Only five months ago, Gillum boasted in a speech to the Center for Environmental Health that he attended the institute "for about a year and a half."
In that speech, Gillum talked about getting to know the Center for Environmental Health's director Michael Green while they both attended Rockwood together. Green is also listed as a 2012 alum along with Gillum.
In 2013, Gillum, then a member of the Tallahassee City Commission, wrote that graduating the program in June of that year was a "major milestone."
"I will continue to use the tools and methodology in life and as I advance in my career and my role as a member of the City Commission," he stated.
Aaron Klein is Breitbart's Jerusalem bureau chief and senior investigative reporter. He is a New York Times bestselling author and hosts the popular weekend talk radio program: Aaron Klein Investigative Radio. Follow him on Twitter @AaronKleinShow. Follow him on Facebook.
Written with research by Joshua Klein.
http://feedproxy.google.com/~r/breitbart/~3/olp6_1Ls6tQ/