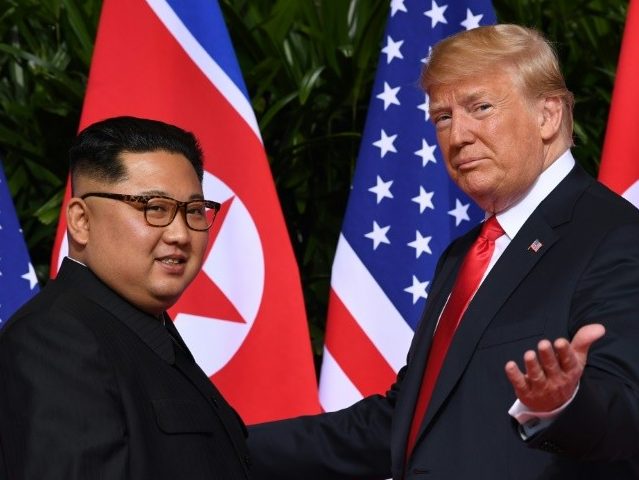 North Korean dictator Kim Jong-un credited his meeting in June with President Donald Trump for "stabilizing" Asia while greeting his South Korean counterpart Moon Jae-in on Tuesday in Pyongyang.
Kim personally thanked Moon for making the Trump-Kim meeting happen and expressed hope for "more advanced results" in talks with the United States, without elaborating on how he would define the term.
President Trump has mentioned the possibility of a second in-person meeting in the future to discuss an end to North Korea's illegal nuclear weapons program and the White House claimed that Kim sent a letter to Trump requesting such a meeting. The first meeting, in Singapore, resulted in the signing of a declaration in which North Korea agreed to work towards the "complete denuclearization of the Korean Peninsula," but that declaration did not define the term. North Korea has previously used the phrase to mean a removal of American assets from the region, not an end to its nuclear program.
The United Nations and several non-governmental organizations (NGOs) have published reports recently suggesting that no evidence exists that, following Kim's meeting with Trump, the North Korean regime has made any material moves to shut down its nuclear program.
Kim greeted Moon upon landing in Pyongyang Tuesday morning with a large hug and throngs of thousands of North Koreans forced to cheer for the dictator and his guest. He thanked Moon for his role in convincing Washington to agree to an in-person meeting, lauding the event as key to "stabilizing" the Korean peninsula.
"Thanks to that, the political situation in the region has stabilized and I expect more advanced results," Kim reportedly said.
The dictator reportedly went on to joke that North Korea was "a bit shabby" compared to other nations Moon has visited, perhaps urging to highlight Kim's need for foreign investment to sustain his regime. Moon brought with him to Pyongyang an army of over a dozen South Korean business leaders, including top executives from electronics companies like Samsung and LG, despite unprecedently severe sanctions on North Korea's economy. The business leaders met with North Korea's deputy prime minister while Moon and Kim met at the headquarters of the Workers' Party of Korea.
Moon responded by applauding Kim for agreeing to the meeting. "This process has been based on Chairman Kim's decision, and I express my respect for Chairman Kim's determination to open a new era," Moon told reporters.
Prior to his departure from Seoul, the leftist South Korean president told reporters that he hoped the United States and North Korea could resume denuclearization talks in the near future. "(My) North Korea trip would have great meaning if it could lead to the resumption of North Korea-U.S. dialogue," he said. Moon added that he felt the weight of "a heavy responsibility" on both himself and the North Korean dictator to work towards peace, though neither leader specified further than "peace" what the goal of the talks this week are.
Dialogue between America and North Korea stalled in mid-August after North Korea appeared to stop cooperating with the United States, while Washington refused to respond to demands from the communist Kim regime to lift sanctions on its economy. Secretary of State Mike Pompeo was initially scheduled to travel to Pyongyang in late August at a meeting in which he was not expected to meet with Kim Jong-un. President Trump canceled those plans, insisting that no dialogue would occur so long as North Korea did not specifically agree to completely dismantle its nuclear program. Shortly before that cancelation, however, Trump told reporters that "a lot of good things are happening" with the North Korea talks and that he would "most likely" hold a second summit with Kim.
A month later, Kim sent a letter to the White House that officials described as "positive" and "warm." According to Press Secretary Sarah Sanders, the letter's "primary purpose was to request, and look to schedule, another meeting with the president."
Following talks with Kim during the day, Moon appeared to open regarding the matters the two are discussing in remarks at a banquet dinner Kim threw in his honor.
"The complete denuclearization of the Korean Peninsula and the establishment of peace are key agenda items," Moon said, according to South Korean news agency Yonhap. "We will be able to create a future nobody has experienced."
Once again, however, whether "complete denuclearization of the Korean Peninsula" includes an end to the North Korean nuclear program remained unclear.
In August, the United Nations' International Atomic Energy Agency (IAEA), the world's premier nuclear watchdog, published a report stating that they had no evidence North Korea had done anything to stop its nuclear weapons program. On the contrary, the IAEA found evidence that North Korea was reconstruction facilities near the Yongbyon nuclear power plant, including a plutonium reprocessing plant. Less than a month later, NBC published a report citing unnamed senior U.S. officials who stated that Washington had evidence that North Korea continued to manufacture warheads that may be compatible with nuclear weapons.
Follow Frances Martel on Facebook and Twitter.
http://feedproxy.google.com/~r/breitbart/~3/uHV4Ua27sCY/