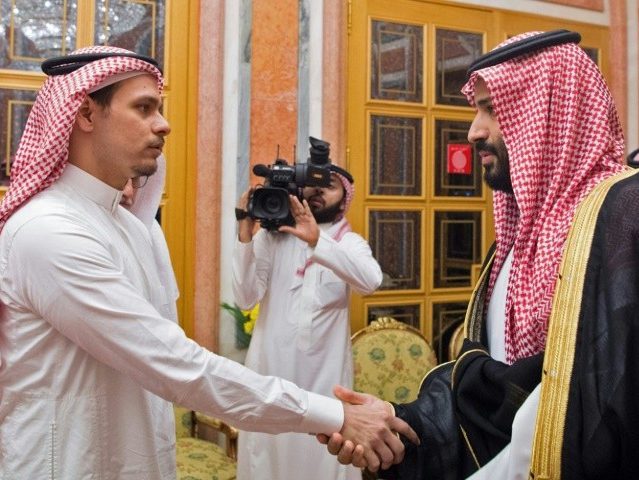 Salah bin Jamal Khashoggi, son of murdered Washington Pos contributor Jamal Khashoggi, was finally allowed to leave Saudi Arabia this week after a travel ban imposed several months ago.
According to reports from Saudi media and statements from the Khashoggi family, Salah departed the kingdom on Wednesday shortly after taking a very uncomfortable photo with Crown Prince Mohammed bin Salman. His destination was Washington, D.C.
Jamal Khashoggi was a Saudi national with a green card in the United States who resided in Virginia before his death. His oldest son Salah is described by Turkey's Hurriyet Daily News as a "dual U.S.-Saudi citizen."
The precise details of the travel ban on Salah are somewhat murky. Various sources say his passport was restricted either this year or sometime in 2017 in retaliation for his father's criticism of the Saudi government. Friends of Jamal Khashoggi have said the travel ban was part of the Saudi government's effort to pressure him into returning to the country, ostensibly so he could take a job advising the crown prince.
The >Associated Press reported on Friday that pressure from U.S. Secretary of State Mike Pompeo was instrumental in persuading the Saudi government to lift the travel ban. A State Department spokesman said Pompeo "made it clear to Saudi leaders that he wanted Salah Khashoggi to return to the United States, and we are pleased that he is now able to do so."
The State Department said it was "pleased" Salah and his family were allowed to leave Saudi Arabia.
Wednesday saw Salah Khashoggi visiting the royal palace for a photo op with King Salman bin Abdulaziz and Crown Prince Mohammed bin Salman that turned into a public-relations disaster for the monarchy as photos of a clearly uncomfortable, stone-faced Salah spread across social media.
Evidently, Salah and his family boarded a plane shortly thereafter and headed for Washington, where they are said to be staying with relatives, specifically his mother and three siblings.
Salah Khashoggi appeared patient and cooperative with the Saudi investigation of his father's murder until the frosty photo op. Five days after Jamal Khashoggi's disappearance on October 2, Salah gave an interview where he stressed that the family was "cooperating with the Saudi authorities" and wanted only "credible information" about his father's fate.
Interestingly, Salah said he was completely unaware of his father's Turkish fiancee Hatice Cengiz until he heard about her through the media, and he seemed to take a dim view of her involvement in the investigation. Jamal Khashoggi made his fatal visit to the Saudi consulate in Istanbul on October 2 to obtain paperwork related to his divorce so he could get married to Cengiz.
http://feedproxy.google.com/~r/breitbart/~3/uUhWSZPEoWE/