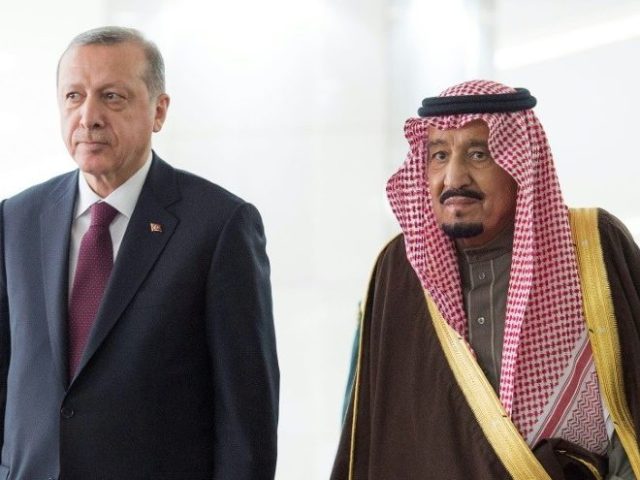 Turkish President Recep Tayyip Erdoğan accused the government of Saudi Arabia on Tuesday of "painting over … toxic materials" at the Istanbul consulate where Washington Post columnist Jamal Khashoggi disappeared on October 2.
Erdoğan's public remarks, as reported by American wire sources and Turkish media, are some of the few on-the-record statements with details as to what ongoing investigations into Khashoggi's disappearance have discovered. The Saudi government has not responded to the accusation at press time.
The Turkish newspaper Yeni Safak, citing Reuters and the state-run Turkish Anadolu news agency, reported on Tuesday that Erdoğan confirmed Turkish investigators were "looking into many things such as toxic materials and those materials being removed by painting them over."
"My hope is that we can reach conclusions that will give us a reasonable opinion as soon as possible," the president reportedly stated, speaking at an event recognizing the appointment of new judges and prosecutors in Ankara. According to Anadolu, Erdoğan spent much of the event discussing the urgency of combatting rival Fethullah Gülen, an Islamic cleric living in Pennsylvania, and warning of further Turkish military action in Syria but took some time to address the Khashoggi case.
Turkish investigators were allowed into the Saudi consulate in Istanbul Monday, accompanied by Saudi officials, for the first time in the two weeks since Khashoggi disappeared. The Saudi government insists that Khashoggi, who went to the consulate seeking paperwork to get married and was reported missing by fiance Hatice Cengiz, went missing after leaving the consulate. Saudi officials have not revealed any surveillance footage showing Khashoggi leaving the consulate, however, and Turkish officials have stated they have no evidence showing him stepping out of the building.
As the consulate is technically considered sovereign Saudi territory, Turkish police need permission from Riyadh to enter.
Hours before the Turkish investigators entered the building, journalists observed a cleaning crew equipped with mops and other cleaning gear congregating outside the consulate and taking their products into the consulate with them.
Reuters cited unnamed Turkish sources saying that their search of the consulate on Monday did yield "soil samples" and other key evidence.
"The Turkish crime scene investigators carried out searches in the consulate and took the things deemed necessary," a "senior Turkish official" reportedly said.
Erdoğan's statement remains one of the few made on the record by a Turkish official. International media have published a variety of sensational statements attributed to unnamed Turkish officials, however, ranging from claims that Saudi officials dissolved Khashoggi's body in acid to allegations they carried his body out piecemeal in small suitcases to the alleged existence of video showing Khashoggi's homicide in real time. Late Monday afternoon, CNN added to the uncorroborated reports a claim that Saudi Arabia was preparing to confess to having killed Khashoggi in an interrogation gone wrong, citing "sources."
Neither Turkish nor Saudi government officials have confirmed any of these reports.
Anadolu Agency reported on Tuesday that Turkish officials are planning to expand their investigation into the residency of the Saudi consul on Tuesday, accompanied by Saudi officials. The expansion of the investigation followed what is being reported as a cordial conversation between Erdoğan and Saudi King Salman bin Abdulaziz that resulted in the formation of a joint investigative team to find Khashoggi.
Khashoggi's family called for an independent international investigation on Tuesday, expressing distrust of the Saudi government and stating that they are "traumatized" by his disappearance.
"The strong moral and legal responsibility which our father instilled in us obliges us to call for the establishment of an independent and impartial international commission to inquire into the circumstances of his death," his family said in a statement.
King Salman spoke to U.S. President Donald Trump on Monday following his conversation withErdoğan, reportedly reiterating Saudi Arabia's innocence in the matter. "The denial was very, very strong," President Trump told reporters, adding that "maybe these could have been rogue killers. Who knows?"Secretary of State Mike Pompeo landed in Riyadh Tuesday and at press time has met with both King Salman and Crown Prince Mohammed Bin Salman to acquire intelligence directly from the Saudi sources.
"We are strong and old allies. We face our challenges together — the past, the day of, tomorrow," the crown prince told Pompeo in front of reporters at their meeting.
Follow Frances Martel on Facebook and Twitter.
http://feedproxy.google.com/~r/breitbart/~3/QC0Vq4I9OQs/