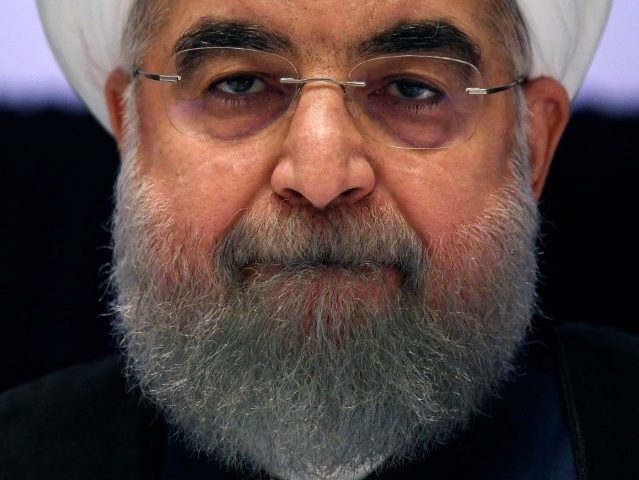 Gholamhossein Karbaschi, a key supporter of Iranian President Hassan Rouhani, grew noticeably less supportive on Wednesday when he called on Rouhani to "resign like a hero or wake up from his heavy slumber and talk to the people transparently."
Karbaschi, formerly mayor of Tehran and current secretary-general of the Executives of Construction Party, called Rouhani "sedentary" and said he needs to become more honest with the Iranian people if he decides to remain in office.
"It is a tough decision. But if he cannot work properly, he should step down like a hero and tell the people that he tried his best but he could not do anything. This might help him to evade the hatred of the people, even if he is not a hero," he said.
Radio Farda explains the complex politics of Karbaschi's call for resignation, which is significant even with its escape clauses and qualifications because until now only Rouhani's political enemies have asked him to step down:
The Executives of Construction party is where First Vice-President Es'haq Jahangiri comes from while Vice-President Mohamad Baqer Nobakht and Chief of Staff Mahmoud Vaezi are from Moderation and Development party. Both of these parties are the legacy of former President Akbar Hashemi-Rafsanjani; Rouhani's mentor and spiritual father.

Several media commentaries during the past year have attributed the failure of Rouhani's economic policies partly to the differences between the three officials.

Others have called for Rouhani's resignation before, but all of those who wanted Rouhani to step down so far were his opponents and political rivals. What makes Karbaschi's call different is that he is Rouhani's supporter and political ally.

This comes while some hard-line MPs such as Amir Khojasteh have said that if Rouhani fails to solve the country's economic problems, members of the Parliament would table a motion to impeach him for his "incapability."

Former ultra-conservative Mahmoud Ahmadinejad has also called on Rouhani to resign. The firebrand conservative has also called on Majles Speaker Ali Larijani and his brother Judiciary Chief Sadeq Amoli Larijani to step down.
As the New York Times conceded on Wednesday, the "experts" were comprehensively wrong about how Trump's policy would play out. Some predicted Iran would get along just fine, and indeed American businesses would be the big losers because European firms would rush to rescue Iran and pick up lucrative contracts the Americans left lying on the table. Others thought sanctions would backfire on Trump and hurt him politically by causing American gas prices to increase.
Instead, Iran's oil industry is crumbling even before the tougher round of U.S. sanctions hits in November, Europe has little respite to offer, international corporations are fleeing from Iran trade, American oil prices have scarcely budged, and Rouhani's allies are advising him to think about a new career.
UPI on Wednesday declared Iran's economy has entered a "spiral meltdown" as the second tranche of U.S. sanctions approaches:
According to Iran's Central Bank in August, the inflation rate will reach 60 percent this year. The Iranian rial has hit a record low against the U.S. dollar amid a deterioration in the economic situation and the reimposition of sanctions by the United States. The country's active work force is 26 million, of whom at least 10 million are jobless. Youth unemployment is at a staggering 40 percent. Many university graduates are unable to find a job.

Even Afghan migrants who sought refuge in Iran have been forced to return to their war-torn country because of the dire economic situation. At least 33 percent of the population live under the absolute poverty line, ISNA official news agency reported in April, which means that they are unable to meet their essential daily needs.
The crucial issue, which loops back to Karbaschi's complaint about Rouhani's lack of transparency, is that most of Iran's banks have already gone bankrupt but the government refuses to admit how serious the financial crisis is. The Iranian people are furious that domestic spending programs have been slashed to finance foreign military adventures in Iraq, Syria, and Yemen. They know the impact of the second tranche of American sanctions in November will be utterly devastating to the weakened Iranian economy.
As UPI notes, frittering away the windfall Trump's predecessor Barack Obama bestowed upon Iran was largely a decision made by the superior theocratic half of Iran's bizarre divided government, but both the people and the Iranian political elite are losing faith in Rouhani as any sort of "moderate" balance against the bloodthirsty mullahs.
CNBC reported on Wednesday that economic anxiety is "widespread" in Iran despite the government's efforts to tamp it down. The soaring optimism of the Iranian tourist industry in the early days of the nuclear deal has given way to gloom and empty hotels that were expanded in 2015 at great expense. Most of the major international airlines have given up on service to Iran.
"Rising inflation, currency devaluation, and bad government policies have led to a scarcity in products needed for the hotel project and prices on goods are only increasing day-by-day," one hotelier lamented.
Iran's political class is torn about whether Rouhani should attend the U.N. General Assembly in New York next week, with some calling on him to boycott the event as a response to President Trump's "insults."
As of Thursday, Rouhani seemed set on making the trip to New York, possibly in the hope of making last-ditch appeals to European leaders for rescue from U.S. sanctions. On the other hand, the Europeans have made it fairly clear they cacannotn't do much more for Tehran as their corporate interests are worried about losing American business or triggering secondary sanctions by doing business with Iran, and there are fears Trump could engineer an encounter that humiliates Rouhani or further divides the Iranian political establishment.
Trump has expressed very mild interest in meeting with Rouhani at the U.N., along with considerably greater interest in discussing Iran's appalling human rights record and warning European companies to stay away from Iran when the sanctions hammer comes down in November.
http://feedproxy.google.com/~r/breitbart/~3/sEYBFhmLZx0/