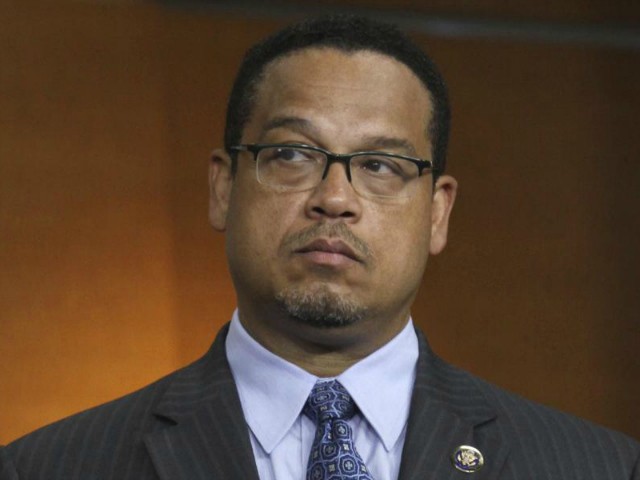 Democrat Keith Ellison claimed during the October 21 Minnesota attorney general election debate that he did not express a desire for his Party to come out against the Second Amendment when he appeared on Real Time with Bill Maher in 2014.
Ellison made the same denial in February 2017 when a CNN host asked how he could take such a stand against the Second Amendment while speaking with Maher, then expect "Americans who support gun rights" to rally behind his campaign.
Ellison replied that he remembered his appearance on Maher's show "very well" and then denied he said anything about standing against the Second Amendment.
Video from Ellison's appearance on Maher's show says otherwise. It shows Maher's asking when the Democrats are finally going to take an all-out stand against the Second Amendment, to which Ellison responded, "I sure wish they would":

During the October 21 attorney general debate, Republican Doug Wardlow pointed out that Ellison has said he wished his Party would "push to eliminate the Second Amendment." Even as Wardlow made the statement, Ellison interrupted to say, "That's not true."
Ellison then said, "I believe in the Second Amendment. I just think we ought to do something about all these guns that result in such massive loss of life":
Again, Ellison responds, "I sure wish they would" when Maher asks him in 2014 when the Democrats are going to stand up against the Second Amendment, as the video shows.
AWR Hawkins is an award-winning Second Amendment columnist for Breitbart News, the host of the Breitbart podcast Bullets with AWR Hawkins, and the writer/curator of Down Range with AWR Hawkins, a weekly newsletter focused on all things Second Amendment, also for Breitbart News. He is the political analyst for Armed American Radio. Follow him on Twitter: @AWRHawkins. Reach him directly at awrhawkins@breitbart.com. Sign up to get Down Range at breitbart.com/downrange.
http://feedproxy.google.com/~r/breitbart/~3/_QbzCRG-3pI/