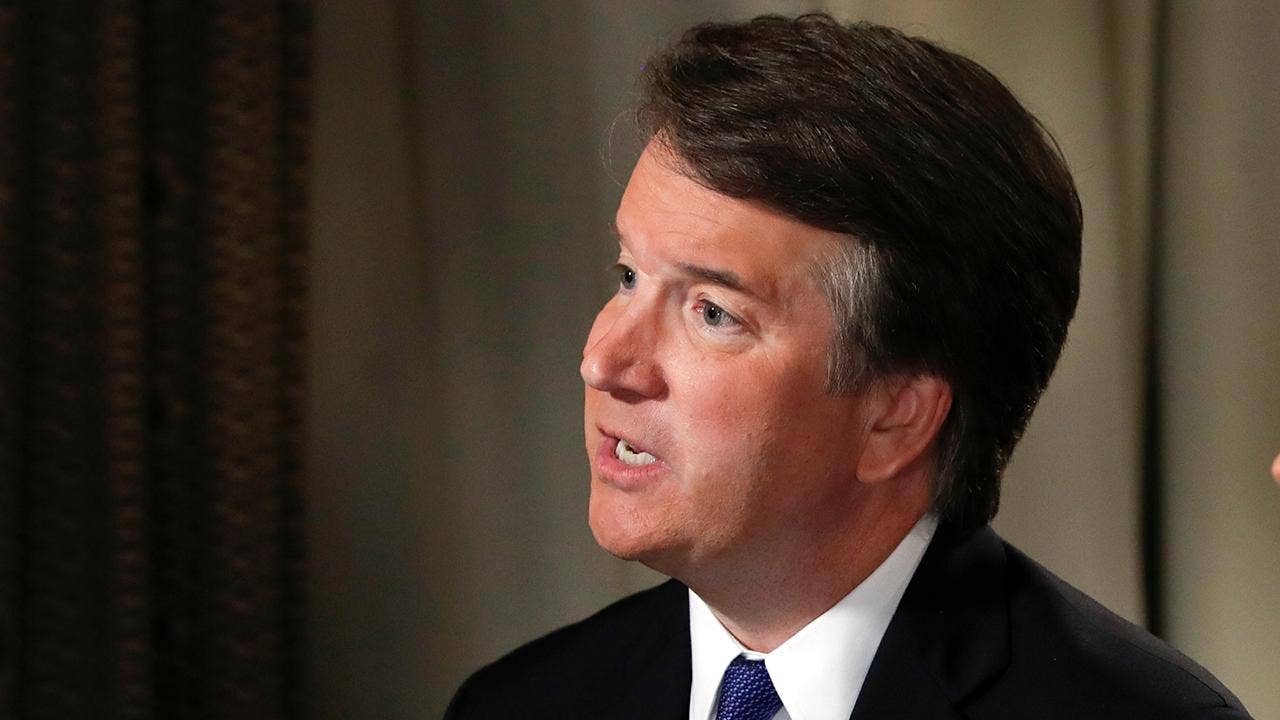 In an interview with Senate Judiciary Committee investigators on Tuesday, Supreme Court nominee Brett Kavanaugh lit into the mounting sexual misconduct allegations against him, calling the process a "disgrace" that is "doing damage to the country."
Transcripts documenting Kavanaugh's responses were released by the Judiciary Committee Wednesday night.
Kavanaugh was asked specifically about a new claim received by Sen. Cory Gardner, R-Colo., from an anonymous individual apparently in Denver, alleging that Kavanaugh "shoved" someone up against a wall "very aggressively and sexually" during an outing in front of four witnesses. Gardner's office received the letter Sept. 22.
"We're dealing with an anonymous letter about an anonymous person and an anonymous friend," Kavanaugh said. "It's ridiculous. Total Twilight Zone. And no, I've never done anything like that."
"It's doing damage to the country. It's doing damage to this process."

– Supreme Court nominee Brett Kavanaugh
He goes on to expressly deny recalling socializing with anyone from Colorado in 1998, when he was a key lawyer working for Independent Counsel Ken Starr.
He added: "I think this is — this is crazy town. It's a smear campaign. … It's just outrageous. It's trying to take me down, trying to take down my family.
"It's bad — it's doing damage to the Supreme Court," he continued. "It's doing damage to the country. It's doing damage to this process. It's become a total feeding frenzy, you know? Every — just unbelievable."
Kavanaugh went on to describe his 12 years of service on the D.C. Circuit Court of Appeals, his six FBI background investigations, tenure in the White House Counsel's office, and appearance at multiple Yale reunions and panels over the past several decades.
"In all that time, not a word," Kavanaugh said. "And then 4 days, you know, when just right before a vote for the Supreme Court, after the nomination itself has been pending for months,  and I've been through the hearings and 65 Senate meetings and all the written questions, and then — and then, after all these years, with all this time, and all these descriptions with no corroboration and with her best friend saying she never heard about it, you know, I'm — I'm really just, you know, stunned. And outraged."
POLYGRAPH REVEALS APPARENT INCONSISTENCY IN FORD'S CLAIMS AGAINST KAVANAUGH
None of the sexual misconduct allegations against Kavanaugh has first-hand corroboration. In The New Yorker on Sunday, Deborah Ramirez claimed that Kavanaugh had exposed his penis to her, even as her close college friend denied ever hearing about the episode and suggested she was making the claim for political reasons.
Committee investigators also asked Kavanaugh about call received by Sen. Sheldon Whitehouse, D-R.I., on Tuesday, in which an anonymous constituent claimed that in 1985, two "heavily inebriated men" referred to as "Brett and Mark" had sexually assaulted a close friend of hers on a boat.
Kavanaugh classmate Mark Judge had been identified by another accuser, Christine Blasey Ford, as participating in a separate alleged assault.
In response, Kavanuagh categorically denied the claim, saying, "I was not in Newport, haven't been on a boat in Newport. Not with Mark Judge on a boat, nor all those three things combined. This is just completely made up, or at least not me. I don't know what they're referring to."
According to the transcript, the person making the Rhode Island accusations appeared associated with a Twitter account that advocated removing President Trump from the White House by means of military coup.
Separately, the Judiciary Commitee released transcripts of Kavanaugh's conversations with investigators, also under penalty of felony, from Sept. 17, when he flatly denied involvement in Ford's purported assault at a house party more than three decades ago.
None of the witnesses Ford has identified as being at the party during the alleged assault have backed up her claims, and apparent inconsistencies have emerged in her retelling of events.
Lawyers for Ford on Wednesday released the results of a polygraph examination she took Aug. 7 — but a key detail in the report appears to contradict Ford's past claims. The examination, which was administered by former FBI agent Jeremiah Hanafin, took place in a Hilton hotel in Maryland, according to a "Polygraph Examination Report" compiled by Hanafin. 
Hanafin first allowed Ford and attorney Lisa Banks to meet alone to formulate a handwritten statement that Ford signed and provided Hanafin when he returned to the room. Then, without Banks present, Hanafin interviewed Ford about the day of the alleged assault, according to the report.
In the handwritten statement, Ford writes that "there were 4 boys and a couple of girls" at the party.
But in Ford's letter to Sen. Dianne Feinstein, D-Calif., in July, Ford gave a different tally, writing that the gathering "included me and 4 others."
Kavanaugh and Ford are set to testify Thursday at 10 a.m. ET before the Judiciary Committee.
http://feeds.foxnews.com/~r/foxnews/politics/~3/td6vN-mxgx0/kavanaugh-to-investigators-rejects-anonymous-1998-assault-claim-its-ridiculous-total-twilight-zone.html