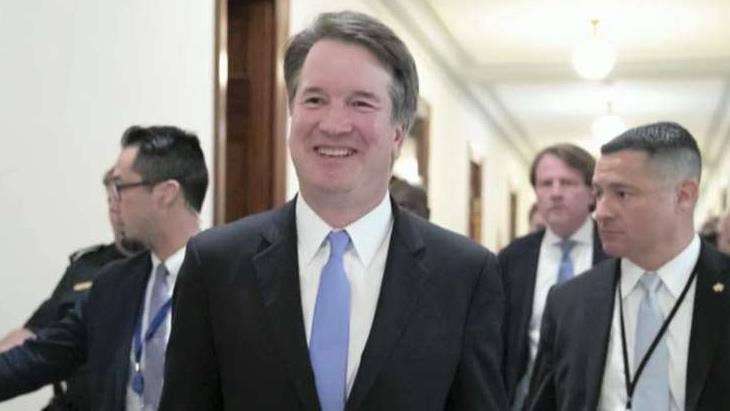 Democrats renewed threats to impeach Judge Brett Kavanaugh should he be confirmed to the high court, as Republicans moved forward with a series of votes heading into the weekend. 
Senate Judiciary Committee Chairman Chuck Grassley, R-Iowa, set a committee vote on Kavanaugh for Friday afternoon, while Senate Majority Leader Mitch McConnell, R-Ky., planned a full floor vote for early next week. 
Kavanaugh is poised to at least make it out of committee, with the late-breaking support of GOP Sen. Jeff Flake — after the panel heard dramatic testimony from the nominee and Christine Blasey Ford, who accuses him of sexually assaulting her in 1982. 
While Kavanaugh denies the charge, some Democrats already are raising the prospect of impeachment if he's confirmed.
The latest threat came from former national press secretary for Hillary Clinton's presidential campaign Brian Fallon. He tweeted Thursday night that "Kavanaugh will not serve for life."
"If Senate GOP ignores Dr. Blasey Ford and tries to muscle an attempted rapist onto the Supreme Court: 1. They will pay dearly this November. 2. Senators up in 2020 (Collins, Gardner et al) will feel intense heat for the next two years. 3. Kavanaugh will not serve for life," Fallon tweeted. 
Axios reports that Democratic strategists are talking about impeachment as a 2020 campaign issue.  
Last week, Sen. Sheldon Whitehouse, D-R.I., warned that "as soon as Democrats get gavels"—presuming Democrats win control of the Senate in November—the party would investigate Kavanaugh allegations further. 
And Democratic Rep. Eric Swalwell of California said that House Democrats could also push for the impeachment of Kavanaugh.
"If the Republicans rush through a nominee where you have unanswered sexual assault allegations, I can promise you that Democratic senators will be interested in going and looking at those allegations, and if Judge Kavanaugh lied under oath, you could see a judicial impeachment, and that's not good for anybody, so we should try and avoid that," Swalwell said on Fox News' "America's Newsroom" last week.
But, in an article for The New York Times titled "The Case for Impeaching Kavanaugh," Alabama Law School Professor Ronald Krotoszynski Jr. noted that such a move would need a two-thirds vote in the Senate — something unlikely unless a number of Republicans joined Democrats.
However, Krotoszynski Jr. argued that Democrats should proceed with an investigation "if the Senate won't conduct a credible investigation now."
Democrats have demanded that a vote to confirm Kavanaugh be delayed pending a full FBI investigation into the accusation leveled against him by Ford. Ford testified before the committee on Thursday, alleging that Kavanaugh pinned her down and tried to remove her clothing at a high school party more than 36 years ago.
Kavanaugh vehemently denied the allegation yet again Thursday, and said he was open to "any kind" of investigation.
"I know any kind of investigation—Senate, FBI, Montgomery County Police—will clear me," Kavanaugh said Thursday. "I will do whatever the committee wants to do because I am telling the truth…I am innocent of the charge."
Many Republicans have sympathized with Ford, noting she was a credible witness, but have taken issue with the fact that no witnesses have corroborated her claim.
Fox News' Adam Shaw contributed to this report.
http://feeds.foxnews.com/~r/foxnews/politics/~3/Ymj9e7901To/kavanaugh-threatened-anew-with-impeachment-as-supreme-court-vote-nears.html