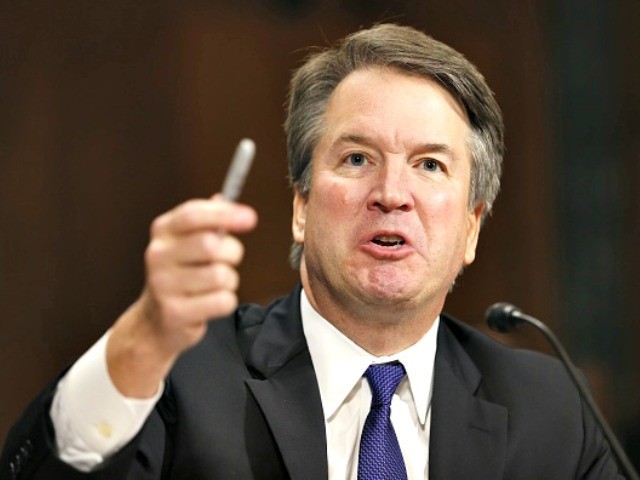 Judge Brett Kavanaugh accused Democrats and the left at Thursday's Senate Judiciary Committee hearing of having created a dangerous precedent for the country in trying to defeat his nomination with last-minute, decades-old, uncorroborated sexual misconduct allegations.
"This confirmation process has become a national disgrace," Kavanaugh said close to the beginning of his opening statement, where he gave a scathing assessment of how Democrats came to unveil the allegations against him. He quoted Sen. Cory Booker (D-NJ) saying those who support Kavanaugh are "complicit in evil" and former DNC Chairwoman Debbie Wasserman Schultz asserting that confirming Kavanaugh would endanger millions of lives.
Kavanaugh told the committe:
I understand the passions of the moment. But I would say to those senators, 'Your words have meaning.' Millions of Americans listened carefully to you. Given comments like those, is it any surprise that people have been willing to do anything, to make any physical threat against my family, to send any violent email to my wife? To make any kind of allegation against me and against my friends? To blow me up and take me down?
Kavanaugh hinted that he believed the Democratic strategy to defeat his nomination will have lasting effects on the political system. "You sowed the wind. For decades to come, I fear the whole country will reap the whirlwind," he said.
He referenced the widely-criticized treatment Democratic senators subjected to Ronald Reagan's Supreme Court nominee Judge Robert Bork. "The behavior of several of the Democratic members of this committee at my hearing a few weeks ago was an embarrassment, but at least it was just a good old-fashioned attempt at borking," he said, continuing:
Those efforts didn't work. When I did at least okay enough at the hearings that it looked as though I might actually get confirmed, a new tactic was needed. Some of you were lying in wait and had it ready. This first allegation was held in secret for weeks by a Democratic member of this committee and by staff. It would be needed only if you couldn't take me out on the merits.
Kavanaugh's opening statement set off a combative hearing, with Kavanaugh aggressively refuting both the allegations made against him with committee witness Christine Blasey Ford and those of other accusers not present.
http://feedproxy.google.com/~r/breitbart/~3/5mXvGrHfHvI/