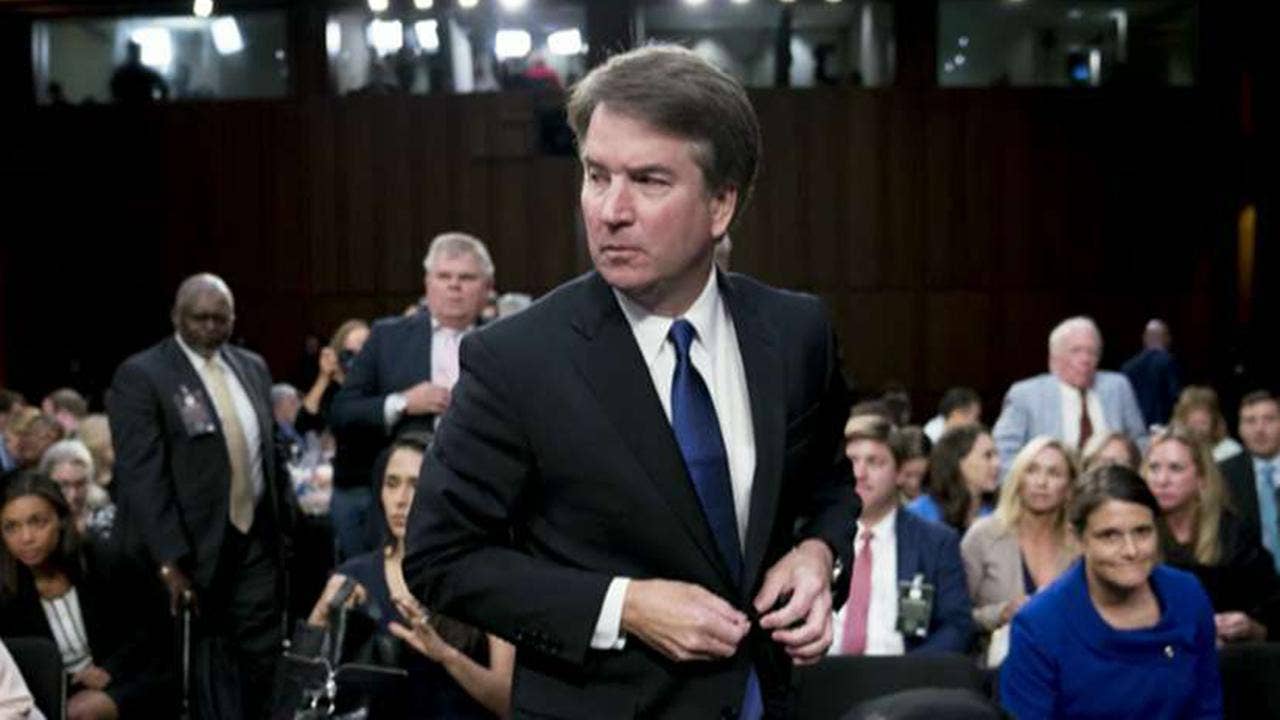 An embattled Brett Kavanaugh on Monday said he won't be "intimidated into withdrawing" his nomination to the Supreme Court, as he called accusations he sexually harassed and assaulted women decades ago while in high school and college "smears" in a new letter to top lawmakers on the Senate Judiciary Committee.
"I will not be intimidated into withdrawing from this process," Kavanaugh wrote in the letter. "The coordinated effort to destroy my good name will not drive me out. The vile threats of violence against my family will not drive me out. The last minute character assassination will not succeed."
Kavanaugh, who intends to testify Thursday before the committee about the allegations along with the first accuser, has been hit with fresh but uncorroborated accusations. 
"There is now a frenzy to come up with something—anything—that will block this process and a vote on my confirmation from occurring," Kavanaugh wrote. "These are smears, pure and simple. And they debase our public discourse."
He told committee Chairman Charles Grassley, R-Iowa, and ranking member Sen. Dianne Feinstein, D-Calif., he is determined to defend his integrity and take his seat on the high court.
"Women from every phase of my life have come forward to attest to my character," Kavanaugh wrote. "I am grateful to them. I owe it to them, and to my family, to defend my integrity and my name. I look forward to answering questions from the Senate on Thursday."
The latest detailed accusation was made by Debbie Ramirez, who in a New Yorker article alleged Kavanaugh exposed himself to her during a Yale University party.
Ramirez claimed Kavanaugh committed the act while she was intoxicated during a drinking game in the 1983-84 academic year, when Kavanaugh was a freshman. She also claimed she inadvertently touched Kavanaugh's penis when she pushed him away and said the incident left her "embarrassed and ashamed and humiliated."
TRUMP CALLS NEW KAVANAUGH ACCUSATIONS 'TOTALLY POLITICAL,' STANDS BY NOMINEE
The report stated that the magazine had not corroborated that Kavanaugh was at the party in question. An anonymous male classmate said he was told that Kavanaugh had exposed himself to Ramirez during the following days.
Ramirez admitted to the magazine that she does not fully remember the alleged incident because she had been drinking at the time. The magazine also reported that Ramirez spent six days "carefully assessing her memories and consulting with her attorney" before telling the full version of her story.
Kavanaugh's confirmation has been thrown into chaos since Christine Ford accused of him of forcing himself on her during a party in the 1980s before being able to get away.
Michael Avenatti — famous for representing the porn star Stormy Daniels – tweeted Sunday he soon intends to reveal other accusations against Kavanaugh from another woman.
Kavanaugh has denied all the allegations.
Meanwhile, President Trump stood behind Kavanaugh on Monday, calling the uncorroborated claims "totally political" and "unfair."
"I am with Judge Kavanaugh," Trump said in New York. "For people to come out of the woodwork from thirty-six years ago, and thirty years ago, and never mentioned it, all of a sudden it happened … totally political."
Fox News' Judson Berger contributed to this report.
http://feeds.foxnews.com/~r/foxnews/politics/~3/8HGMhpIwR6I/kavanaugh-fires-back-at-latest-allegation-says-won-t-be-intimidated-into-withdrawing.html