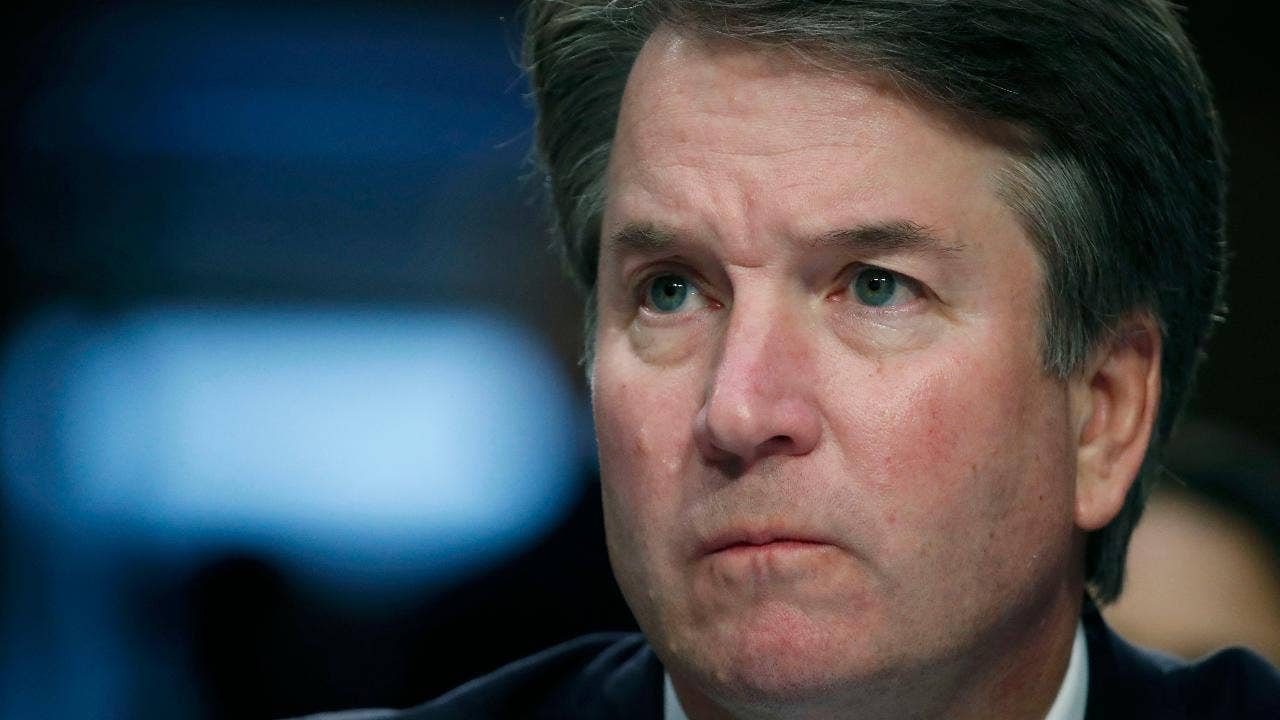 Supreme Court nominee Brett Kavanaugh faced a storm of new sexual misconduct allegations Sunday after attorney Michael Avenatti said he had knowledge that Kavanaugh and high school friend Mark Judge targeted women with drugs and alcohol in order to "allow a 'train' of men to subsequently gang rape them."
Avenatti, who represents adult film star Stormy Daniels in a lawsuit against President Trump and has hinted at a possible presidential run, made the claims in an email to Mike Davis, the chief counsel for nominations on the Senate Judiciary Committee. He did not state the source of his "evidence" and did not name any alleged victims.
In Avenatti's email, a screenshot of which he posted to Twitter, the lawyer told Davis that he had "significant evidence of multiple house parties in the Washington D.C. area during the early 1980s" where Kavanaugh, Judge and others "would participate in the targeting of women with alcohol/drugs."
Avenatti included a list of questions for Senate investigators to ask Kavanaugh, including "Did you ever attend any house party during which a woman was gang raped or used for sex by multiple men?"
"Did you ever communicate with Mark Judge or anyone else about your participation in a 'train' involving an intoxicated woman?" another question read.
Meanwhile, the New Yorker magazine reported late Sunday that a Yale classmate of Kavanaugh claimed that he exposed himself to her at a college party.
The woman, Deborah Ramirez, has called on the FBI to investigate the alleged incident. The magazine's report, which is co-written by Pulitzer Prize winner Ronan Farrow, states that four Democratic senators have received information about Ramirez's allegation and at least two have begun investigating it.
The report was published days before Kavanaugh is to testify before the Senate Judiciary Committee about an allegation of sexual assault against him dating to his days as a high school student in the early 1980s. The accuser in that case, Christine Blasey Ford, has agreed to go before the committee and tell her story.
In a statement obtained by Fox News, Kavanaugh described Ramirez's allegation as a "smear."
"This alleged event from 35 years ago did not happen. The people who knew me then know that this did not happen, and have said so," Kavanaugh said. "This is a smear, plain and simple. I look forward to testifying on Thursday about the truth, and defending my good name–and the reputation for character and integrity I have spent a lifetime building–against these last-minute allegations."
White House spokesperson Kerri Kupec said: "This 35-year-old, uncorroborated claim is the latest in a coordinated smear campaign by the Democrats designed to tear down a good man. This claim is denied by all who were said to be present and is wholly inconsistent with what many women and men who knew Judge Kavanaugh at the time in college say. The White House stands firmly behind Judge Kavanaugh."
Ramirez claimed Kavanaugh exposed himself to her while she was intoxicated during a drinking game in the 1983-84 academic year, when Kavanaugh was a freshman. She also claimed she inadvertently touched Kavanaugh's penis when she pushed him away and says the incident left her "embarrassed and ashamed and humiliated."
She also claimed another male student yelled "Brett Kavanaugh just put his penis in Debbie's face" and insisted that person used Kavanaugh's full name.
The report stated that the magazine had not corroborated that Kavanaugh was at the party in question. An anonymous male classmate said he was told that Kavanaugh had exposed himself to Ramirez within the following days.
Still another male classmate who Ramirez claims egged on Kavanaugh to expose himself to her denied any memory of the party in question. In addition, the magazine published a statement by six of Kavanaugh's classmates saying: "We can say with confidence that if the incident Debbie alleges ever occurred, we would have seen or heard about it—and we did not. The behavior she describes would be completely out of character for Brett."
The statement continued, "In addition, some of us knew Debbie long after Yale, and she never described this incident until Brett's Supreme Court nomination was pending."
A female classmate who signed the statement told the New Yorker that Ramirez "is a woman I was best friends with. We shared intimate details of our lives. And I was never told this story by her, or by anyone else. It never came up. I didn't see it; I never heard of it happening."
Ramirez admitted to the New Yorker that she does not fully remember the alleged incident because she had been drinking at the time. The magazine also reported that Ramirez spent six days "carefully assessing her memories and consulting with her attorney" before telling the full version of her story.
At approximately the same time the New Yorker report was published, the Senate Judiciary Committee released a partially redacted version of Ford's letter to ranking member Dianne Feinstein, D-Calif., detailing Ford's sexual assault claim against Kavanaugh.
"Brett Kavanaugh physically and sexually assaulted me during High School in the early 1980s," Ford wrote to Feinstein. "He conducted these acts with the assistance of his close friend Mark G. Judge."
Both Kavanaugh and Judge have denied attending the party where Ford says she was assaulted.
http://feeds.foxnews.com/~r/foxnews/politics/~3/DSxTykfIaZw/kavanaugh-faces-new-accusations-avenatti-claims-evidence-targeting-women-for-gang-rape.html