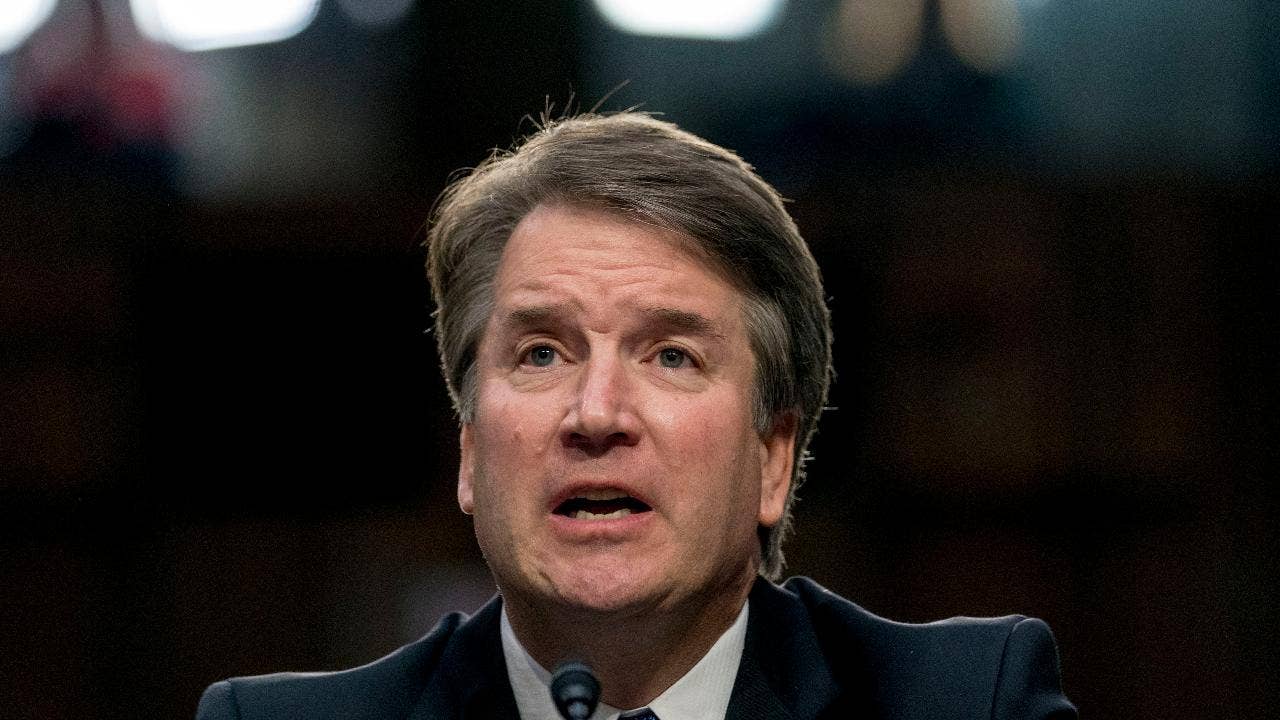 An uncorroborated, decades-old claim that Supreme Court nominee Brett Kavanaugh exposed himself to a fellow law school student did not pass The New York Times' smell test, according to the White House.
The claim by Debbie Ramirez that the federal judge sexually harassed her during a party while they attended law school is the latest to rock the confirmation process. It was published by The New Yorker, despite the fact that none of the people Ramirez said could back her story did so.
"The Times had interviewed several dozen people over the past week in an attempt to corroborate her story, and could find no one with firsthand knowledge," the Times wrote in a story that followed the New Yorker report. "Ms. Ramirez herself contacted former Yale classmates asking if they recalled the incident and told some of them that she could not be certain Mr. Kavanaugh was the one who exposed himself."
The claim followed that of a California woman who alleges Kavanaugh held her down and tried to force himself on her while both were in high school. Like Ramirez's claim, that charge, by Christina Blasey Ford, has not been corroborated.
Sen. Chuck Grassley, the chairman of the Senate Judiciary Committee, late Sunday slammed Senate Democrats for withholding information from the committee regarding the new sexual misconduct allegations against Kavanaugh.
The Iowa Republican said the committee will attempt to evaluate the new claims, but said in a statement "it appears that they [Democrats] are more interested in a political takedown" than "pursing allegations through a bipartisan and professional investigative process."
His office released the statement after two new allegations emerged against Kavanaugh. A third potential allegation has arisen from Michael Avenatti, the attorney for porn star Stormy Daniels, who claims Kavanaugh took part in gang rapes at high school parties, which also has lacked anything resembling corroboration to date.
Ramirez claimed Kavanaugh exposed himself to her while she was intoxicated during a drinking game in the 1983-84 academic year, when Kavanaugh was a freshman. She also claimed she inadvertently touched Kavanaugh's penis when she pushed him away and says the incident left her "embarrassed and ashamed and humiliated."
The report stated that the magazine had not corroborated that Kavanaugh was at the party in question. An anonymous male classmate said he was told that Kavanaugh had exposed himself to Ramirez within the following days.
Ramirez admitted to the magazine that she does not fully remember the alleged incident because she had been drinking at the time. The magazine also reported that Ramirez spent six days "carefully assessing her memories and consulting with her attorney" before telling the full version of her story.
Kavanaugh says the event "did not happen" and that the allegation is "a smear, plain and simple."
A White House spokeswoman adds in a second statement that the allegation is "designed to tear down a good man."
Grassley's office said the committee's majority staff learned about the allegations in the magazine's article. His statement read that Democratic staff were aware of the allegations, but did not inform Republican staffers.
Sen. Lindsey Graham, R-S.C., called the timing of the new allegations "very suspicious."
Sen. Richard Blumenthal, D-Ct., called on a full FBI investigation and said the committee cannot "in good conscience" vote on the nomination at this point.
Michael Avenatti, the attorney for Stormy Daniels, on Sunday alleged that he had knowledge that Kavanaugh and high school friend Mark Judge targeted women with drugs and alcohol in order to "allow a 'train' of men to subsequently gang rape them."
He did not state the source of his evidence and did not name any alleged victims.
Grassley's office said it reached out to Avenatti to find out more information about his allegations and requested that he provide any new information.
Avenatti posted a letter he wrote to Mike Davis, the chief counsel on nominations for the Senate Judiciary Committee.
He wrote that he had "significant evidence of multiple house parties" in the 1980s where Kavanaugh, high school friend Mark Judge and others would target women with alcohol and drugs in order to take advantage of them sexually, including gang rapes. He said to expect additional evidence in the coming days.
Avenatti included a list of questions for Senate investigators to ask Kavanaugh, including: "Did you ever attend any house party during which a woman was gang raped or used for sex by multiple men?"
Neither Kavanaugh nor Judge immediately responded to Avenatti's accusations.
Kavanaugh is slated to testify Thursday about the first allegation of sexual assault, dating back from a high school party more than 35 years ago. His accuser, Christine Blasey Ford, is also set to testify.
Kavanaugh, 53, an appellate court judge, has denied Ford's allegation and said he wanted to testify as soon as possible to clear his name.
"This alleged event from 35 years ago did not happen. The people who knew me then know that this did not happen, and have said so," Kavanaugh responded. "This is a smear, plain and simple. I look forward to testifying on Thursday about the truth, and defending my good name–and the reputation for character and integrity I have spent a lifetime building–against these last-minute allegations."
In response to the New Yorker report, Judiciary Committee ranking member Dianne Feinstein, D-Calif., called on the committee's Republicans to postpone all proceedings related to Kavanaugh's nomination and refer Ramirez's allegation to the FBI.
http://feeds.foxnews.com/~r/foxnews/politics/~3/u2uNvdm5XDw/kavanaugh-buffeted-by-more-uncorroborated-charges-as-dems-seek-to-derail-nomination.html