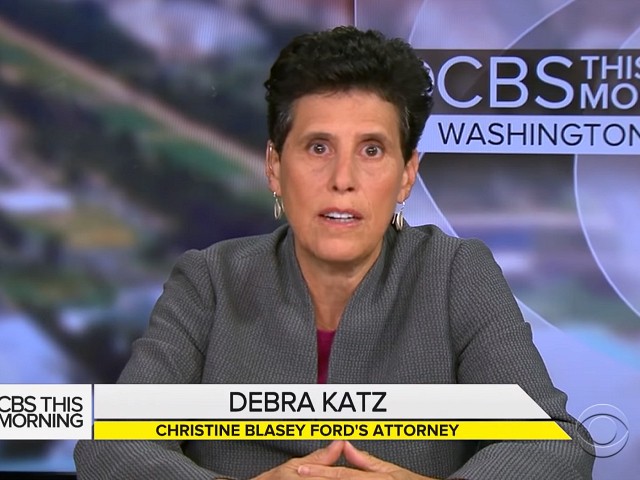 Debra Katz, the attorney hired by Christine Blasey Ford to represent her and her claim that Supreme Court nominee Brett Kavanaugh attacked her at a high school party three decades ago, is a longtime Democratic activist and donor. Katz has, in the past, defended men accused of sexual assault by multiple women, including former President Bill Clinton and disgraced former U.S. Senator Al Franken (D-MN).
And she is a part of the "resist" movement, the anti-President Donald Trump crowd. In an October 2017 interview posted on the National Women Law Center's website, Katz was asked about sexual misconduct cases.
"Today, in your practice, have you noticed an increase in these kinds of cases or complaints? Why do you think that is?" Emily Martin, vice president for Education and Workplace Justice, asked Katz in 2017.
"Unfortunately, these kinds of cases do not go away. In times of economic uncertainty when people feel vulnerable on many levels, it is easy for them to blame other 'outside' groups, including women, African-Americans, and national origin minorities, for their lost opportunities," Katz said. "Part of President Trump's appeal is apparently that he reinforces those fears and resentments." 
"We are seeing a large uptick in sexual, racial, and religious harassment cases since the election," Katz said. "Unfortunately, President Trump's misogynistic, anti-immigrant, anti-Muslim conduct and comments have radically lowered the bar and have normalized abusive and assaultive conduct in the workplace."
However, when asked about men who have been accused of sexual assault by numerous women — Clinton who was impeached and Franken who resigned — Katz has defended them.
In Clinton's case, Katz took his word over that of Paula Jones, who claimed that the president exposed himself and pressured her to commit a sexual act, according to a report in Townhall:
Katz dismissed Jones' assertions on March 30th, 1998 on CNN's "Talkback Live" saying that, "Paula Jones' suit is very, very, very weak. She's alleged one incident that took place in a hotel room that, by her own testimony, lasted 10 to 12 minutes. She suffered no repercussions in the workplace."

Likewise, Katz again said on CBS' Evening News on April 2nd, 1998 that Jones' allegation could not hold up in court because, "Clearly a one-time incident that took place in 10 to 12 minutes, she was not forced to have sex, she left on her own volition, the courts increasingly are finding that that is not enough to create a sexually hostile work environment claim."

…

In 1998, Katz told the media that, "If a woman came to me with a similar fact pattern, that is someone in the company above her propositioned her but only once and she suffered no tangible job detriment. I would probably tell her that I'm sorry, it's unfair, but you don't have a case.' Katz said that courts have generally held that a one-time proposition does not constitute harassment. If it's one time, it has to be severe, almost a sexual assault, not just a touching of somebody's breast or buttocks or even forceful kissing."
Katz also defended Franken when several women accused him of sexual misconduct.
"Context is relevant," Katz said of the scandal. "He did not do this as a member of the U.S. Senate. He did this in his capacity of someone who was still functioning as an entertainer."
Katz has also been a longtime financial supporter of Democrats, according to Open Secrets. She donated more than $8,000 to both former President Barack Obama's presidential campaigns.
At an event to raise money for Hillary Clinton's presidential campaign in 2015, Katz is credited with raising $29,000.
She also has ties to George Soros, according to the Washington Times, through her involvement with the Project on Government Oversight (POGO), an organization that has been directly funded by Soros's Open Society Foundation.
POGO co-signed a letter to Sens. Dianne Feinstein (D-CA) and Chuck Grassley (R-IA) with a variety of leftist groups demanding Kavanaugh records, according to FrontPageMag.
Follow Penny Starr on Twitter.
http://feedproxy.google.com/~r/breitbart/~3/OqEF-9pvECI/