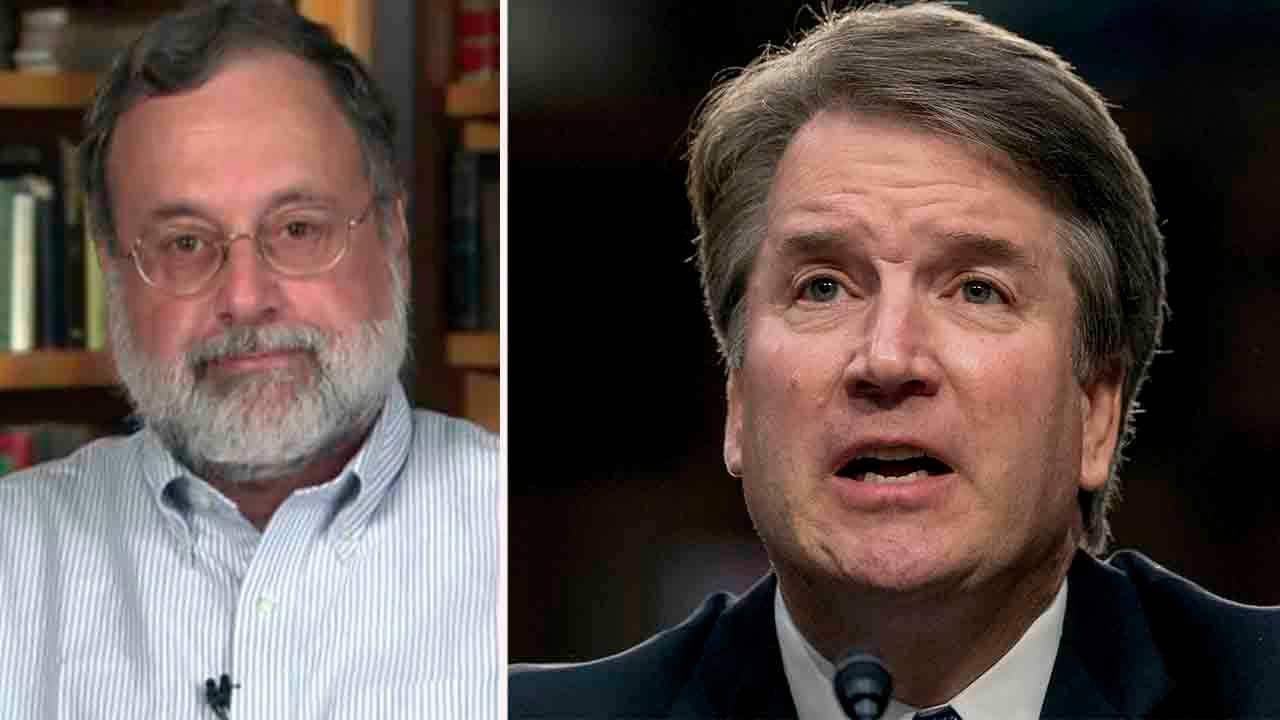 Key details in the narrative provided by Christine Ford, the woman accusing Supreme Court nominee Brett Kavanaugh of sexual assault, have seemingly changed over the past week, even as the California professor insists she was forcibly attacked and that she has not mistaken Kavanaugh for anyone else.
Ford has claimed Kavanaugh pinned her to a bed and tried to forcibly remove her clothes when they were teenagers at a house party in Maryland, although she has said she is unable to recall who owned the house or why there was a gathering there. According to Ford, who says she eventually escaped to a bathroom, Kavanaugh covered her mouth briefly as loud music blared.
Ford told The Washington Post last week that there were a total of "four boys at the party" where the alleged episode occured, and that two — Kavanaugh and his friend Mike Judge — had been in the room during her attack. She said that her therapist had made an error by indicating she had told him in 2012 that all four boys had been involved in attacking her.
Those boys purportedly included Kavanaugh, Judge, and another classmate, Patrick Smyth — all of whom have since denied to the Senate Judiciary Committee, under penalty of felony, any knowledge of the particular party in question, as well as any misconduct by Kavanaugh.
However, a woman, Leland Ingham Keyser, a former classmate of Ford's at the Holton-Arms all-girls school in Maryland, has since been identified by Ford as a witness at the party. In a dramatic twist, Keyser emerged Saturday night to say she doesn't know Kavanaugh or remember being at the party with him.
"Simply put, Ms. Keyser does not know Mr. Kavanaugh and she has no recollection of ever being at a party or gathering where he was present, with, or without, Dr. Ford," Keyser's lawyer, Howard J. Walsh III, said in an email to the Senate Judiciary Committee that was obtained by Fox News.
ANALYSIS: FORD'S ACCUSATIONS AGAINST KAVANAUGH REVEAL BIG PROBLEM IN THE MEDIA
Ford, The Post acknowledged in an article by reporter Emma Brown on Saturday, had told the paper prior to her name becoming public that "she did not think Keyser would remember the party because nothing remarkable had happened there, as far as Keyser was aware."
But The Post did not mention Keyser at all in its original recounting of Ford's allegations, a bombshell story that has threatened to upend Kavanaugh's Supreme Court confirmation. And the paper gave no explanation for why Ford had insisted there were "four boys" at the party, without mentioning any girls.
Kimberley Strassel, a columnist for The Wall Street Journal, flagged the issue on Twitter on Saturday, adding that a source had given her an email from Brown to Mike Judge, a Kavanaugh friend and purported witness to the alleged assault.
"In addition to Brett Kavanaugh and Mark Judge, whom she called acquaintances she knew from past socializing, she recalls that her friend Leland (last name then was Ingham, now Keyser) was at the house and a friend of the boys named PJ," Brown wrote to Judge, according to Strassel.
INCONSISTENCIES EMERGE IN KAVANAUGH ACCUSATIONS, WITH HEARING IN DOUBT
Fox News did not immediately receive comment from The Washington Post or its reporters Seung Min Kim, Emma Brown, and Sean Sullivan, who wrote the paper's initial report on Ford's allegations. Ford lawyer Debra Katz also did not immediately respond to Fox News' requests for comment.
The apparent disparities emerged as Ford's lawyers downplayed Keyser's statements, as they reiterated Ford's claim that she had not mentioned the alleged episode from more than 35 years ago to anyone until a therapy session in 2012. 
"As Dr. Ford has said, she did not share her story publicly or with anyone for years following the incident with Judge Kavanaugh," Katz wrote in an email response obtained by Fox News. "It's not surprising that Ms. Keyser has no recollection of the evening as they did not discuss it. It's also unremarkable that Ms. Keyser does not remember attending a specific gathering 30 years ago at which nothing of consequence happened to her."
The public may soon have a chance to hear Ford and Kavanaugh's sides of the story first-hand. A source with knowledge of the discussions told Fox News that a tentative agreement has been reached for Ford to speak Thursday before the Senate Judiciary Committee, although key details remain unresolved.
But a senior White House official told Fox News that the Ford team's letter represented a request to continue negotiations without any firm commitment. Ford's lawyers, and top Democrats, have called for a "full investigation" by the FBI before any testimony — a move that Republicans dismissed as a delaying tactic.
GRASSLEY UNLOADS ON FEINSTEIN, DEMOCRATS IN SCATHING LETTERS
For their part, Democrats have repeatedly accused Republicans of pressuring Ford to appear before the Senate Judiciary Committee. Sen. Dianne Feinstein, D-Calif., has said Ford, who lives in California and has received numerous death threats, shouldn't "be rushed" in her decision of when to testify.
"Show some heart," Feinstein said. "Wait until Dr. Ford feels that she can come before the committee."
Another Democrat on the judiciary committee, Sen. Richard Blumenthal of Connecticut, said Ford deserved extra time to respond.
"After spending the day in FBI interviews about death threats against her, Dr. Blasey deserves the minimal decency of 24 hours to make a decision about testifying," Blumenthal wrote in a statement. "Rejecting her request would take the Senate to a shameful new low — a blatant abuse of power. Republican colleagues have a moral and constitutional duty to stop the ugly unacceptable bullying."
SENATE DEMS URGE FBI PROBE OF DEATH THREATS AGAINST FORD, STAY MUM ON THREATS AGAINST KAVANAUGH
Republicans have fiercely criticized Feinstein, the ranking Democrat on the Judiciary Committee, for initially failing to disclose — even anonymously — the letter she received from Ford on July 30 outlining her allegations against Kavanaugh. 
Feinstein only shared the letter with federal authorities and other senators less than two weeks ago, days before a key Judiciary Committee vote on Kavanaugh's confirmation, after a leak about the letter was published in The Intercept. Republicans have accused Democrats of orchestrating that leak.
Senate Judiciary Committee Chairman Chuck Grassley last week unloaded a torrent of criticism on Feinstein for her handling of the sexual assault accusations, telling the ranking Democrat on the committee, "I cannot overstate how disappointed I am."
He added that he still has not received an unredacted version of the letter Feinstein received in July.
Fox News' Adam Shaw contributed to this report.
http://feeds.foxnews.com/~r/foxnews/politics/~3/tV9SfJW9f8I/kavanaugh-accusers-details-have-changed-but-remains-certain-about-abuse.html