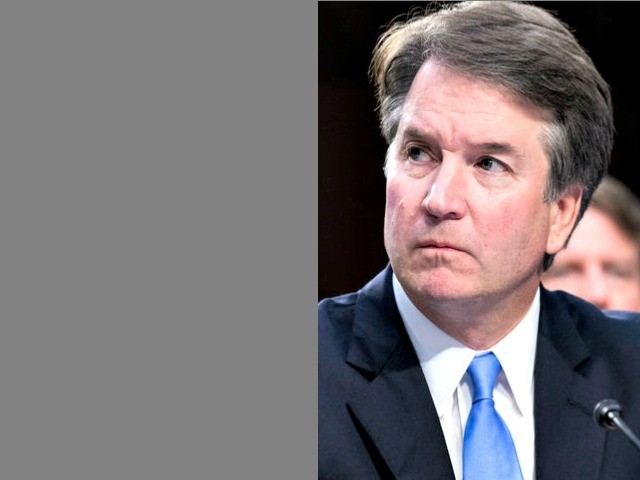 Supreme Court nominee Judge Brett Kavanaugh's accuser, Christine Blasey Ford, will not appear at the Monday hearing Senate Judiciary Committee Chairman Chuck Grassley (R-IA) set to address her claims, her attorneys wrote Thursday.
The New York Times published portions of an email from Ford's lawyers to Judiciary Committee staff claiming it "is not possible" for her to appear Monday and that the "Committee's insistence that it occur then is arbitrary in any event." Ford "would be prepared to testify next week," but only on "terms that are fair and which ensure her safety."
The Monday hearing was set to discuss, under oath, Ford's accusation that more than 35 years ago, a 17-year-old Kavanaugh had pulled her into a room at a high school party with another teenager and groped her. The email made clear she would not appear at the Monday hearing at which Kavanaugh has already agreed to testify.
Grassley had set a Friday morning deadline for Ford to let the Judiciary Committee know if she would appear. He has also stated that the hearing may be cancelled if Ford refuses to testify.
Grassley, who first suggested Ford and Kavanaugh address the accusation in a bipartisan conference call, then offered a full, open-door hearing under oath and set a date for Monday. Other Republican senators, like Susan Collins (R-ME), also made clear that Ford would have an option to testify in private with or without Kavanaugh's presence if she so preferred:
I hope that Dr. Ford will reconsider and testify before the Senate Judiciary Committee on Monday. It is my understanding that the Committee has offered to hold either a public or a private session, whichever would make her more comfortable.

— Sen. Susan Collins (@SenatorCollins) September 19, 2018
Ford's camp and the Democrats opposed to Kavanaugh's confirmation quickly balked, demanding an "FBI investigation" despite the Department of Justice's repeated assertion that the accusation, as it involves no potential federal crime, is not under the Bureau's general investigative jurisdiction and that their role in background investigations for nominees does not include credibility determinations.
"The FBI make any judgment about the credibility or significance of any allegation. The purpose of a background investigation is to determine whether the nominee could pose a risk to the national security of the United States," a Justice Department spokesman said in a statement.
"It is important to remember that an FBI background investigation is entirely different from an FBI criminal investigation," a former federal prosecutor further explained to Breitbart News Thursday. "The letter referred by Feinstein has already been added to Kavanaugh's file, so the normal background element is complete."
"What Ford is now asking for with a full investigation would be a criminal investigation," the prosecutor went on. "The FBI does not do that when there is no federal crime being alleged."
Ford's lawyers' email appears to drop this demand for an FBI investigation after Ford's lead attorney, Democratic donor Debroah Katz, claimed Tuesday that her client would not testify without such an investigation. The letter states a "strong preference" for "a full investigation" but reportedly does not mention the FBI.
The New York Times's report notes no specific reasons for further delay, but notes that Katz hopes to set up a call Thursday evening to "discuss the conditions" for her client's testimony. The scheduling of the Monday hearing was already a delay on Kavanaugh's confirmation process, which included four days of public hearings at which Ford's allegations were never mentioned and was set for a committee vote Thursday. A letter detailing Ford's claims was in Judiciary Committee Ranking Member Dianne Feinstein's (D-CA) possession during the entirety of Kavanaugh's original hearing and for several weeks before.
The email also makes notes of "death threats" and Ford an her family being "forced out of their home," and implied her "safety" was one of the conditions for her appearing in on Capitol Hill.
http://feedproxy.google.com/~r/breitbart/~3/7da-j3nM0pM/