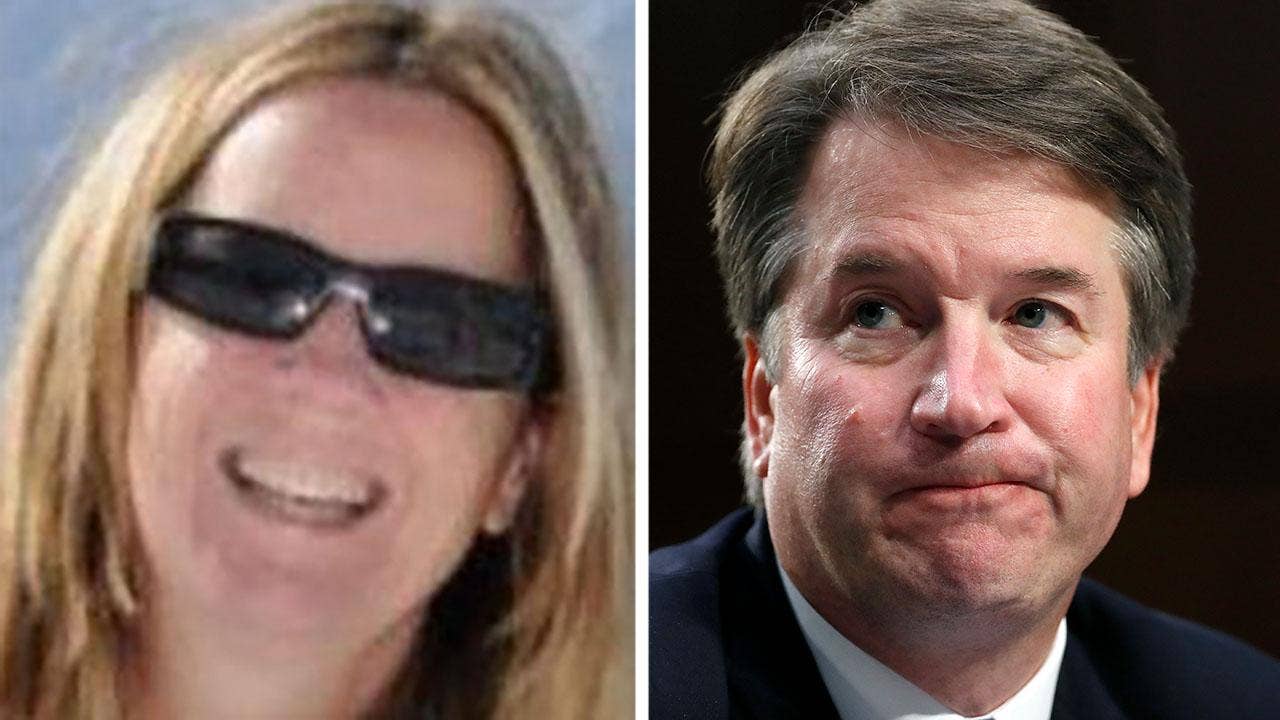 Christine Blasey Ford's legal team has asked the Senate Judiciary Committee to agree to certain terms before she sits down for a potential interview over her accusation that Supreme Court nominee Brett Kavanaugh sexually assaulted her decades ago, two sources told Fox News on Thursday night.
Among the terms: Only members of the committee — no lawyers — can question her; Kavanaugh cannot be in the room at the time; and Kavanaugh should be questioned first.
The requests, some of which appeared to be negotiable, capped a whirlwind day that began when Ford's lawyers told the Senate Judiciary Committee that she was open to testifying, apparently backing off her bid for the FBI to first launch a new inquiry into her allegations.
But the attorneys said it was "not possible" for Ford to testify at a hearing scheduled for Monday by Senate Republicans, and they reiterated that she has a "strong preference" for an FBI probe beforehand.
According to an email sent by her attorney Debra Katz to the committee, Ford would appear as long as senators provide "terms that are fair and which ensure her safety." 
It was not immediately clear whether Senate Republicans would agree to Ford's latest requests, but they have reportedly indicated they are considering them.
Maine Republican Sen. Susan Collins, a moderate considered a potential key swing vote in Kavanaugh's confirmation, had previously suggested that lawyers from both sides initially question Kavanaugh and Ford.
That arrangement, Collins suggested, would avoid an overtly political atmosphere in which Ford was questioned by Republicans on the Judiciary Committee — an entirely male contingent.
For his part, Kavanaugh, in a letter to the Judiciary Committee on Thursday, indicated he would be ready and willing to testify on Monday. "I continue to want a hearing as soon as possible, so that I can clear my name," he wrote.
"Since the moment I first heard this allegation, I have categorically and unequivocally denied it. I remain committed to defending my integrity."
Kavanaugh's letter did not contain any preconditions for his testimony. Fox News has learned that Kavanaugh, under oath, answered questions from the Judiciary Committee earlier this week, and denied the allegations.
DEMS DEMAND FBI PROBE OF THREATS AGAINST FORD — BUT DON'T MENTION DEATH THREATS AGAINST KAVANAUGH'S FAMILY
And in a series of tweets earlier Thursday, Republicans on the Senate Judiciary Committee noted they had obtained statements, under penalty of felony, from two other people at the house party where the alleged assault occured, including Kavanaugh friend Mark Judge and another individual.
Committee members also wrote that they had reached out to a "fourth person allegedly at the party," as well as "a schoolmate who claimed on social media this week to have info related to Dr. Ford's allegations" — but had not heard back.
That was an apparent reference to a widely circulated online account by Cristina Miranda King, who claimed that she heard about the alleged assault at the time. King deleted her online post after questions emerged about apparent inconsistencies in her claims.
"[Ford's] attorneys say there needs to be an investigation, which is exactly what the committee has been doing all week," the GOP members wrote. "And we would love to hear from Dr. Ford. Democratic staff is invited to participate fully every step of the way."
Senate Republicans have been harshly critical of Democratic Sen. Dianne Feinstein, D-Calif., for receiving a letter from Ford outlining her allegations in July, but failing to disclose them, even anonymously, to federal officials or other committee members until last week. Ford alleged in the letter that Kavanaugh had sexually asssaulted her more than 35 years ago, although she has since indicated that she cannot be sure in which house the assault occured, or why there was a gathering there.
"I cannot overstate how disappointed I am," Senate Judiciary Chairman Chuck Grassley, R-Iowa, wrote Wednesday, charging that Feinstein "chose to sit on the allegations until a politically opportune moment."
http://feeds.foxnews.com/~r/foxnews/politics/~3/VNUNryQ-1LU/kavanaugh-accuser-christine-blasey-fords-team-lays-out-terms-it-wants-for-potential-senate-interview-sources-say.html