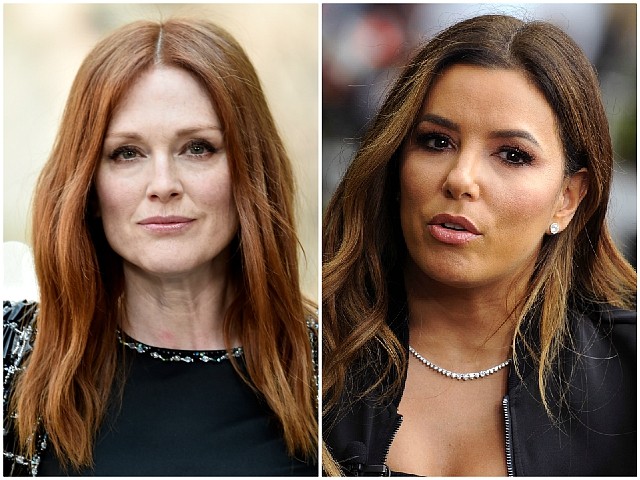 Actresses Julianne Moore and Eva Longoria are among the celebrities and left-wing activists featured in a video montage, in which the women are seen thanking Supreme Court nominee Judge Brett Kavanaugh's assault accuser for coming forward with her allegation.
"We know how difficult it is to stand up to powerful people. We want to thank you for publicly sharing your story of sexual violence," Grey's Anatomy star Kelly McCreary says at the beginning of the two-minute video.
"The behavior you described was wrong and runs directly counter to upholding the law and promoting justice. He should not be confirmed," say the women in the video, which also includes actresses America Ferrera, Gabrielle Union, and Amber Tamblyn.
"We can also imagine how shocking and overwhelming it must have been to have your truths shared on a national stage without your permission," the women continue, reading a joint letter. "You should be the only decision-maker about how your story is shared, if ever."
#DearProfessorFord, your sisters have a message for you: we believe you. We call on Senators to demand a full, fair and trauma-informed investigation. pic.twitter.com/Of32UZ6JFx

— Julianne Moore (@_juliannemoore) September 19, 2018
"We applaud your courage in coming forward for the public good, and we will be with you as you face the inevitable backlash," the celebrity-studded video concludes. "Millions of us have your back. You and your testimony are credible. We believe you."
Kavanaugh accuser Christine Blasey Ford claimed that the judged attempting to sexually assault more than 30 years ago when they were both in high school. Ford has been invited to testify before the Senate Judiciary Committee on Monday, but it appears that she will not show unless the
FBI undergoes an investigation into her allegations. The FBI has insisted that it has no interest or obligation to investigate Ford's claims, as no federal crime has been alleged.
Judge Kavanaugh has repeatedly denied the allegation.
"If she shows up that would be wonderful if she doesn't show up, that would be unfortunate," President Donald Trump said of Ford Monday.
Follow Jerome Hudson on Twitter @jeromeehudson
http://feedproxy.google.com/~r/breitbart/~3/1CT97zXNqhk/