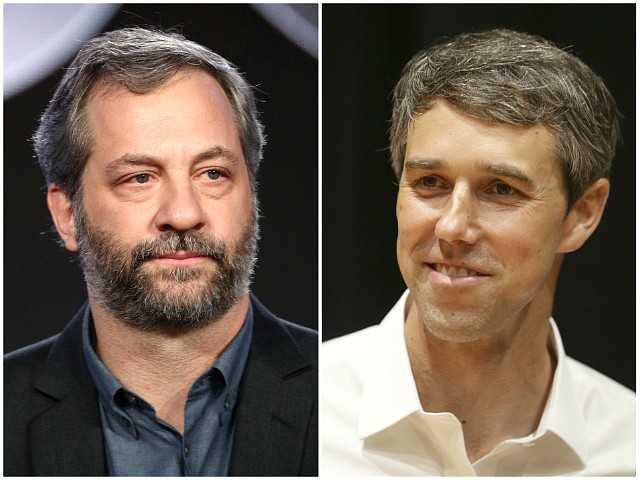 Hollywood super-producer Judd Apatow has announced that he is parachuting into Texas to headline a fundraising event for left-wing Democrat Senate candidate Beto O'Rourke.
The 40-Year-Old Virgin and Girls producer announced his participation in the September 20 and 27 events on Twitter.
"Come to @LargoLosAngeles on 9-20 for our benefit for @WhenWeAllVote and 9-27 for our benefit for Beto O'Rourke. Amazing surprise guests! Tix at http://juddapatow.com/tour," Apatow wrote this week.
Come to @LargoLosAngeles on 9-20 for our benefit for @WhenWeAllVote and 9-27 for our benefit for Beto O'Rourke. Amazing surprise guests! Tix at https://t.co/Nei2mxM74M pic.twitter.com/aPcRUH0I5O

— Judd Apatow (@JuddApatow) September 16, 2018
Apatow's event with O'Rourke comes as the Senate hopeful faces intense backlash for telling a town hall audience member who questioned his support for illegal immigration that illegal aliens from Central America and Mexico are today's cotton pickers.

O'Rourke also compared America's law enforcement to "Jim Crow" — the Democrat-backed laws that kept black Americans racially segregated and in a sort of virtual slavery.
O'Rourke told the Prairie View A&M University audience:
"Talking about criminal justice reform, let's talk about where this problem started. When contractors needed labor, they would talk to local law enforcement who would arrest African-Americans for idling, for petty crimes, frivolous offenses. Those contractors would describe the number of bodies that they needed and law enforcement would provide those bodies. And when they look at the remains in that graveyard, they see evidence of muscles literally torn from the bone, people being worked to death in these convict chain gangs, people who became convicts solely by dint of the color of their skin, in a system that was radically unjust, following what we thought was the end of that injustice at the end of the Civil War."
Indeed, Apatow is not the first member of the Hollywood elite to tout O'Rourke's candidacy.
Last month, when a video of O'Rourke's explanation of how he thinks that protesting against the country during the national anthem was the "most American thing" anyone could do, many Hollywood liberals suddenly stood up for O'Rourke's campaign.
One of the first to praise the Democrat was comedian and talk show host Ellen DeGeneres who immediately booked O'Rourke for her TV show.
Also, despite a litany of upset fans, country music star Willie Nelson tarnished his Texas star in the minds of many by announcing that he was set to headline a concert fundraiser for the liberal Democrat.
Several other La La Land denizens also jumped to the Democrat's support after his anthem protesting video wowed liberals everywhere.
O'Rourke's left-wing Hollywood supporters include actress Rosie O'Donnell, Star Wars: The Last Jedi director Rian Johnson, 22 Jump Street director Phil Lord, former talk show host Chelsea Handler, producer Joe Rogen, and more.
Follow Warner Todd Huston on Twitter @warnerthuston.
http://feedproxy.google.com/~r/breitbart/~3/nAUp1INHXEc/