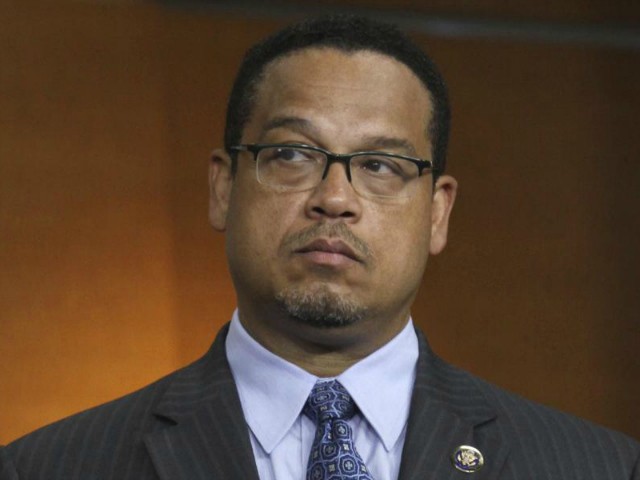 WASHINGTON, DC — Bill Clinton rape accuser Juanita Broaddrick spoke out on Capitol Hill Thursday pointing to hypocrisy from Democrats focused on allegations against Republican Supreme Court nominee Brett Kavanaugh while not showing the same attention to allegations against Democrat Rep. Keith Ellison.
Broaddrick suggested Democrats have failed to address allegations that Rep. Keith Ellison assaulted a former girlfriend. She pointed to Democrat Party claims that they have sent the allegations on to the Democratic Committee. "And that's where they fell dead," said Broaddrick.
She pointed to accuser Karen Monahan's police records detailing her claims of assault. "She has all the records that she needs. She has witnesses, she has every-, she has a tape of him pulling her off of the bed and screaming at her. Where are those allegations?" questioned Broaddrick.
Broaddrick said the Senate should "absolutely" vote to confirm Kavanaugh. She predicted Democrats would try to drag out the confirmation process and that this was "absolutely" a delay tactic. "You didn't have Ramirez or this other girl coming forward until Dr. Ford's allegations were crumbling to the ground."
She said she did not present allegations against Bill Clinton for political reasons, but that she was "just trying to validate a rape."
Broaddrick also pointed to Sens. Chuck Schumer, Dianne Feinstein, and Dick Durbin for refusing to even read her claims against Clinton in 1999.
Michelle Moons is a White House Correspondent for Breitbart News — follow on Twitter @MichelleDiana and Facebook.
http://feedproxy.google.com/~r/breitbart/~3/0qNumNOJ5rE/