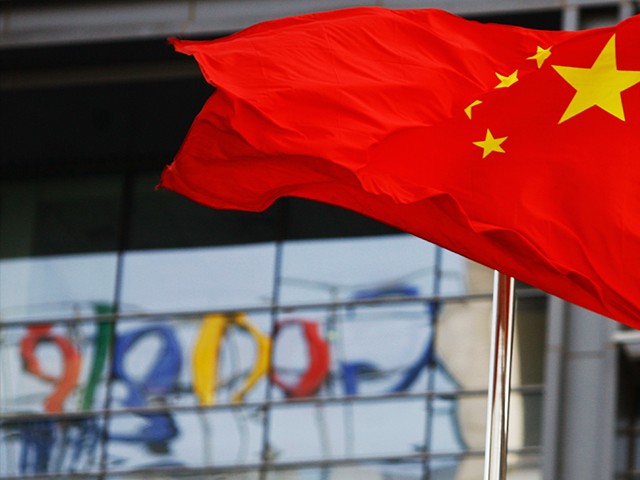 Sen. Josh Hawley (R-MO) sent a letter to Google CEO Sundar Pichai Thursday, demanding the Silicon Valley executive clarify the company's relationship with the Chinese government and its reluctance to partner with the Pentagon.
Hawley said in an interview with Fox News Thursday, "This is a problem. I think Google's ever-shifting answers on this, I've said that they need come out publicly and say exactly why they are prioritizing China over the United States of America, the Chinese government over United States citizens."
"So let's hear from Google on the record, let's hear directly," Sen. Hawley added.
THE HEADLINER: @BillHemmer @JulieBanderas and @HawleyMO discussed calls for @RepAdamSchiff to resign, Mueller report fallout #nine2noon pic.twitter.com/HEIGSmCrWS

— America's Newsroom (@AmericaNewsroom) March 28, 2019
President Donald Trump revealed Wednesday that he met with Google chief executive Pichai, suggesting that the meeting went "very well."
Pichai met with Trump after Joint Chiefs of Staff chairman Joseph Dunford testified that Google's artificial intelligence (AI) work with the Chinese government would benefit their military. Hawley's question to Dunford during a March Senate Armed Services Committee hearing helped spark the conversation over Google's questionable relationship with China, in which Dunford said that Google was providing a "direct benefit" to the Chinese military.
Hawley said that Google was "a supposedly American company."
Google also canceled a Pentagon project in 2018 to help develop artificial intelligence capabilities but open an AI research center in Beijing, China.
"He stated strongly that he is totally committed to the U.S. Military, not the Chinese Military," Trump wrote in a tweet Wednesday. "Also discussed political fairness and various things that Google can do for our Country."
Hawley sent a letter to Pichai asking him to address the social media giant's refusal to work with the Department of Defense (DOD) while partnering with China.
"I have been deeply troubled by the testimony of our national defense leadership regarding Google's unwillingness to partner with the U.S. Armed Forces, even while pursuing lucrative projects in China that directly or indirectly benefit the repressive Chinese government," Hawley wrote in his letter to Pichai.
In the letter Hawley also reported that Google's work on AI may "be used by Chinese military and intelligence services to exploit Americans' data and privacy" but would also develop a products counter to American beliefs in free expression by helping develop a Google "censor-friendly" search engine in China reportedly called "Project Dragonfly."
The Missouri conservative also noted how China frequently violates human rights, saying:
It is worth asking what Google stands to gain from partnering with a country that routinely violates basic human liberties, including maintaining detention facilities for nearly a million Uyghur Muslims, banning freedom of speech and the press, and repressing its Christian, Tibetan Buddhist and other religious communities. Is the technology Google develops, ostensibly for the welfare of consumers, being used by the Chinese government to further perpetuate these human rights violations?
Hawley called for Pichai to explain his company's relationship with the Chinese government.
"I understand that today you have met with General Dunford and the President of the United States to address these concerns," Hawley concluded in his letter. "Now meet with the American people by addressing publicly the work your company does in China, the benefits it may provide to the Chinese government and military, and your reluctance to partner or aid the Armed Forces of the United States."
http://feedproxy.google.com/~r/breitbart/~3/muk85sJ7fKQ/