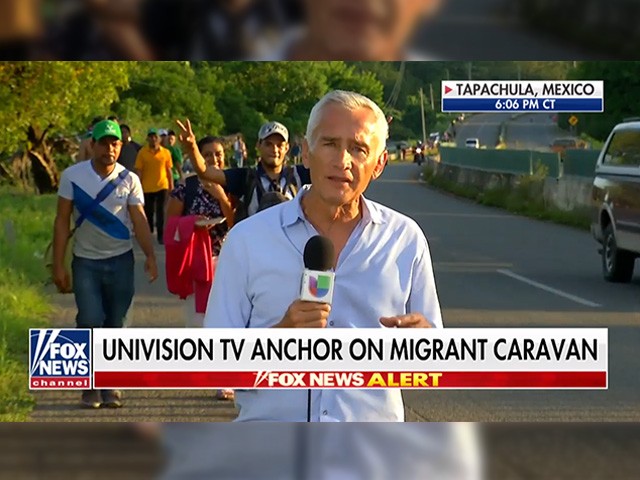 Fox News on Monday hyped an interview with open borders advocate and Univision anchor Jorge Ramos, in which he lectured concerned Americans about a 7,000-strong migrant caravan headed to the United States-Mexico border.
During an interview with Fox News's Martha MacCallum, Ramos admitted that previously deported illegal aliens and criminals were among the migrant caravan headed to the southern border while lecturing Americans not to be concerned about the migration.
"Yes, I've talked to some of them who have been deported … some of them, yes, have been deported," Ramos said, going on:
The vast majority of these people are not criminals. They're not terrorists. And they're not even immigrants. They're refugees. And as a nation in the United States, we have to choose what kind of nation we are and treat them with respect. We cannot pre-judge them. We cannot say all of them are criminals … that is not true. So what we have to do is listen to them, hear their cases, and if they deserve political asylum, then grant it to them.
Ramos's claim that the migrants who are a part of the caravan are "refugees" is counter to what the migrants, themselves, have told the media. Although often described as asylum-seekers, the migrants admit that they are economic migrants who are looking for jobs.
Ramos said it is "not true" that the migrant caravan is invading the U.S., despite concerns from American citizens:
Despite the optics, I know that if you are in the United States and you are watching this you might think 'Oh, we're going to be invaded.' That is not true. There is no invasion here. We're talking about 7,000 right now, maybe a few thousand more that are trying to cross the border between Mexico and Guatemala. [Emphasis added]
Ramos has become a notorious open borders advocate with his support for human smuggling along the U.S.-Mexico border. Last year, Ramos declared that the U.S. belonged to Hispanic immigrants, not American citizens.
"This is also our country. Let me repeat this: Our country, not theirs. It is our country. And we are not going to leave," Ramos said at the time. "We are nearly 60 million Latinos in the United States. And thanks to us, the United States eats, grows and, as we've seen today, sings and dances."
Earlier this year, Ramos blasted Hispanic Americans who support President Trump, saying that Hispanic Trump voters "have decided to turn their back" on immigrants from Central America.
Similarly, Ramos told CNN this year that any plans to reduce mass illegal and legal immigration to the U.S. is merely an effort "to have a white country again." Months later, Ramos accused Americans and the U.S. of "becoming a hostile and even dangerous country for refugees and immigrants."
Currently, the U.S. admits more than 1.5 million legal and illegal immigrants every year, with more than 70 percent coming to the country through the process known as "chain migration," whereby newly naturalized citizens are allowed to bring an unlimited number of foreign relatives to the country.
http://feedproxy.google.com/~r/breitbart/~3/rVnHv4O-9RE/