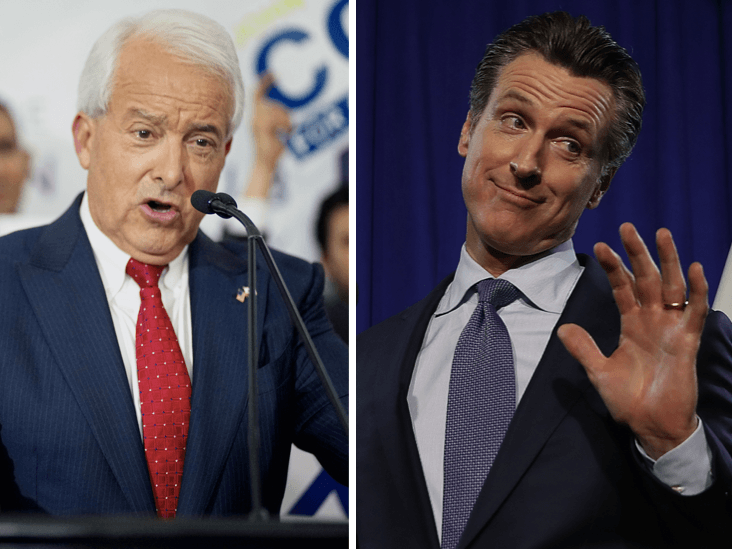 Republican John Cox and Democrat Lt. Gov. Gavin Newsom square off on Monday morning for their only debate in the race for governor of California as the polls have tightened.
San Francisco's KQED, an affiliate of National Public Radio, will host the 10 a.m. "conversation" during its Forum public affairs show, which is expected to generate a very modest daytime listenership.
Although Newsom has voiced aspirations for a future presidential run, he turned down invitations in July to participate in a nationwide televised debate hosted by CNN, and a statewide televised debate hosted by NBC, according to the San Francisco Chronicle.
Leading at the time by a seemingly un-defeatable 55 percent to 31 percent over Cox, according to the Public Policy Institute of California poll, Newsom probably saw no reason to risk of coming off too smug or making a huge gaffe in a prime-time match-up that could let Cox have a chance at victory.
But the latest Probolsky Research poll, conducted between August 29 and September 2, found that the race had tightened dramatically, with Newsom only holding a 44 percent to 39 percent lead over Cox.
That means Newsom is only performing in line with the Democrats' 43.8 percentage of statewide voter registration, while Cox is drastically out-performing the Republicans' 24.5 percentage of statewide voter registration. Cox may be in an even more favorable position, given that the 17 percent of undecided voters are probably "Do not State" independents that tend to oppose career politicians and often vote for outsiders.
The intensity of California Republican voters had already equaled Democrats in the Probolsky September poll and it is expected to have spiked even higher in October due to outrage over the way Democrat Senators Dianne Feinstein and Kamala Harris attempted to defeat the confirmation of Supreme Court nominee Brett Kavanaugh.
With California Democrats' 3.7 million registration advantage over the Republicans expected to be a firewall for the party's incumbents and nominees, Feinstein has not agreed to any debate with her Democrat challenger, State Senator Kevin de León (D-Los Angeles).
Another factor in the changing polls may be the voter-initiated Proposition 6 gas tax repeal ballot measure. While Newsom has campaigned hard for a "No" vote, Cox is the honorary chair of the "Yes" campaign, as Breitbart News has reported that John
When Breitbart News questioned Cox at business group meeting about his rising poll numbers on Friday, Cox said he has been secluded with his team in debate preparations and intends to hammer Newsom on his opposition to cutting the gas tax, among other points.
http://feedproxy.google.com/~r/breitbart/~3/QUQFoWBlSJI/