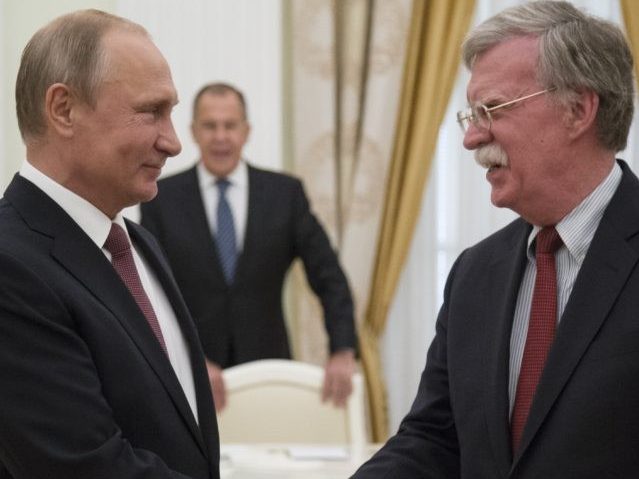 President Donald Trump's National Security Adviser John Bolton indicated on Tuesday that Kremlin officials "understand" why the United States intends to withdraw from a 30-year-old nuclear non-proliferation treaty.
Speaking to reporters following a meeting in Moscow with Russian Defense Minister Sergei Shoigu, Bolton said a decision to withdraw from the INF treaty "recognizes the changed reality."
"It's Russian violations of the treaty, in our view, that has gotten us this to this point, and it's something that's been going on for five years, if not more," he said in one interview. "I think they understand our reasons quite clearly, some of which I think they might fully appreciate from their own strategic perspective. I think their preference is that they have stayed in this and we do not withdraw, but we are giving them the reasons why we are going do it."
"I think we have had very professional, very work-like conversations and we look forward to continuing that," he told CNN.
"Technology has changed, your strategic reality has changed, and we both have to deal with it. I think given Russian violations of the treaty as well, you can't rely on teleology, we have to rely on the facts on the ground."
According to Russia's Defense Ministry, Shoigu insisted that the two countries would solve more problems if they were to work together. "This concerns both the strategic issues of nuclear deterrence and, of course, issues of resolving major longstanding conflicts," he said. "I am sure that even small steps will benefit our relations and help restore trust."
Bolton also claimed to have raised the issue of Russia's alleged meddling in the 2016 presidential election, saying it created an enormous distrust in the Russian government.
Well, I raised this question of meddling in U.S. elections again today. And I understand the Russian position that Russian citizens keep getting indicted for it in the United States, which is a judgment by the prosecutors that they can prove guilt beyond a reasonable doubt, which is the standard we have in our judicial system. The point I made to Russian colleagues today was that I didn't think, whatever they had done in terms of meddling in the 2016 election, that they had any effect on it, but what they have had an effect in the United States is to sow enormous distrust of Russia.
Bolton's meetings followed an announcement by Donald Trump on Saturday that the U.S. would withdraw from the Intermediate-Range Nuclear Forces Treaty (INF), a move reportedly engineered by Bolton. Addressing a rally in Nevada, Trump argued that Russia had violated the terms of the 31-year-old nuclear weapons treaty with the development of a new cruise missile.
"Russia has violated the agreement. They've been violating it for many years," Trump said. "And I don't know why President Obama didn't negotiate or pull out. And we're not going to let them violate a nuclear agreement and go out and do weapons and we're not allowed to. We're the ones that have stayed in the agreement and we've honored the agreement."
On Monday evening, Bolton met with Russia's National Security Council chief Nikolai Patrushev as well as Foreign Minister Sergey Lavrov. Later on Tuesday, he also held a meeting with President Vladimir Putin, who complained that it was "surprising to see how the United States is taking absolutely unprovoked steps towards Russia, which we cannot describe as friendly."
As well as discussing the breakdown of the treaty, it is also understood that Bolton opened discussions over another bilateral meeting between Trump and Russian leader Vladimir Putin, likely to take place in Paris next month.
Bolton's last visit to Russia was in August, where he with Patrushev in a bid to "restore lines of communication" between the two sides after the breakdown in relations that followed Russia's annexing of Crimea in 2014. However, the two sides failed to agree on a joint statement after Bolton reportedly demanded a reference to Russia's alleged interference in the 2016 presidential election, maintaining that no sanctions would be lifted until the country stopped its aggressive behavior.
Follow Ben Kew on Facebook, Twitter at @ben_kew, or email him at bkew@breitbart.com.
http://feedproxy.google.com/~r/breitbart/~3/JAq3RAhqamg/