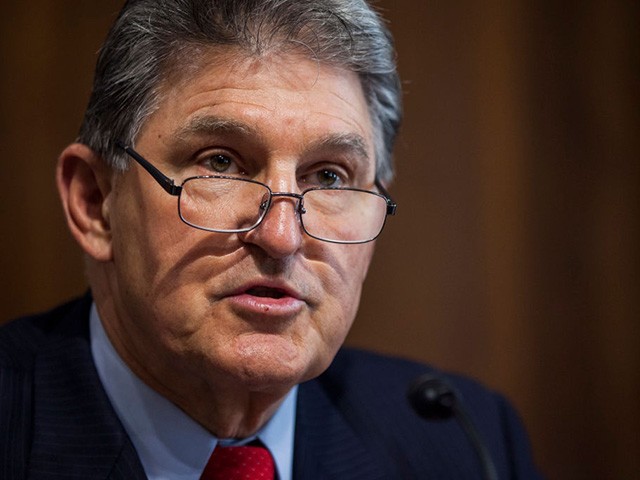 Sen. Joe Manchin (D-WV) was told by passers-by at Sunday's West Virginia Pumpkin Festival in Milton, WV, to vote in favor of confirming Judge Brett Kavanaugh's nomination to the Supreme Court.
Manchin sits on the Senate Judiciary Committee and has abstained from committing to vote one way or another, claiming to want more time to consider Kavanaugh's nomination.
One festival patron told Manchin, "If you don't vote for him, I won't vote for you." Manchin replied, "I get that a lot."
Another shouted, "Vote Kavanaugh!" to which Manchin responded, "I hear you."
A Public Opinion Strategies poll published last Friday shows a majority of West Virginia voters supporting Kavanaugh's confirmation. The Judicial Crisis Network, which commissioned the poll, released its breakdown:
Overall, West Virginia voters want Brett Kavanaugh confirmed with a margin of 58% – 28%
This includes the majority of independent voters with a margin of 59% – 26%

This includes the majority of women voters with a margin of 52% – 35%
President Donald Trump held a rally in Wheeling, WV, on Saturday in support of Manchin's Republican opponent and current West Virginia Attorney General Patrick Morrisey. He told rally-goers, "a vote for Morrisey is a vote for me … [and a vote for] West Virginia values and keep[ing] America great." He also described Manchin as a supporter of "mass amnesty" who sides with "radical open-border" Democrats.
During the rally, Morrisey described Manchin as a "dishonest Washington liberal," while promising to "advance Trump's agenda" if elected to the Senate.
Last week, Morrisey said in a statement that Manchin is complicit in Senate Democrats' "disgraceful treatment" of Kavanaugh and that Manchin followed Senate Minority Leader Chuck Schumer's (D-NY) orders since Kavanaugh's nomination.
Morrisey slammed Senate Democrats' tactics to disrupt and defame Judge Kavanaugh during the Supreme Court nomination process. The West Virginia Republican contended that the Democratic senator was complicit in Senate Judiciary ranking member Sen. Dianne Feinstein and Senate Minority Leader Chuck Schumer's (D-NY) strategy to prevent Kavanaugh from joining the nation's highest court.
"Regardless of how he votes, Joe Manchin has proven to be complicit in Senate Democrats' disgraceful treatment of President Trump's Supreme Court pick," said Morrisey. "The voters of West Virginia can fully expect the resist and obstruct circus to be unleashed if Joe Manchin, Chuck Schumer, Nancy Pelosi, and Maxine Waters take control of Congress."
A Thursday-published poll from 1892 Polling shows Manchin and Morrisey tied in support among likely West Virginia voters, with both at 45 percent. Breitbart News reported on the poll:
The poll also finds that Morrisey leads amongst independent voters by four points—41 to 37 percent; however, 22 percent of independent voters have yet to make up their minds.

Thursday's poll also found that President Donald Trump has a 57 percent approval rating and 38 percent view Trump unfavorably. Trump won West Virginia during the 2016 presidential election by more than 40 points.
An average of West Virginia polls via RealClearPolitics shows Manchin with a 9.3 point lead over Morrisey as of this article's publication. Its own analysis of the Mountain State's forthcoming senatorial election is as follows:
Joe Manchin remains in good shape, although polling showing him at 46 percent has to concern him some. The undecideds are undoubtedly Trump voters in this state, and could be difficult for him to win back. … This is likely to be Manchin's toughest race to date.
Morrisey described Schumer as obedient to Schumer's directives during a Saturday interview with Breitbart News Washington Political Editor Matt Boyle on SiriusXM's Breitbart News Saturday.
LISTEN:
"[Joe Manchin] has given Chuck Schumer everything he needs to obstruct and to create the circus that they put together over the last few weeks," said Morrisey. "Manchin's waiting until the outcome is decided before he reveals his vote, and I think that's gutless. … Rather than call out the circus for what it is Manchin continues to give Chuck Schumer space. He's not said anything or declared a position on this issue."
Breitbart News Saturday broadcasts live on SiriusXM Patriot 125 from 10:00 a.m. to 1:00 p.m. Eastern.
Follow Robert Kraychik on Twitter.
http://feedproxy.google.com/~r/breitbart/~3/YRu4KUjd_DM/