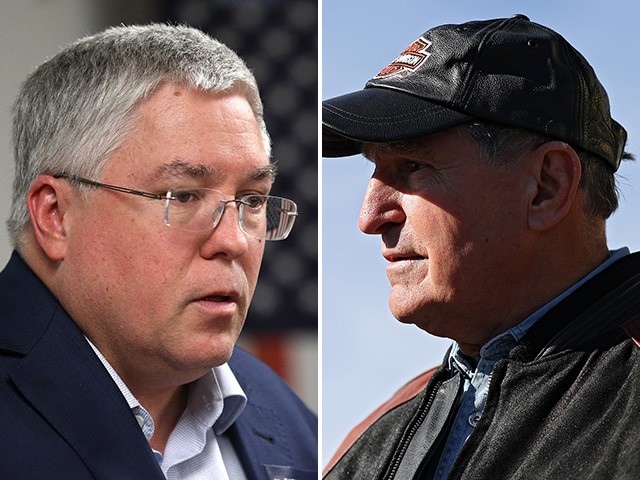 Sen. Joe Manchin (D-WV) won the West Virginia Senate race on Tuesday, beating West Virginia Attorney General and Republican candidate Patrick Morrisey.
Sen. Manchin won the West Virginia Senate race on Tuesday, besting Senate Republican candidate Morrisey. Manchin faced a competitive Senate race against Morrisey in a state that President Donald Trump won by more than 40 points during the 2016 presidential election.
A recent poll by the West Virginia Metro News found that Manchin led Morrisey by eight points. Rex Repass, the pollster who conducted the Metro News survey, contended that the confirmation process of Judge Brett Kavanaugh and President Trump's multiple visits to the Mountain State spurred voter interest in the Senate race.
"It could be a higher turnout this year because of just a tremendous amount of interest in the U.S. Senate race in West Virginia," Repass said. "Part of that was spurred by the Kavanaugh debate; part was because of President Trump being in the state multiple times for Patrick Morrisey."
Repass also contended that the two Senate candidates would have to try to keep their base's interest in voting high to win the contentious Senate election.
"I think opinions of who you support are solidified," Repass continued. "This is a closing argument. It's also rallying the base, making sure that those who are enthusiastic have already voted or will vote."
Despite Manchin's Democrat affiliation, he has worked with President Trump on a number of significant issues including border wall funding and Trump's executive and judicial nominees.
Sen. Manchin came out in favor of confirming President Trump's Supreme Court nominee, Judge Brett Kavanaugh, after Sen. Susan Collins (R-ME) announced her support for Kavanaugh.
Manchin also came out in favor of partially funding the border wall in an exclusive statement to Breitbart News ahead of the September spending bill.
"Senator Manchin supports President Trump's $5 billion border wall funding," Jonathan Kott, Manchin's communications director, told Breitbart News. "Senator Manchin has already voted for over $40 billion in border security, to fund the wall and secure our borders," he added.
http://feedproxy.google.com/~r/breitbart/~3/9_djivECeVg/