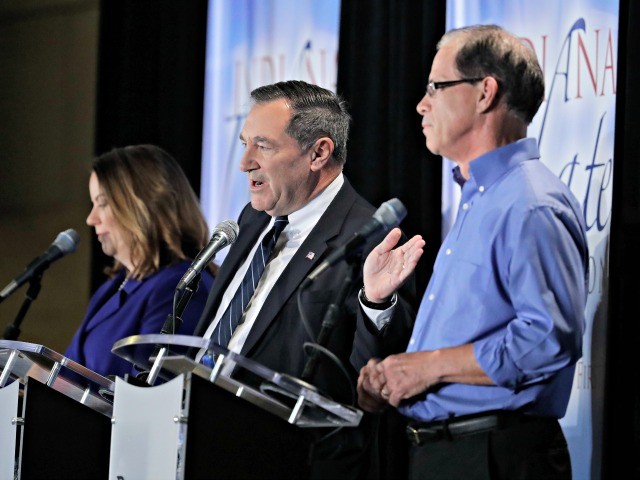 Sen. Joe Donnelly (D-IN) described the late John McCain as his "hero in politics" during Monday's senatorial debate at Purdue University Northwest in Hammond, IN. His Republican challenger is Rep. Mike Braun (R-IN) in a race described by C-SPAN as "widely considered one of the tightest contests of the 2018 midterm elections."
Responding to a question about personal heroes, Donnelly highlighted McCain.
"My friend, my mentor, my hero in politics, John McCain," said Donnelly. "John McCain, who spent over five years in a Hanoi prison cell. John McCain, who fought for his nation at every turn. John McCain, who when he ran for president, his motto was "Country First," and that's what this should be about."
WATCH:
Throughout the debate, Donnelly framed himself as independent-minded, noting his support for a majority of President Donald Trump's judicial nominees. He denied being subservient to Senate Minority Leader Chuck Schumer (D-NY). "I don't think it's about party," he claimed.
"[Donnelly] takes his marching orders from Chuck Schumer," said Braun, highlighting Donnelly's vote against confirmation of Brett Kavanaugh to the Supreme Court. In explaining his opposition to Trump's Supreme Court nominee, Donnelly described the allegations of sexual assault against Kavanaugh as "credible."
Braun's campaign released a statement declaring victory in the debate following its completion:
Tonight, Hoosiers saw a clear contrast between career politician Joe Donnelly and job creator Mike Braun.  While Mexico Joe tried to hide his record of profiting from his family business that outsourced Hoosier jobs south of the border and his vote against Justice Brett Kavanaugh, Mike Braun outlined his record of creating American jobs and his vision to work with President Trump to create Hoosier jobs. This November, Hoosiers have a clear choice between a liberal career politician in Senator Donnelly and Mike Braun who has real solutions to move Indiana forward.
Indiana went for Trump in 2016's presidential election, winning 56.9 percent of the vote to Hillary Clinton's 37.8 percent. Ballotpedia describes Indiana as reliably Republican in presidential elections:
Between 1900 and 2016, Indiana cast votes for the winning presidential candidate 70 percent of the time. In that same time frame, Indiana supported Republican candidates more often than Democratic candidates, 83.33 to 16.67 percent, making it one of the most reliably Republican states in the country. Indiana favored Republicans in every presidential election between 2000 and 2016 except for 2008, when Barack Obama (D) narrowly carried the state with 49.9 percent of the vote.
The latest RealClearPolitics average of polls has Donnelly holding a 2.5 point lead over Braun among Indiana residents. Morning Consult's latest estimate has Trump holding a 50 percent approval — and 46 percent disapproval — in Indiana.
The debate did not feature any questions about immigration, legal or illegal. Also absent were questions related to international trade.
http://feedproxy.google.com/~r/breitbart/~3/1BZTkKIpAl8/