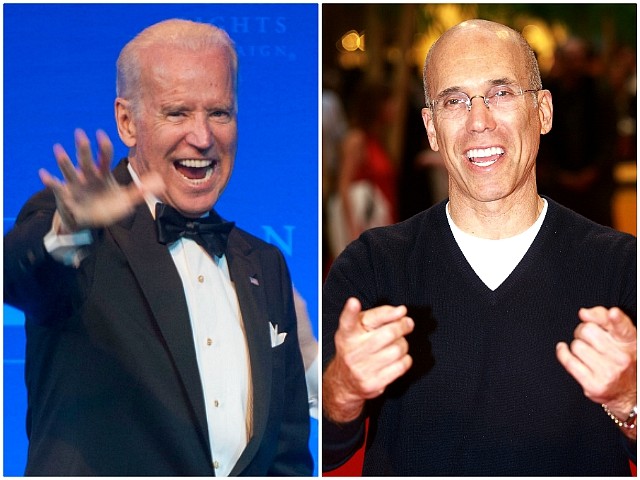 Former Vice President Joe Biden and Hollywood mogul Jeffrey Katzenberg are teaming up for a Beverly Hills fundraiser to shore up cash for Democrats ahead of the midterm election, according to reports.
Slated for October 3, proceeds of $5000-per-plate pow-wow will go towards Biden's American Possibilities super PAC, tasked with supporting Democrat causes and candidates. According to the former vice president, the fundraising vehicle is aimed at countering "the negativity, the pettiness, the small-mindedness of our politics."
"It's time to treat each other with dignity and respect. Not as opponents, but as fellow Americans. Because that's what we are," a blurb written by Biden about the PAC reads. "This is a time for big dreams and American possibilities. If that's what you believe — and you're ready to help elect folks who believe that, and to support groups and causes that embody that spirit — then I'm asking you to join me today."
Biden garnered national headlines this week after branding President Donald Trump's supporters "virulent people" and "dregs of society," during his speech at the Human Rights Campaign's annual dinner on Saturday evening.
"Despite losing in the courts, and in the court of opinion, these forces of intolerance remain determined to undermine and roll back the progress you all have made," Biden told attendees.
"This time they—not you—have an ally in the White House. This time they have an ally. They're a small percentage of the American people—virulent people, some of them the dregs of society," the 2020 hopeful added.
Reports of the Biden-Katzenberg gathering come just days before Los Angeles Mayor Eric Garcetti is set to hold a fundraiser on September 25 with comedian Jimmy Kimmel and DJ Khaled. Proceeds of the event will benefit Garcetti's Midterm Victory Fund, supporting Democrat candidates running in the midterm elections. According to reports, the PAC hopes to bring in "at least $1 million, or $100,000 for each of 10 state Democratic party organizations."
"I saw, among other things, the right wing in this country was pouring years of money and organizing and assistance into local and state parties and elections, and Democrats weren't," Garcetti said of the upcoming event in a statement to Variety. "We kind of woke up one day, not only with the White House not in our hands, but wondering why both houses of Congress, gubernatorial seats, and state legislatures suddenly weren't in Democratic hands, in a country where more Americans voted for Democrats than they do for Republicans."
http://feedproxy.google.com/~r/breitbart/~3/SMYEaZ1o5IY/