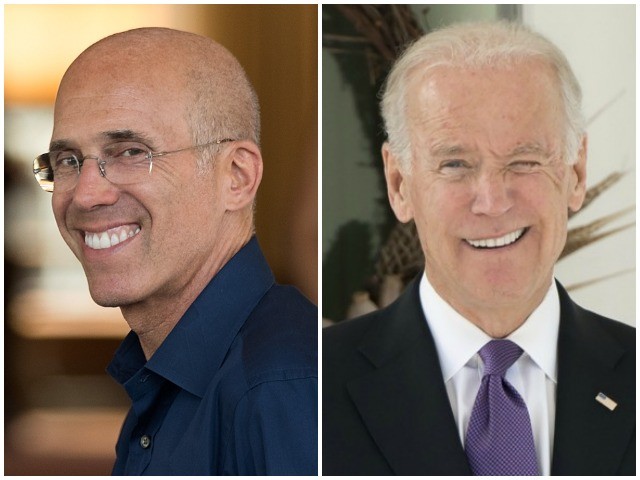 Former vice president Joe Biden headlined a $5,000 per person fundraiser held by Hollywood mega-producer Jeffrey Katzenberg Wednesday night.
According to The Hollywood Reporter:
Approximately 25 people attended the $5,000-per-plate fundraiser, which raised a little more than $100,000, funds that will be funneled toward Biden's PAC American Possibilities, which supports Democratic candidates and causes. Notable names in attendance were Paramount's Jim Gianopulos, Sony Pictures' Tom Rothman, producer Byron Allen, ICM Partners' Chris Silbermann, Gonring Spahn's Andy Spahn, Katzenberg, venture capitalist Chris Sacca, entrepreneur Jon Vein and Meg Whitman.
Many high-profile Hollywood stars have shown that they are more than willing to open their wallets to support left-wing causes and candidates in this election cycle.
A report from The Washington Post in September indicated that Hollywood figures are getting involved in the midterms to the tune of $2.4 million, with almost all of it going to Democrats.
HBO's Bill Maher also made headlines in August after announcing that he donated $1 million to the Senate Majority PAC, a super PAC that works to get Democrats elected to the Senate. Seth MacFarlane, creator of Family Guy, gave $2 million to the same PAC.
Joe Biden, meanwhile, insulted millions of Americans in September, echoing Hillary Clinton's infamous "basket of deplorables" remark when he said that Trump's supporters are the "dregs of society."
"Despite losing in the courts, and in the court of opinion, these forces of intolerance remain determined to undermine and roll back the progress you all have made. This time they–not you–have an ally in the White House. This time they have an ally. They're a small percentage of the American people—virulent people, some of them the dregs of society," Biden said.
http://feedproxy.google.com/~r/breitbart/~3/qwspjiRxebc/