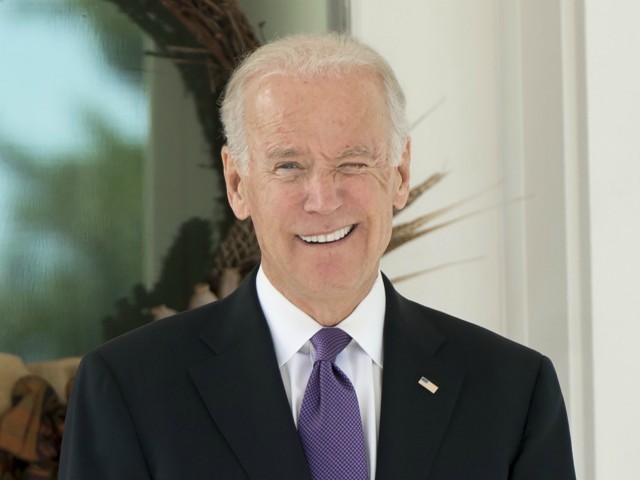 Former Vice President Joe Biden is in Indiana campaigning for fellow gun controller Sen. Joe Donnelly (D-IN).
Donnelly wants numerous new gun controls and Biden was the man who spearheaded various gun control campaigns for Barack Obama.
The Washington Post reports that Biden is in Indiana Friday to speak at a rally for Donnelly.
Donnelly is still pushing for some of the gun controls that Obama/Biden wanted but failed to secure.  For example, he wants to put new regulations on gun shows and also wants to expanded the National Instant Criminal Background Check System's prohibited buyers list.
Regarding gun shows, Donnelly says he wants to close the "gun show loophole." That phrase, "gun show loophole," has been used since the Clinton administration to try to scare law-abiding Americans into supporting a ban on private gun sales in general, and private gun sales at gun shows specifically. It is leftist-speak for expanding background checks.
His push to add new names to the NICS prohibited buyers list is based on the left's failed attempts to ad the No Fly list to NICS. This violates due process by forcing forfeiture of Second Amendment rights over accusations, rather than convictions. Making matters worse, the No Fly list is imprecise. Therefore, those losing their Second Amendment rights might not even be the individuals who were accused in the first place.
In addition to supporting gun control, Donnelly's alignment with Biden is a reminder of his support for Hillary Clinton for president and his opposition to Trump's tax cut for the American people.
Joe Donnelly isn't a "common sense moderate."

He supported Hillary Clinton for President.

He Opposed Judge Kavanaugh.

He voted against the Trump tax-cuts.

Donnelly abandoned the people of Indiana a long time ago. Vote @Braun4Indiana! #INSEN pic.twitter.com/pWJvmXPwKO

— Donald Trump Jr. (@DonaldJTrumpJr) October 12, 2018
Donnelly is being challenged for his Senate seat by Republican Mike Braun, an NRA-endorsed candidate who supported Trump's tax cuts for the American people.
Braun spokesperson Josh Kelley issued a statement on Biden campaigning for Donnelly: "Mexico Joe Donnelly endorsed Barack Obama, voted for Obamacare, supported Obama's Iran nuclear deal, and just voted against confirming Supreme Court Justice Brett Kavanaugh, so it's only fitting that Obama's deputy is campaigning for him. Mexico Joe is an Obama Democrat and the only newsworthy item from today's rally would be a straight answer on if either Biden or Donnelly supports impeaching Justice Kavanaugh."
AWR Hawkins is an award-winning Second Amendment columnist for Breitbart News, the host of the Breitbart podcast Bullets with AWR Hawkins, and the writer/curator of Down Range with AWR Hawkins, a weekly newsletter focused on all things Second Amendment, also for Breitbart News. He is the political analyst for Armed American Radio. Follow him on Twitter: @AWRHawkins. Reach him directly at awrhawkins@breitbart.com. Sign up to get Down Range at breitbart.com/downrange.
http://feedproxy.google.com/~r/breitbart/~3/-pVi0CEhBjA/