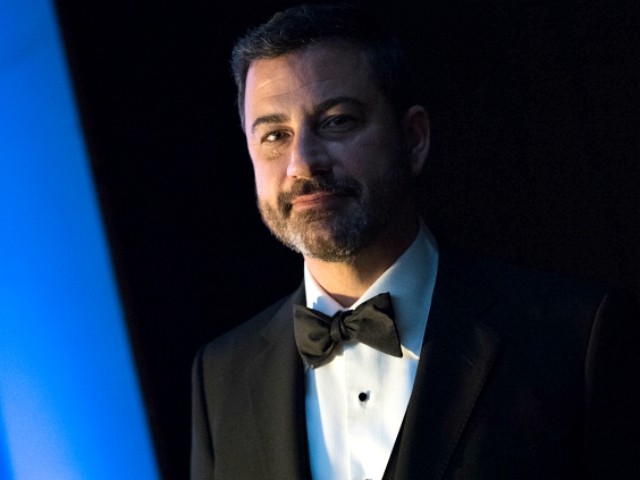 ABC late-night talk show host Jimmy Kimmel took the stage on Tuesday and jokingly suggested that his "compromise" to the battle of Brett Kavanaugh's Supreme Court nomination is to chop off the judge's "pesky penis," should he be confirmed.
Kimmel launched into the Kavanaugh rancor midway through his monologue, noting a New Yorker article published over the weekend in which Deborah Ramirez alleged that as a drunken Yale University freshman, Brett Kavanaugh "exposed himself at a drunken dormitory party." Ramirez claimed she had "significant gaps in her memories" regarding the alleged encounter. Ramirez's college best friend also told the paper she "never heard of" the incident in question.
Jimmy Kimmel cut to a clip of Judge Kavanaugh and his wife's Fox News interview on Monday, in which the Supreme Court nominee called allegations from Christine Blasey Ford false and explained that he was a virgin in high school and college.
"Thank you for admitting that," Kimmel said in response to the Kavanaugh clip. "He was a virgin until many years after. So if he doesn't get to be on the Supreme Court, maybe he'll be The Bachelor."
Kavanaugh has reportedly produced calendars from 1982, which purportedly prove he was out of town during the time in which Ford says he attempted to grope her at a house party.
"What 17-year-old keeps calendars of his social engagements?" Kimmel asked. "No wonder he was a virgin."
Kimmel concluded his Kavanaugh monologue with a gruesome suggestion.
"Hear me out on this," Kimmel began "So Kavanaugh gets confirmed to the Supreme Court, OK? Well, in return we get to cut that pesky penis of his off in front of everyone."
Follow Jerome Hudson on Twitter @jeromeehudson
http://feedproxy.google.com/~r/breitbart/~3/kEo_unzmcgU/