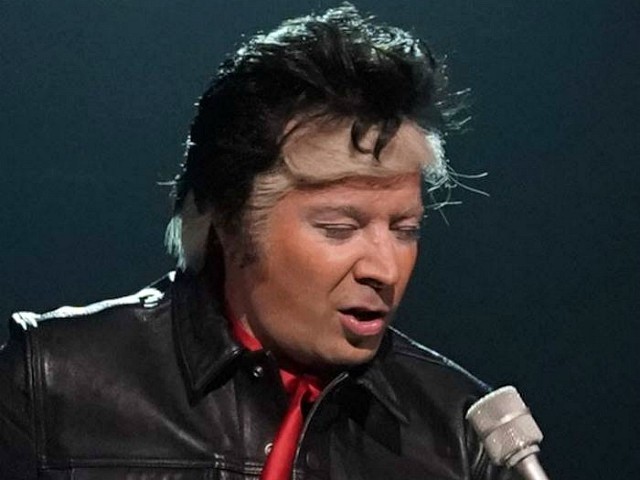 Late-night host Jimmy Fallon mocked President Donald Trump on Tuesday with an impression of Trump singing Elvis Presley's iconic song "Jailhouse Rock."
Jimmy Fallon provided an alternate rendition of the song, with lyrics about the Mueller investigation and Trump's alleged relationship with the Russian government, as well as the various indictments against high-profile members of his administration.
"It's great being here in Memphis. A lot of people have been saying I look like Elvis. It's true, they say I look like Elvis so I'd like to do a tribute to the great man himself, the King," Fallon said in his introduction to the song.
The lyrics went as follows:
The warden threw a party in the county jail
Everyone in my administration started to wail
Indictments handed down to the whole west wing
You should've heard my lawyer Michael Cohen sing

Let's rock
Everybody let's rock
Everybody with a white house job
Was dancin' to the jailhouse rock

Robert Mueller said the Russians fixed my votes
Manafort was caught lying under oath
Rick Gates, Sam Patten, Michael Flynn
And don't forget George Papadapolous

Chorus
Manafort spoke to Julian Assange
Elvis' hair is black and mine's orange
I'm all shook up, the walls are closing in
I'm a hunk of burning love for Vladdy Putin

Chorus
Everybody's ….
In the jail house ….
With me……

Fake news!
The performance was a mockery of Trump's claim earlier this week that people told him he resembled Elvis when he was younger.
"Other than the blonde hair, when I was growing up they said I looked like Elvis," Trump said during a rally near Elvis's birthplace in Tupelo, Mississippi. "I always considered that a great compliment. We love Elvis."
Pres. Trump, in Tupelo, MS, the birthplace of Elvis Presley: "Other than the blonde hair, when I was growing up they said I looked like Elvis…I always considered that a great compliment." https://t.co/NkJuIoh4fP pic.twitter.com/uBAzhWwA9G

— ABC News (@ABC) November 26, 2018
Last week, Trump also awarded a posthumous Presidential Medal of Freedom to the late "King of Rock and Roll," the highest honor a sitting president can bestow on a civilian, describing him as an "enduring American icon."
"Elvis Presley defined American culture to billions of adoring fans around the world," the White House said in a statement. "Elvis fused gospel, country, and rhythm and blues to create a sound all his own, selling more than a billion records."
"America is blessed to have the most skill, passion, and talent anywhere on Earth," Trump said during the ceremony. "We are truly a great nation and we are a nation that is doing really, really well right now."
Follow Ben Kew on Facebook, Twitter at @ben_kew, or email him at bkew@breitbart.com.
http://feedproxy.google.com/~r/breitbart/~3/Hk9zhj6LTlQ/